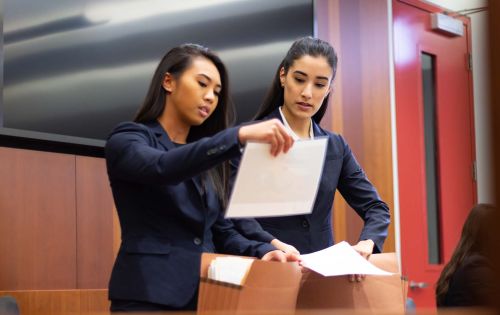 J.D. Certificate in Litigation and Alternative Dispute Resolution (LADR)
J.D. Certificate in Litigation and Alternative Dispute Resolution (LADR)
Overview
For students who aspire to become litigators or mediators, Chicago-Kent's Certificate Program in Litigation and Alternative Dispute Resolution (LADR) combines trial skills training, negotiation, and mediation within a rigorous clinical curriculum. The clinical education piece of this innovative program is based in the C-K Law Group of Chicago-Kent, the school's acclaimed in-house, fee-generating law firm, which works directly with actual clients on criminal defense, civil rights, employment discrimination, family, health, immigration, and tax cases. Thirty students are admitted to the program each year.
In addition to alternative methods of resolving conflict, students who enter the LADR Program learn traditional doctrinal and case analysis, theoretical and ethical foundations of law, and comprehensive training in legal research and writing.
The LADR Program places its emphasis on live-client clinical education, offering nine in-house programs that count toward the certificate.
During the program's litigation phase, supervised students work on a variety of cases, including criminal defense; employment discrimination; civil litigation; tax law; employee benefit claims; immigration; estate planning, probate and transactional; and family law matters. In the mediation phase, students typically work in areas involving juvenile court cases, criminal misdemeanors, employment discrimination, landlord-tenant disputes, and small claims court cases.
Such real-world training is invaluable in preparing students to practice as litigators and mediators, perhaps as assistant state's or U.S. attorneys, as public or appellate defenders in the state or federal court systems, as trial lawyers in civil or criminal practice, or as attorneys in the corporate, governmental, or nonprofit sectors. 
Interested in Applying?
To apply for the program in the link to the right, you will need to prepare a personal statement limited to two double-spaced pages, and upload it in the form link. Your personal statement may include information regarding the following questions:

♦ Why do you want to be admitted to the program?
♦ What are your career goals?
♦ How will the program help you achieve those goals?