Extensive practical experience prior to graduation. A solid skills-based foundation. Strong connections to the Chicago market. At Chicago-Kent these priorities guide the way. Our forward-thinking approach to legal education combines academic rigor with practical training, readying graduates for a rapidly changing legal industry. Our students receive a comprehensive and practice-focused legal writing foundation that empowers them to be successful at every step of their careers. With faculty who are both scholars and practitioners, a dynamic legal externship program, pioneering legal clinics, and award-winning moot court and trial advocacy teams, Chicago-Kent provides students with skills-based learning opportunities that prepare them to practice law in one of the largest legal markets in the United States and beyond.
Our Strengths
You'll gain practical experience through our innovative clinical model. At our in-house law firm, you'll work on the same types of cases as you would in a thriving private practice, instructed and supervised by experienced practitioners who are leaders in their fields. Our connections allow for a variety of legal and judicial externships, and our award-winning trial and appellate advocacy programs will give you ample opportunity to test your courtroom and rhetorical skills against the best competitors in the country.
Through our pioneering legal research and writing program, you will develop skills that allow you to hit the ground running. Chicago-Kent was the first law school in the nation to offer a three-year program in legal research, writing, and analysis.
Located in the third-largest legal market in the country, Chicago-Kent has a local alumni network that is both extensive and heavily involved with student advancement and that offers exceptional opportunities upon graduation. Worldwide, Chicago-Kent has more than 15,000 alumni, with graduates in all 50 states and more than 60 countries.
Our faculty, ranked 40th in the nation based on scholarly impact, excel in teaching and involve students extensively in their research. Chicago-Kent is one of only three law schools in Chicago to be recognized on the scholarly impact ranking.
We offer specialized studies through 12 J.D. certificate programs, including our intellectual property and labor and employment law programs, both considered among the best in the nation.
We're the only law school in the country associated with a technology-focused university—one that embraces innovation and new possibilities.
Our innovative 1L Your Way program allows full-time students the option to take a specialized elective course during their 1L spring semester or enroll in a unique first-year clinical course that provides exposure to legal practice in our in-house law firm.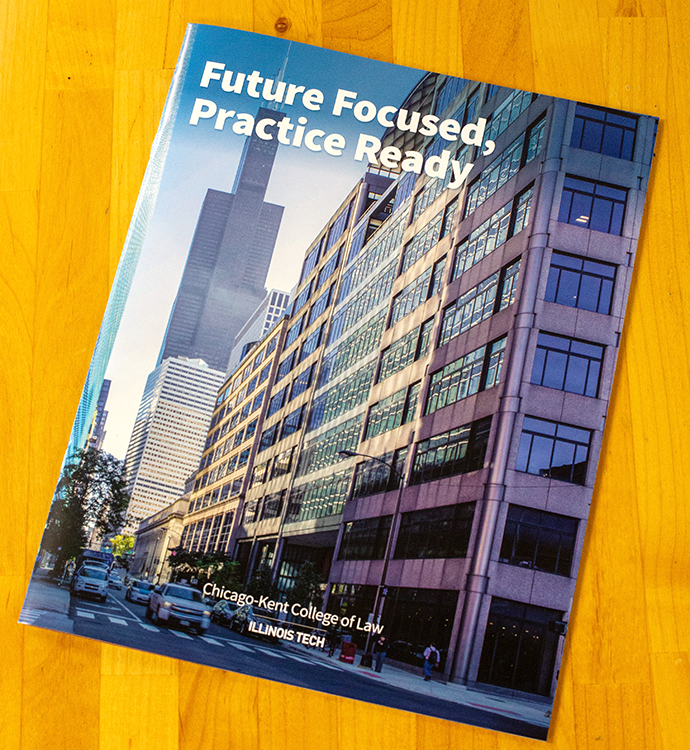 Chicago-Kent Viewbook
Learn more about the law school through our viewbook. Fill out our information request form to receive a copy by mail. You can also access a digital copy online.