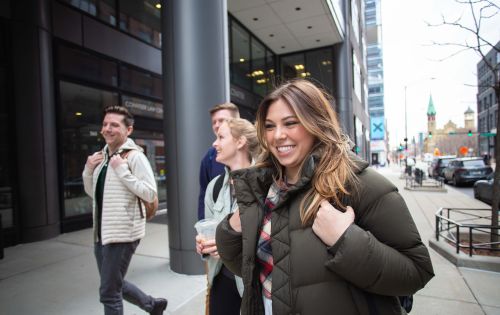 Overview
The Chicago-Kent Office of International Programs has a 25-year history of educating LL.M. students from over sixty countries. Our rich student body has included people from Africa, Asia, East Europe and Central Asia, Europe, the Middle East, and North, South and Latin America. Our students enjoy a dynamic, enriching, and welcoming community with students from the U.S. and from around the world. Interested students may also enroll and/or receive credit through one of our overseas training programs prior to arriving at Chicago-Kent.
We welcome you to experience courses taught by some of the top legal scholars in the U.S. Energize your career by becoming part of the Chicago-Kent global alumni family, networking with legal professionals from around the world, and exploring everything that the world-class city of Chicago has to offer!
Our areas of study include:
If you are interested in applying for one of the above programs, please review our application procedures.  For notices of upcoming events at Chicago-Kent, as well as other information of interest to entering international law students, please visit our notices page.
LL.M. Studies for Exchange Students
Chicago-Kent College of Law allows a select number of students from approved overseas partner institutions to study on exchange in Chicago.  
Contact Information
Office of International Programs
Chicago-Kent College of Law
565 West Adams Street, Room 320
Chicago, IL 60661
Phone: 312.906.5134
Email:  intllm@kentlaw.iit.edu

Adam Weber, Director and Associate Dean of International Programs
Sara Rusnak, Senior Program Coordinator
Wirdani Peters, Program Coordinator