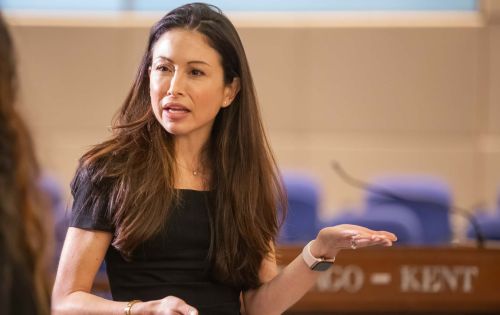 J.D. Certificate in International and Comparative Law
J.D. Certificate in International and Comparative Law
Overview
In a continuously changing and increasingly interconnected world, an international dimension informs almost every area of law, whether it be intellectual property, commercial transactions, human rights, the environment or criminal prosecutions.
IIT Chicago-Kent's world view is well established, encouraging students to appreciate and adapt to global influences. The Certificate Program in International and Comparative Law teaches J.D. students to conduct international business transactions, navigate foreign legal regimes, and understand institutions such as the International Court of Justice, the United Nations, and the World Trade Organization. The program also offers opportunities for students to apply what they've learned in their course work, either through externships abroad or with Chicago-area law firms, consulates and corporations that have an international focus.
The study of international and comparative law at Chicago-Kent is augmented by the comprehensive resources available in the school's library, which houses collections on the European Union, the International Monetary Fund, the World Intellectual Property Organization, the United Nations, and the World Health Organization, among others. Certificate program students can also take part in the many study abroad options available to J.D. students. Study abroad destinations include Germany, China, Denmark, England, France, Mexico, New Zealand, Norway, Poland, Spain, South Korea, and Switzerland.
Certificate program students are further enabled to deepen their involvement in and understanding of this dynamic field by participating in Chicago-Kent's International Law Moot Court Honors Society and the International Law Student Association.
Curriculum and Requirements
IIT Chicago-Kent's Certificate Program in International and Comparative Law provides fundamental legal skills, familiarity with foreign laws, an understanding of clients' global needs, and a clear vision of what it takes to practice law in the international marketplace. It requires students to take 9 credits or three of the following core courses:
International Law
Comparative Law
International Trade
International Business Transactions
In addition to these core courses, students must take an international seminar for 2 credits. The final 3 credit hours can be earned either through study abroad programs (permission must be obtained from the Office of International Programs to apply credits earned abroad) or choosing from the following elective courses and seminars, among others that may be on offer during a given semester:
European Economic Community
International Human Rights Law
International Environmental Law
International Aspects of Intellectual Property Law
International Criminal Law
International Law Moot Court
International Securities Regulation
Law in Contemporary East Asia
International and Comparative Antitrust Seminar
Tax Planning for International Business
Topics in Comparative Constitutional Law
Students in the certificate program get priority for the Legal Writing IV course (International Business). That course does not replace the seminar requirement and is not required for the certificate, but it can be applied toward meeting the certificate requirements.
Contact Information
Office of International Programs
Chicago-Kent College of Law
565 West Adams Street, Room 320
Chicago, IL 60661
Phone: 312.906.5134
Email:  intllm@kentlaw.iit.edu

Adam Weber, Director and Associate Dean of International Programs
Sara Rusnak, Senior Program Coordinator
Wirdani Peters, Program Coordinator