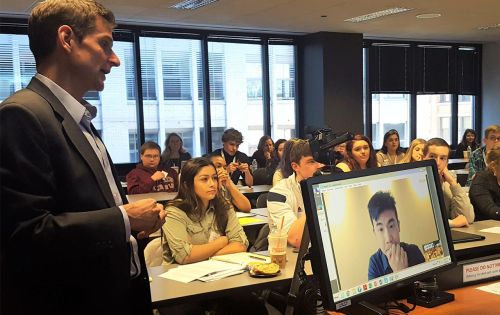 Constitutional Democracy Project
Constitutional Democracy Project
The Constitutional Democracy Project offers high-quality, hands-on civics education programs and teaching materials focused on the Constitution, law, and policy for middle school and high school students and their teachers. Students and teachers are invited to participate in forums and debates on the Chicago-Kent campus, or complete curriculums in their own classrooms that examines the history and principles of the U.S. Constitution.
Formerly housed at the Constitutional Rights Foundation Chicago (CRFC), which served Illinois schools for 45 years, and the Illinois Center on Civic Education, these programs are now part of Chicago-Kent College of Law's Institute on the Supreme Court of the United States (ISCOTUS).
You(th) Decide (Grades 8–12)—The annual You(th) Decide Event is a forum for high school students in the Chicago area to explore and deliberate on a pending case before the Supreme Court of the United States. The students learn about the legal issues involved in the case through discussion with Chicago-Kent faculty and then deliberate in small groups with Chicago-Kent law students as resource people, to "decide" the case, and report back to the larger group. This event takes place in the spring.
Equal Justice Under Law (Grades 9–12)—Equal Justice Under Law is designed to enhance students' understanding of a recently decided U.S. Supreme Court case and a related public policy question. Students examine case facts, review the constitutional issue, and analyze a related law or public policy using curriculum materials in their classrooms. The program culminates in a conference in which students from various schools come together to deliberate the constitutional issue and discuss policy implications with legal experts and policy makers.
We the People (Elementary–High School)—The We the People program offers a curriculum for elementary through high school students that examines the history and principles of the U.S. Constitution. The program culminates with a simulated congressional hearing in which students "testify" before a panel of judges acting as members of Congress.
U.S. Supreme Court Summer Institute (Middle and High School Social Studies Teachers)—The Supreme Court Institute is a 3-day long professional development institute for middle and high school teachers focused on current issues and cases in the court. Teachers are given access to classroom materials and learn different pedagogical techniques that they can use to teach the cases to their students. 
Annual Conference for Teachers in Civics, Law, and Government (High School Civics, Law, and Government Teachers)—This working conference brings together teachers, professors, lawyers, judges, civic leaders, cultural institution scholars, civic education specialists, and others to share best practices and strategies for teaching civics to young people. This one-of-a-kind conference features dynamic workshops with well-known presenters on legal and political issues, interactive teaching methods, and innovative materials for the classroom.
Interested in participating in our programs?
If you are a teacher or principal interested in getting your students involved in our programs, please contact Dee Runaas at 312.906.5255 or drunaas@kentlaw.iit.edu.
Would you like to support our program?
The Constitutional Democracy Project's programming is made possible through the generous support of the Robert R. McCormick Foundation, Polk Bros. Foundation, and individual donors. Every gift is a valuable investment in cultivating young people's civic knowledge, engagement skills, and critical thinking abilities so that they can become informed participants in our democracy. To help us sustain these valuable programs, gifts can be made online at http://alumni.kentlaw.iit.edu/give; under designation, choose "Constitutional Democracy Project" from the dropdown menu. Contributions are tax deductible.
Contact Information
Constitutional Democracy Project
Chicago-Kent College of Law
565 West Adams Street
Chicago, IL 60661
Phone: 312.906.5255
Email: drunaas@kentlaw.iit.edu
Dee Runaas, Director