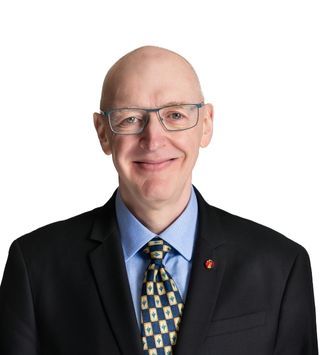 Professor Adrian Walters joined Chicago-Kent in 2011. He teaches Contracts, Bankruptcy, Secured Transactions, and a range of other commercial law subjects. Born and raised in Nottingham in the United Kingdom, Professor Walters earned his bachelor's degree from Cambridge University (1989) and a graduate diploma in law from Nottingham Trent University (1990), before going on to practice law as a Solicitor of the Senior Courts of England and Wales.
He began his academic career at Nottingham Law School, Nottingham Trent University (NTU) in 1994 where he was subsequently appointed as the Geldards LLP Professor of Corporate and Insolvency Law.  He remains a Fractional Visiting Professor at NTU and a member of NTU's Centre for Business and Insolvency Law, which he helped to establish.
Professor Walters has published widely in the areas of bankruptcy law and general corporate and commercial law. His articles, notes and reviews have appeared in journals including American Bankruptcy Law Journal, European Business Organization Law Review, International Insolvency Review, Journal of Corporate Law Studies, Law Quarterly Review, and Lloyd's Maritime and Commercial Law Quarterly. He is a past general editor of the Nottingham Law Journal and is a current editor of International Insolvency Review and Global Restructuring Review. 
He is a Fellow of the American College of Bankruptcy, a member of the International Insolvency Institute, and an honorary academic member of the U.K.'s Chancery Bar Association. He has served as an INSOL scholar at INSOL International, a global umbrella organization for national associations of accountants and lawyers focusing on bankruptcy and restructuring. He was the academic member of the U.K. Insolvency Service's Policy Evaluation Group between 2005 and 2011. 
He is twice winner of Chicago-Kent's Student Bar Association Professor of the Year (2014–15 and 2016–17), and a winner of the Chicago-Kent College of Law Excellence in Teaching Award (2018) and IIT's Michael J. Graff Teaching and Advising Innovation Award (2021).
In 2020, Walters was named to the inaugural Lawdragon 500 Leading U.S. Bankruptcy & Restructuring Lawyers list.
Education
G.D.L. (Graduate Diploma in Law), Nottingham Polytechnic
B.A., Emmanuel College, University of Cambridge
Publications
European Regulation on Insolvency Proceedings in Collier International Business Insolvency Guide 43.01 - 43.14 (2021) (with Ian F. Fletcher).
The Characterization of Pre-insolvency Proceedings in Private International Law, European Business Organization Law Rev (2020)
Contracts: A Context and Practice Casebook (Carolina Academic Press, 3d ed., 2020) (with Michael Hunter Schwartz).
Modified Universalisms & the Role of Local Legal Culture in the Making of Cross-Border Insolvency Law, 93(1) American Bankruptcy Law Journal 47 (2019).
The Impact of Brexit on Judicial Cooperation in Cross-Border Insolvency and Restructuring in the European Union, (2018) 2 Rivista Orizzonti del Diritto Commerciale. 
United States' Bankruptcy Jurisdiction Over Foreign Entities: Exorbitant or Congruent?, 17(2) Journal of Corporate Law Studies 367 (2017).
Disqualification of Those Engaged in the Management of Companies and Financial Institutions, in Research Handbook on International Financial Crime (Barry Rider ed., 2015).  
Contracts: A Context and Practice Casebook (Carolina Academic Press, 2d ed., 2015) (with Michael Hunter Schwartz).
Statutory Erosion of Secured Creditors' Rights: Some Insights from the United Kingdom, 2015 University of Illinois Law Review 543. 
Involuntary Bankruptcy as Debt Collection, 87 American Bankruptcy Law Journal 123 (2013) (with Jason Kilborn).
The Costs and Benefits of Secured Creditor Control in Bankruptcy: Evidence from the U.K., 8 Review of Law & Economics 101 (2012) (with John Armour & Audrey Hsu).
'Bankruptcy Tourism' under the EC Regulation on Insolvency Proceedings, 19 International Insolvency Review 181 (2010) (with Anton Smith).
>> Search Professor Walters' publicationson works.bepress.com.
Affiliations
J.D. Certificate Program in Business Law
Expertise
Bankruptcy Law;Commercial Law;Comparative and Foreign Law;Contracts