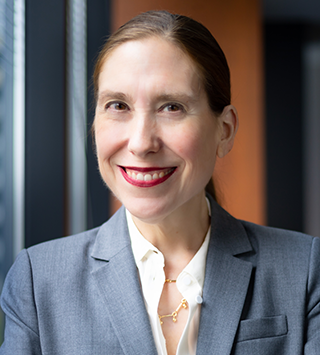 Anita K. Krug joined the Chicago-Kent College of Law faculty as dean on August 1, 2019. The first woman to be named permanent dean in the law school's history, Krug is an accomplished securities law scholar, an experienced leader in higher education, and a former law firm partner.
Before coming to Chicago-Kent, Krug was interim vice chancellor for academic affairs for the University of Washington's Bothell campus. She joined the University of Washington School of Law in 2010 as an assistant professor and moved up the ranks quickly. She earned tenure in 2014, served as the associate dean for research and faculty development from 2014 to 2016, and became a full professor in 2016. She served as interim dean of the law school from 2017 to 2018. During her tenure as dean, Krug worked to ensure the school's financial stability, to enhance student success, to deepen engagements with alumni and the legal community, to promote diversity and inclusion, and to increase funds for scholarships.
Before making the transition into teaching, Krug was a law firm partner with an active practice advising investment management firms. She parlayed that expertise into her scholarship. Her research has centered on such topics as the fiduciary duties of investment advisers and broker-dealers, disclosure requirements under the securities laws, commodity futures regulation, corporate structure and governance, and regulation governing financial firm bankruptcies.
Krug has published articles in top journals, including the Columbia Law Review, Southern California Law Review, Washington University Law Review, and Boston University Law Review. Her article "Investing and Pretending," published in the Iowa Law Review, was selected for the 2015 Harvard/Stanford/Yale Junior Faculty Forum at Harvard Law School.
Before entering academia, Krug practiced securities law—first as an associate and then as a partner—at Howard Rice Nemerovski Canady Falk & Rabkin PC (now Arnold & Porter LLP) in San Francisco. Before that, she was an associate at Foley Hoag LLP in Boston and worked part-time as an attorney at Hale and Dorr LLP (now Wilmer, Cutler, Pickering, Hale and Dorr LLP) in Boston while completing her Ph.D. dissertation.
Krug earned her Ph.D. and master's degrees in political science from Harvard University and her J.D. degree from Harvard Law School, where she was an editor of the Harvard Law Review. After law school, she clerked for the Honorable Norman H. Stahl of the United States Court of Appeals for the First Circuit. Krug graduated summa cum laude from Kansas State University with a B.A. degree in political science and economics and, immediately after earning her bachelor's degree, spent a year in Germany as a Fulbright Scholar at the University of Cologne.
Education
Ph.D., Harvard University
J.D., Harvard Law School
A.M., Harvard University
B.A., Kansas State University
Publications
Articles
Beneficial Conflicts of Interest, 45 Cardozo Law Review (forthcoming 2023)
Constraining Corporate Law Principles in Affiliate World, 72 Emory Law Journal 855 (2023).
Temporary Securities Regulation, 79 Washington & Lee Law Review 185 (2022).
Investors' Paradox, 43 Journal of Corporation Law 245 (2018).
The Other Securities Regulator: A Case Study in Regulatory Damage, 92 Tulane Law Review 339 (2017).
Uncertain Futures in Evolving Financial Markets, 93 Washington University Law Review 1209 (2016).
Investing and Pretending, 100 Iowa Law Review 1559 (2015).
Downstream Securities Regulation, 94 Boston University Law Review 1589 (2014), reprinted in 47 Securities Law Review § 2.3 (2015) (Donald C. Langevoort ed.) and 57 Corporate Practice Commentator 183 (2015) (Robert B. Thompson ed.).
Escaping Entity-Centrism in Financial Services Regulation, 113 Columbia Law Review 2039 (2013).
Investment Company as Instrument: The Limitations of the Corporate Governance Regulatory Paradigm, 86 Southern California Law Review 263 (2013).
The Modern Corporation Magnified: Managerial Accountability in Financial Services Holding Companies, 36 Seattle University Law Review 821 (2013) (invited symposium).
Rethinking U.S. Investment Adviser Regulation, 87 St. John's Law Review 451 (2014) (invited symposium).
Institutionalization, Investment Adviser Regulation, and the Hedge Fund Problem, 63 Hastings Law Journal 1 (2011).
Books
Book Chapters
Toward Better Mutual Fund Governance, in Research Handbook on the Regulation of Mutual Funds (William A. Birdthistle & John Morley eds., Edward Elgar 2018).
Multilateral Convergence of Investment Company Regulation, in Economic Law After the Crisis: A Tale of Fragmented Disciplines (C.L. Lim & Bryan Mercurio eds., Cambridge University Press 2015).
Discerning Public Law Concepts in Corporate Law Discourse, in Private Law: Key Encounters With Public Law (Kit Barker & Darryn Jensen eds. Cambridge University Press 2013).
Expertise
Securities Regulation
Corporate Governance
Investment Management