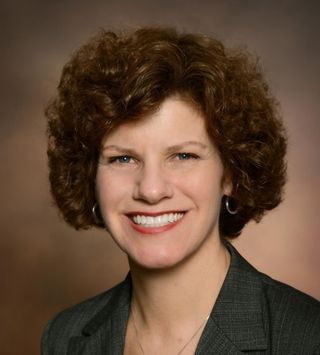 Jean Wenger joined Chicago-Kent as director of the Law Library in 2018. A well-known leader in the law library community, Ms. Wenger served as president of both the American Association of Law Libraries from 2012 to 2013 and its Chicago chapter from 2004 to 2005. She has also served the profession as Chair of the Board of Directors of the Legal Information Preservation Alliance, a consortium of law libraries and legal professionals who strive to ensure the preservation of legal materials. She is currently Treasurer of the International Association of Law Libraries (IALL), having served previously on the Board of Directors. She is also a member of Beta Phi Mu, the international honor society for library and information studies. 
Before joining Chicago-Kent, Ms. Wenger spent nearly 30 years of her professional career at the Cook County Law Library in Chicago, most recently as Deputy Law Librarian and previously as Head of Public Services and Government Documents/Foreign and International Law Librarian. Ms. Wenger also spent several years in academic law libraries, first at the University of Illinois College of Law and later at Cornell University Law School.
Ms. Wenger's scholarship and teaching experience have focused on foreign & international law research, technology, and evaluating challenges with an empirical lens. In 2022, she wrote the chapter, Researching the Legal Framework for Companion Animals in a Global Context in Global Animal Law Research: Strategies and Resources. She was an author of the chapter Using Metrics to Showcase Value in the AALL white paper Defining ROI: Law Library Best Practices in 2016. In 1996, she contributed to an early review of online legal research with Internet for Legal Information: The U.S. Experience in the International Journal of Legal Information, Volume 3. 
Ms. Wenger earned her J.D. from the University of Illinois College of Law, her master's degree in library and information science from Dominican University, and her bachelor of arts degree in public administration with an economics minor from Saint Mary's University of Minnesota. She is a member of the State Bar of Illinois. She serves on the Continuing Legal Education Standing Committee (CLE) of the Illinois State Bar Association. In 2021, Ms. Wenger was awarded The Agnes & Harvey Reid Award for Outstanding Contribution to Law Librarianship from the Chicago Association of Law Libraries (CALL).
Education
M.L.I.S., Dominican University
J.D., University of Illinois College of Law
B.A., St. Mary's University of Minnesota
Affiliations
Chicago-Kent College of Law Library