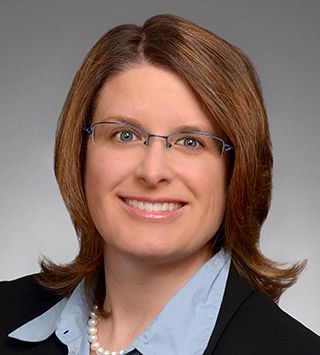 As the Director of Experiential Learning, Professor Robbins coordinates the law school's numerous opportunities for practical, hands-on legal education with a focus beyond traditional clinical and field placement offerings.  She is the Director of the law school's innovative Praxis Program, which offers students an experience-based course of study to prepare them for real-world legal practice. She works to infuse skills training into the broader curriculum, creates events that bring current students together with practicing attorneys, and counsels students on how to build a portfolio of lawyering skills by combining clinical and externship opportunities with simulation courses, co-curricular activities and work experience. 
Professor Robbins teaches a variety of courses including core subjects such as Personal Income Tax and Business Organizations as well as more novel curricular choices such as Pathways into the Profession:  Strategic Career Development Workshop which is an upper-level interactive professional identity and career skills course; and Professional Responsibility: Business Ethics which is a unique professional responsibility course that focuses on the challenges of organizational representation.   
Prior to joining the law school's full-time faculty, Professor Robbins served for more than decade as General Counsel of FPL Advisory Group, a global consulting firm focusing on the commercial real estate and financial services industries. As General Counsel, she managed all legal affairs, including strategic counseling, transaction evaluation/execution, and risk management. Before joining FPL, Professor Robbins was with the Chicago-based law firm Katten Muchin Rosenman, where she counseled public and private clients on a variety of general corporate and commercial matters with a focus on mergers and acquisitions.
Professor Robbins is a member of the Board of Directors, Fund Development Committee and Audit Committee of Street Law Inc., an international nonprofit organization. Headquartered in Washington, D.C., Street Law Inc. is dedicated to advancing civic and law-related education to empower all people to positively transform their world. 
Professor Robbins is a former member of the Board of Directors and past President of the Chicago Chapter of the Association of Corporate Counsel. She served for many years on the committee that administers ACC Chicago's Diversity Summer Internship Program, and she is the founder of the ACC Chicago Street Law program, a pipeline project that brings corporate counsel into underserved high school classrooms. 
Professor Robbins received a J.D. from Harvard Law School, cum laude, and served as the director of the Harvard Legislative Research Bureau and as a Supervising Editor for the Harvard Journal on Legislation. She received a B.A. in Finance and Political Science, magna cum laude, from the University of Illinois at Urbana-Champaign, having earned both Phi Beta Kappa and Finance Departmental Distinction honors.
Education
J.D., Harvard Law School
B.A., University of Illinois at Urbana-Champaign
Affiliations
Praxis Program; Online Certificate in Financial Markets Compliance