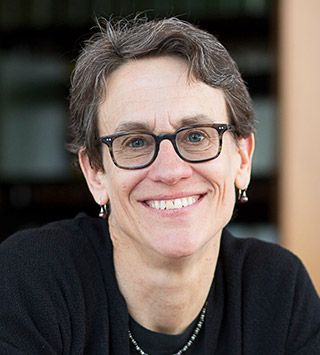 Katharine Baker is a University Distinguished Professor of Law.  She is an expert in family law, particularly in the modern law of marriage and parenthood, and she has written extensively on sexual violence and misconduct, especially in the lives of young adults. Her work focuses on the intersection of women's intimate lives and the law. 
Baker's articles have been published in numerous journals, including the Harvard Law Review, Yale Law Journal, University of Chicago Law Review, Minnesota Law Review, and Boston University Law Review. She is also the author of Family Law: The Essentials (with Katharine B. Silbaugh) and numerous book chapters. 
Baker is a multiple award-winning teacher, having taught Contracts, Property, Family Law, Evidence, Gender and the Law, Sexual Orientation and the Law, Environmental Law, and numerous seminars on feminism.  She has also developed and taught several novel experiential courses designed to prepare law students with non-doctrinal skills they need to be successful professionals.  
From 2001 to 2010, Baker was  Associate Dean for Faculty Development at Chicago-Kent. From 2016 to 2020, she was Associate Dean for Administration and Strategic Initiatives.  She has visited at Yale Law School, the University of Pennsylvania Law School, and Northwestern Law School. 
Education
J.D., University of Chicago Law School
B.A., Harvard-Radcliffe College
Publications
Articles
Equality, Gestational Erasure and the Constitutional Law of Parenthood, Journal of American Assoc. of Matrimonial Lawyers (forthcoming 2023) 
The Polyamorous Threat to Nonmarriage, Family Court Review (2023)
Equality and Family Autonomy, 24 Univ. of Pa J of Const Law 412 (2022)
What is Nonmarriage? 73 SMU L. Rev. 201 (2020)
Quacking Like a Duck? Functional Parenthood Doctrine and Same-Sex Parents, 92 Chicago-Kent Law Review 135 (2017).
The DNA Default and its Discontents: Establishing Modern Parenthood, 96 Boston University Law Review 2037 (2016).
Why Rape Should Not (Always) Be a Crime, 100 Minnesota Law Review 221 (2015).
Legitimate Families and Equal Protection, 56 Boston College Law Review 1647 (2015).
Campus Sexual Misconduct as Sexual Harassment: A Defense of the DOE, 64 Kansas Law Review 861 (2015).
Sex and Equality, 93 Boston University Law Review Annex 11 (2013).
Homogenous Rules for Heterogeneous Families: The Standardization of Family Law When There is No Standard Family, 2012 University of Illinois Law Review 319 (2012).
Marriage and Parenthood as Status and Rights: The Growing, Problematic and Possibly Constitutional Trend to Disaggregate Family Status from Family Rights, 71 Ohio State Law Journal 127 (2010).
The Stories of Marriage, 12 Journal of Law and Family Studies 1 (2010).
Bionormativity and the Construction of Parenthood, 42 Georgia Law Review 649 (2008).
Supporting Children, Balancing Lives, 34 Pepperdine Law Review 359 (2007).
The Problem with Unpaid Work, 4 University of St. Thomas Law Journal 599 (2007).
A Separate Crime of Reckless Sex, 72 University of Chicago Law Review 599 (2005).
Gender and Emotion in Criminal Law, 28 Harvard Journal of Law and Gender 447 (2005).
Bargaining or Biology? The History and Future of Paternity Law and Parental Status, 14 Cornell Journal of Law and Public Policy 1 (2004).
Gender, Genes, and Choice: A Comparative Look at Feminism, Evolution, and Economics, 80 North Carolina Law Review 465 (2004).
Asking What Before We Ask Why: Taxonomy, Etiology, and Rape, Annals of the New York Academy of Sciences (2003).
Alternative Caretaking and Family Autonomy: Some Thoughts in Response to Dorothy Roberts, 76 Chicago-Kent Law Review 1643 (2001).
Dialectics and Domestic Abuse, 110 Yale Law Journal 1459 (2000) (reviewing Elizabeth M. Schneider, Battered Women and Feminist Lawmaking (2000)).
Biology for Feminists, 75 Chicago-Kent Law Review 805 (2000).
Sex, Rape, and Shame, 79 Boston University Law Review 663 (1999).
Text, Context and the Problem with Rape, 28 Southwestern Law Review 297 (1999).
Unwanted Supply, Unwanted Demand, 3 Green Bag 2D 103 (1999) (reviewing Stephen J. Schulhofer, Unwanted Sex (1998)).
What Rape is and What It Ought Not Be, 39 Jurimetrics 233 (1999).
Property Rules Meet Feminist Needs: Respecting Autonomy by Valuing Connection, 59 Ohio State Law Journal 1523 (1998).
A Wigmorian Defense of Feminist Methods, 49 Hastings Law Journal 861 (1998).
Once a Rapist? Motivational Evidence and Relevancy in Rape Law, 110 Harvard Law Review 563 (1997).
Taking Care of Our Daughters, 18 Cardozo Law Review 1495 (1997) (reviewing Martha Albertson Fineman, The Neutered Mother, The Sexual Family and Other Twentieth Century Tragedies (1995)).
Consorting With the Forests: Rethinking Our Relationships to Natural Resources and How We Should Value Their Loss, 22 Ecology Law Quarterly 677 (1995).
Book Chapters
Consent, Rape and the Criminal Law inThe Oxford Handbook of Feminism and Law in the United States (D. Brake, M. Chamallas & V. Williams, eds., 2021) (with Michelle Oberman)
Procreation and Parenting in The Oxford Handbook of Children and the Law (J. Dwyer, ed., 2019)
Sex Equality, Gender Injury, Title IX and Women's Education in the United States in Research Handbook on Feminist Jurisprudence (C. Bowman and R. West eds., 2019)
Women's Sexual Agency and the Law of Rape in the 21st Century in 69 Studies in Law, Politics and Society 63 (A. Sarat, ed., 2016) (with Michelle Oberman) 
Expertise
Civil Rights and Discrimination; Family Law; Gender and Sexuality and the Law; Legal Education