Chicago-Kent Engages Hundreds of Incoming Students in First-of-Kind Public Service Day
Chicago-Kent Engages Hundreds of Incoming Students in First-of-Kind Public Service Day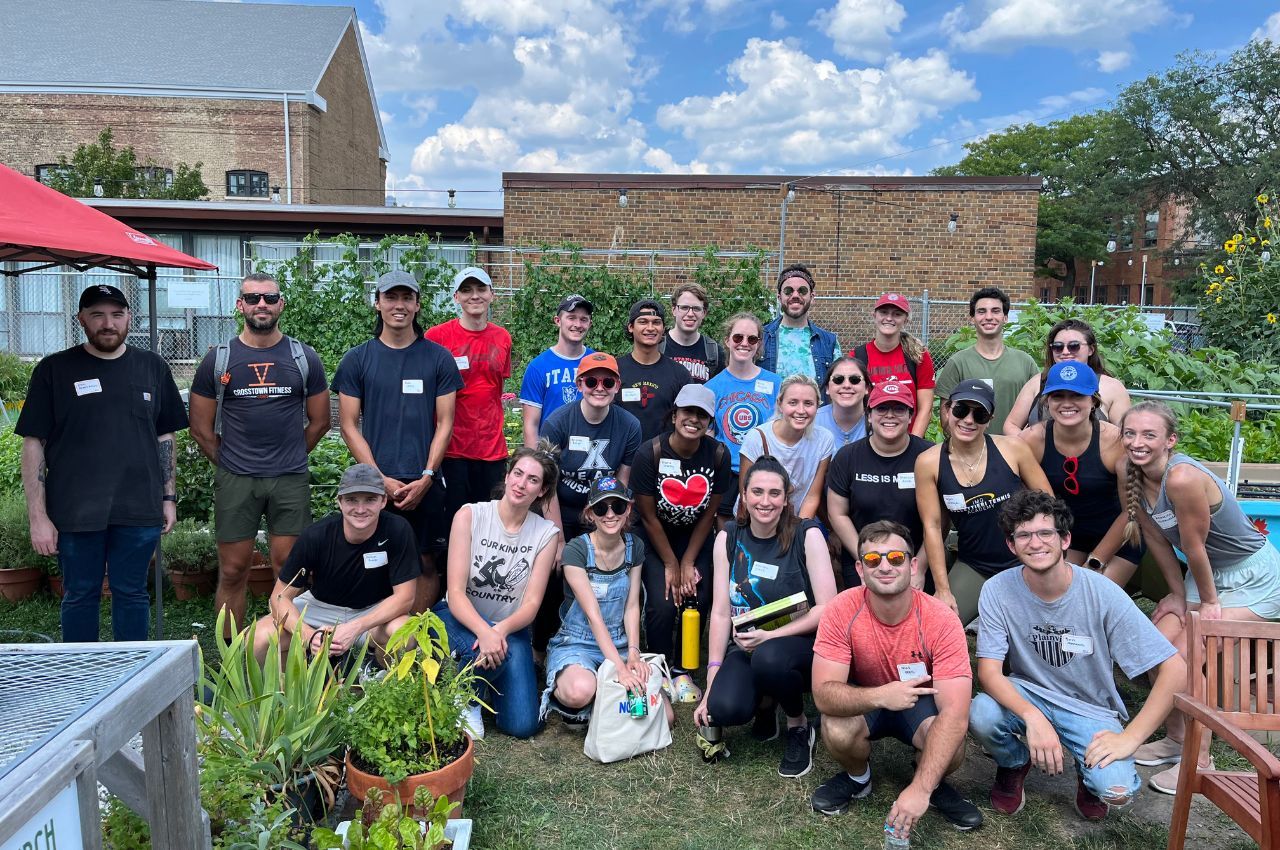 On a warm late-August 2022 day, buses carrying hundreds of first-year law students departed Chicago-Kent College of Law in every direction, headed for agencies across Chicago. By the end of the afternoon, students would log hundreds of pro bono and community service hours at more than a dozen social service nonprofits throughout the city.
"Nobody else does something like this on this scale," says Michelle Vodenik, director of Chicago-Kent's Public Interest Center, the cornerstone institute of the college's public interest program. "I had someone tell me this was the kind of law school they wanted to be at—a place that values service. It meant a lot to them, that it was part of the orientation."
On August 19, more than 200 students traveled to a nonprofit of their choice, to put in at least a half-day of pro-bono work. Fifteen nonprofits participated as partners.

Before the students left, Isabelle Abbott '23 gave a speech to the incoming class, explaining why the day was important—even for those who had no interest in pursuing public interest law as a career.
"I understand a lot of folks are coming into law schools with a very particular vision of themselves and where they will be in 10 years. For a lot of people that does not include public interest," says Abbott, who is pursuing her J.D. certificate in environmental law. "But public interest work makes you a better attorney.
"Your classwork does not make you sit in front of other folks, being empathetic and listening to their needs and finding ways to help them. Not everyone has the capacity or potential to change the entire world, but all of us as law students have the potential to change someone's world," Abbott adds.
In past years, participation in public service day was less than half that size. Then the COVID-19 pandemic struck, and the practice was put on hold.
But with students back to learning in-person, Chicago-Kent administrators wanted to emphasize the school's commitment to public interest in a big way. As a law school located in downtown Chicago, Chicago-Kent is able to closely partner with numerous agencies and nonprofits operating on the front lines of public service work, thus plugging students into various internship, externship, and fellowship opportunities.
And closely partner they did. In addition to the off-site nonprofits, three agencies opened up temporary offices at Conviser Law Center, the law school's downtown campus building.
Joseph Strom '25 volunteered at one of them. For hours, he was one of 14 students who spoke with clients on the phone for the Center for Disability and Elder Law, answering questions relating to guardianship proceedings while under the supervision of a senior center attorney.
"I think what I appreciated the most is, going to law school, we're always doing the really academic stuff, several degrees removed from the people we're hopefully going to be able to help," Strom says. "Getting this opportunity early on really brings home why we're here and what we're hoping to achieve. I did solidify that I wanted to make sure I'm helping people in need, those who don't really have other options."
Abbott spent her time gardening with about 20 other students at Just Roots Chicago, a community urban farm in Chicago's South Loop neighborhood.
"There's this stereotype that public service work can be overwhelming or depressing. We had a blast—this is what public interest can also be," Abbott says.
By the end of the day, when the four buses returned, Vodenik began to get plenty of feedback.
"People found the day extremely rewarding. They really appreciated the opportunity to get out into the community to serve others," Vodenik says.
Abbott heard from other students who approached her and said public service work was great and all, "but I not only need to be a lawyer, I need to be 'the' lawyer" in their field. They worried about their commitments.
Abbott argued that there was room for both.
"I think people at least became more open to reading the public interest emails," Abbott says, chuckling. "I understand a lot of them have a vision board with expensive suits and cars. Keep those dreams, but make some room.
"Because showing up for other people feels good, it really does."