Chicago-Kent Librarian Receives National Minority Leadership Award
Chicago-Kent Librarian Receives National Minority Leadership Award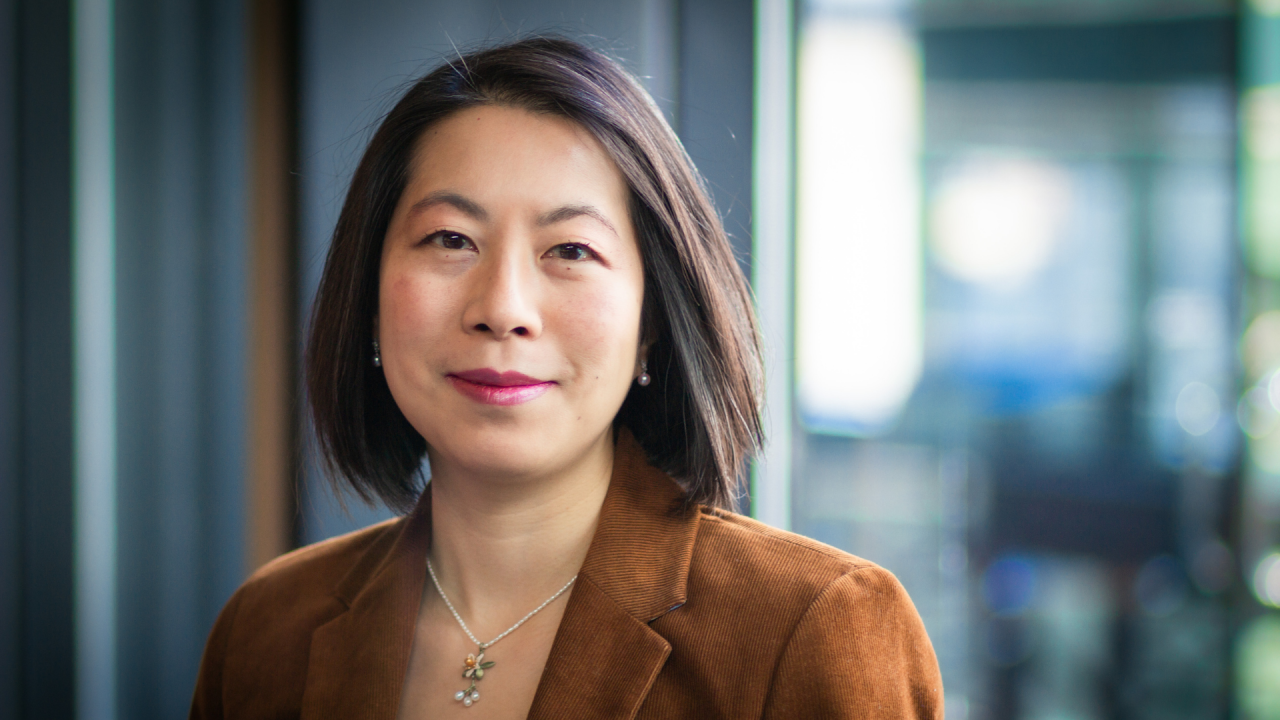 When applying for the American Association of Law Libraries award for minority leadership, Chicago-Kent College of Law librarian Mandy Lee started off by relating a painful and embarrassing attempt to buy wood-fired pizza from a small restaurant in Nebraska.
She'd heard great things about the pizza, and a hostess told her over the phone that they didn't serve it "to go"—it would ruin the crust. So Lee did something she rarely did: She went to the restaurant alone, sat down at the bar, and waited.
And waited. The bartender ignored her, serving everyone else.
"I waited for what seemed like an eternity, but was likely only a few more seconds, my face burning. I gathered my dignity, slid off the barstool, out past the hostess stand, where the host was greeting new customers. I slunk past their party as it filed through the double doors. Everyone in the restaurant, aside from me, had been Caucasian," Lee wrote in her essay for the AALL 2021 Minority Leadership Development Award.
"If it hadn't been for that bartender, and my thwarted appetite for wood-fired pizza, I might still be on the [University of Nebraska-Lincoln's Marvin & Virginia] Schmid Law Library faculty, writing an entirely different statement for this application," Lee wrote.
Lee later applied for and became the Chicago-Kent research and instructional services librarian.
"Back in the Windy City, I carved a niche for myself by helping people who are new to the United States, and therefore in the minority, to feel less like outsiders," Lee wrote.
The AALL believed Lee did a good job doing just that: She is to receive the leadership award virtually in July.
"The competition for this year's award was extremely close, with outstanding applicants from law school and law firm libraries across the country," says Andrew Christensen, who heads the AALL's Diversity and Inclusion Committee.
"We selected Mandy based on her significant work supporting diversity and inclusion in the workplace and profession, and also her compelling personal statement on her experience as a librarian of color and how she plans to further serve AALL and her other communities as a leader in related initiatives," Christensen adds.
Since her arrival at Chicago-Kent in 2017, and amid the rash of recent anti-Asian incidents, Lee became chair of the AALL's Asian American Law Librarians Caucus. As such, she contributed to the development of the AALL's all-caucus hate crimes panel discussion that took place in August 2020.
She also created two new committees within the Asian American Law Librarians Caucus, a social committee and a community service committee, "to emphasize positive interactions and contributions to the law librarian community and beyond." The latter committee has since hosted a "bystander intervention training" for all AALL members, focused on anti-Asian hate incidents. It was well-attended and well-received, and Lee is planning a second training later in 2021.
On a more personal level, Lee has gone out of her way to introduce students and visiting scholars from foreign countries to Chicago, hosting three Thanksgiving dinners in two years.
Lee says she was thrilled to receive the award, given it was the last year she was eligible. The award, meant for those starting out in their careers, has a very tight window: applicants must have been AALL members for at least two years, but have no more than five years of professional library experience.
"I almost didn't apply. Literally last minute I submitted my application," Lee says, adding, "Over the years I have gotten to know a lot more people in the profession. I've received emails from colleagues all over the country; it was nice to have those work friends who were happy for me."
"Mandy's leadership style is patron- and community-focused, whether the community members are law librarians, students, or faculty," says Chicago-Kent Law Library Director Jean Wenger. "She is thoughtful, innovative, and dedicated to informing and leading others on diversity issues through dialogue and discussion."
Lee has also authored columns in the AALL's magazine, Spectrum, about different types of technology that could be used to promote diversity/inclusion; advice on how to stop anti-Asian and Pacific Islander American violence; and ways that law librarians can bolster Asian-American materials, including books by or about Asian-American lawyers and judges.
Lee received her law degree from DePaul University College of Law and her master's in library and information science from the University of Illinois at Urbana-Champaign. She was a librarian at Schmid Law Library before coming to Chicago-Kent.
This is the second award this year going to Chicago-Kent Law Library faculty. In May Wenger received the 2021 Agnes and Harvey Reid Award for Outstanding Contribution to Law Librarianship by the Chicago Association of Law Libraries.