Chicago-Kent Team Advances to Semi-Finals in Ethics Trial Competition
Chicago-Kent Team Advances to Semi-Finals in Ethics Trial Competition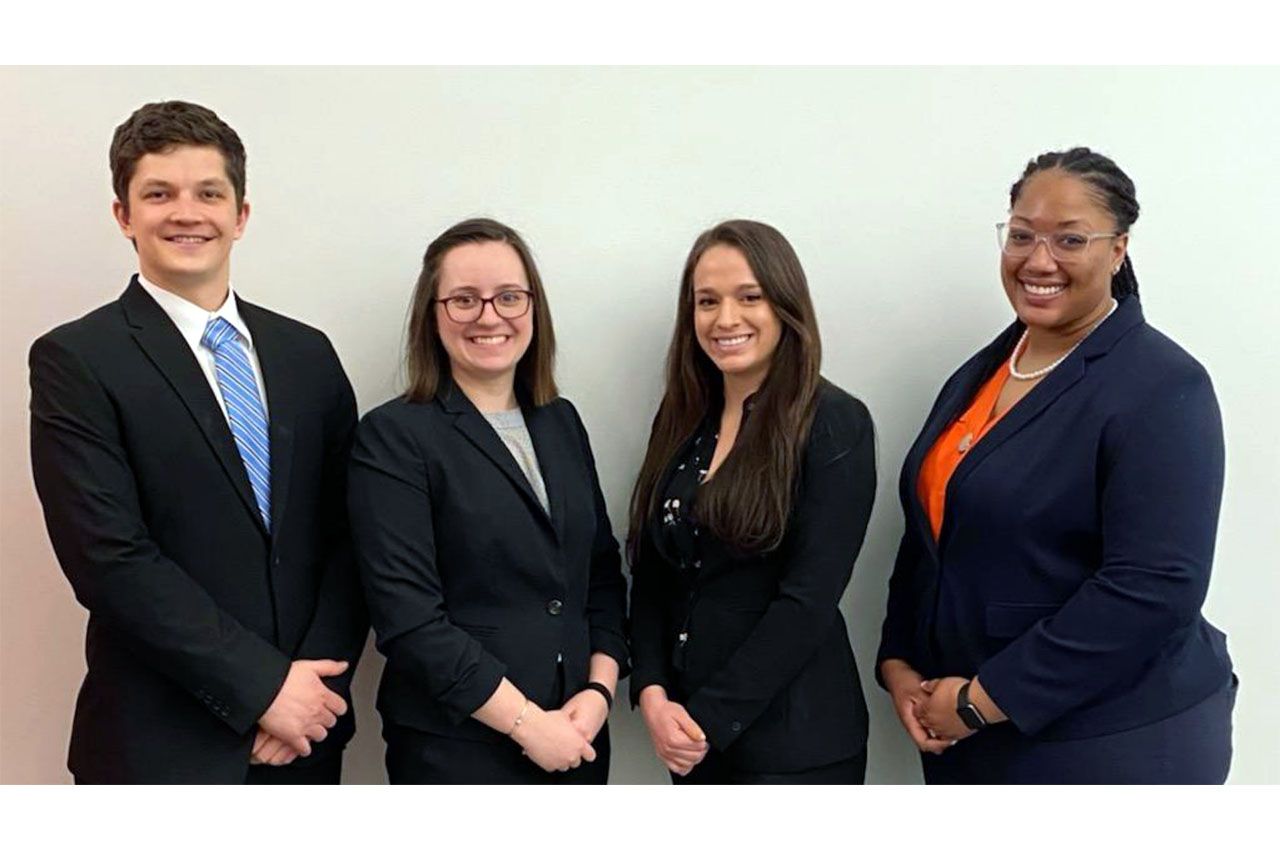 After six arduous rounds spread over three days, Chicago-Kent College of Law's Trial Advocacy team finished in the final four during the National Ethics Trial Competition this year.
Second-year law students Lorianna Anderson, Alexander O'Connor, and Sam McHugh were joined by third-year student Megan Escobosa to reach the semifinals in the 32-team competition, which took place March 18–March 20. Each team member also picked up at least one best advocate nomination.
In particular, the two-person team composed of Anderson and Escobosa, who represented the fictional plaintiff in the competition, went undefeated—winning all three of their bouts, including the quarterfinal win.
"It was great to see where you start and where you end up, seeing your advocacy skills transform," Anderson says. "As you go on you get better at making objections, and being more confident in what you're arguing and what you're saying."
The fictional case centered on an attorney who represented two different lobbying groups: one for the liquor industry and another for recreational and medical marijuana dispensaries.
The cannabis group sued the attorney, saying she had competing interests and was negligent in representing them. The group had pushed for an exemption to a state law governing "relaxants," which include both liquor and cannabis, allowing for sampler rooms, similar to exemptions for wine tasting rooms. But prior to a legislative vote on the exemption, the liquor lobby had sent the attorney a letter, saying it was preparing to take a stance against it.
The cannabis group said it hadn't been made aware of the letter when it signed a joint representation waiver with the attorney, allowing her to represent both lobbies. Thus, the group said it didn't have informed consent.
Each team had to handle legal ethics experts testifying for both sides. Judges noted that Anderson's cross examinations of the expert were particularly strong.
"The expert was friends with the defendant, had dinner with her daughter once a week," Anderson laughs, explaining that the expert was thus weak against allegations of bias.
Additionally, "Sam [McHugh] would take the other side's theme in her closing statement and use it against them, and the judges really loved that," O'Connor says.
It was a tactic both teams practiced and executed effectively.
The teams started out with a loss against Fordham University School of Law, followed by a win against Chapman University's Fowler School of Law on March 18. The following day brought two more wins against Cornell Law School and William & Mary Law School. Finally, the plaintiff-sided team won against Fordham, but the defendant-sided team lost in the semifinal against the UCLA School of Law.
Born and raised in Chicago's Bronzeville neighborhood, Anderson received her bachelor's degree in social work from the University of Illinois at Urbana-Champaign. She wants to do public interest work when she graduates.
O'Connor grew up in Grayslake, Illinois, and received a political science degree from Kenyon College in Ohio in 2017 before working for the campaigns of multiple Illinois state representatives.
Originally from Reno, Nevada, Escobosa graduated from DePaul University in 2017 with a bachelor's degree in political science. Upon graduation, she will start as an associate attorney at Bruning & Associates, a general practice firm.
McHugh received her bachelor's degree in international relations from Boston University in 2015. She currently interns at FINRA, an independent self-regulatory organization, where she helps to bring actions against brokers and traders who violate securities laws. Upon graduation, she hopes to practice securities regulation or prosecute white collar crime.