Chicago-Kent Team Finishes Among the Top Four Teams in the 2020 All Star Bracket Challenge
Chicago-Kent Team Finishes Among the Top Four Teams in the 2020 All Star Bracket Challenge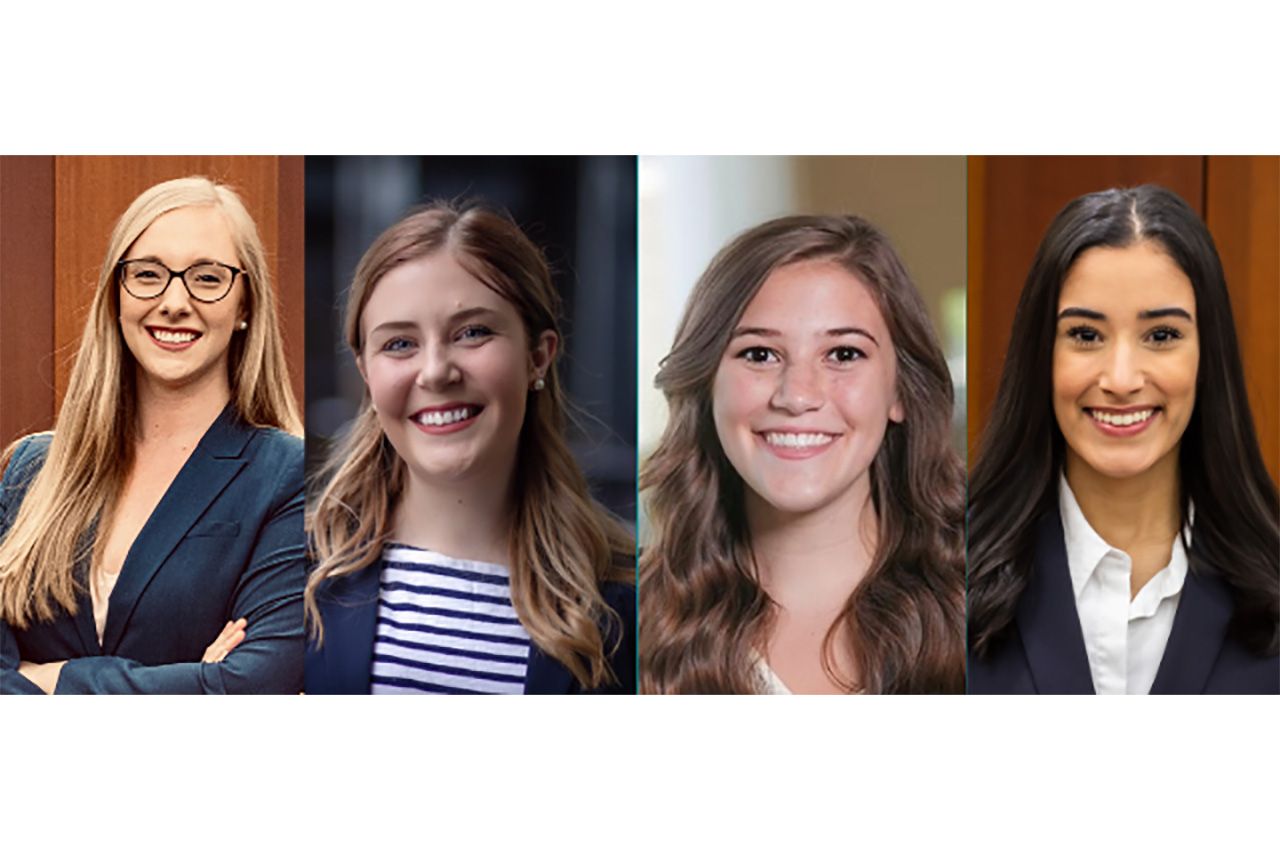 The Chicago-Kent College of Law trial advocacy team of Valerie Letko '21, Kimberly Napoleon '21, Zoe Green Appler '22, and Emily Salomone '22 finished as national semifinalists in the 2020 All Star Bracket Challenge. The team went undefeated and emerged as the Midwest Region's #1 team, and Letko was named the Best Advocate in the Midwest.
The All Star Bracket Challenge featured an National Collegiate Athletic Association (NCAA)-style bracket that started with 64 law school teams. During the regional competition, the Chicago-Kent team went 4-0, beating teams from Washington University School of Law, South Texas College of Law Houston, University of South Dakota School of Law, and Northern Kentucky University Salmon P. Chase College of Law. In the Sweet 16 round, the team defeated University of Denver Sturm College of Law; in the Elite 8 round it beat St. John's University School of Law to advance to the national semifinals. The team fell in the semifinal round to Stetson University College of Law, which went on to capture the championship.
The team argued a RICO case involving a detective working on an FBI task force that was accused of obstruction of justice and murder. The detective was accused of tipping off a criminal organization any time the task force got close to an arrest, and was also accused of murdering a member of the gang when he thought the member had snitched to the FBI about his involvement.
Along with preparing for the case itself, Letko says, the virtual environment required a complete re-imagining of how they would conduct a trial. How to present evidence and testimony in a virtual format and how to communicate with co-counsel during the actual trial were among the many factors they had to consider. Letko says Nicolas Gonzalez '22, the team's tech specialist, and Guy Guenther '18, tech coach, played key roles in setting up the team for success, which included designing virtual exhibits.
"Advancing out of what was perhaps the toughest region in the country and to then finish in the final four was an incredible accomplishment, especially given the fact that this was everyone's first all-virtual competition," Letko says. "We are thrilled that after weeks of preparation and hard work, it all paid off. We could not have asked for a better experience."
The team was coached by Chicago-Kent's director of trial advocacy David Erickson, Ana Montelongo '16, Kulmeet (Bob) Galhotra '90, Tyler Mikan '17, and Mariam Chamilova '19. The team also gave special thanks to Michelle Truesdale '04.
"Our students were magnificent, as they turned in three-dimensional performances in a two-dimensional world," Erickson says. "To put it in perspective, this competition included 147 trials over four days with 256 advocates from 64 law schools, and Chicago-Kent was among the last four standing. Their accomplishment was incredible."
The All Star Bracket Challenge was held virtually on Zoom over two weekends, October 15–18 and October 23–24, and teams were given webcams and professional microphones as part of the competition. The competition was sponsored by St. Mary's University School of Law, Nova Southeastern University Shepard Broad College of Law, Quinnipiac School of Law, University of San Diego School of Law, UCLA School of Law, Berkeley Law, and Loyola University New Orleans School of Law.
Appler graduated from American University with a bachelor's degree in political science; Letko earned her bachelor's degree in political science from University of South Carolina; Napoleon graduated from University of West Florida with a bachelor's degree in legal studies; and Salomone earned her bachelor's degree in small business and entrepreneurship from North Central College.
Chicago-Kent's trial advocacy teams have won numerous individual student honors and regional and national competitions. In the most recent U.S. News & World Report graduate school rankings, Chicago-Kent's Trial Advocacy Program is ranked fifth in the country.