Chicago-Kent Team Reaches Quarterfinal in South Texas Mock Trial Challenge
Chicago-Kent Team Reaches Quarterfinal in South Texas Mock Trial Challenge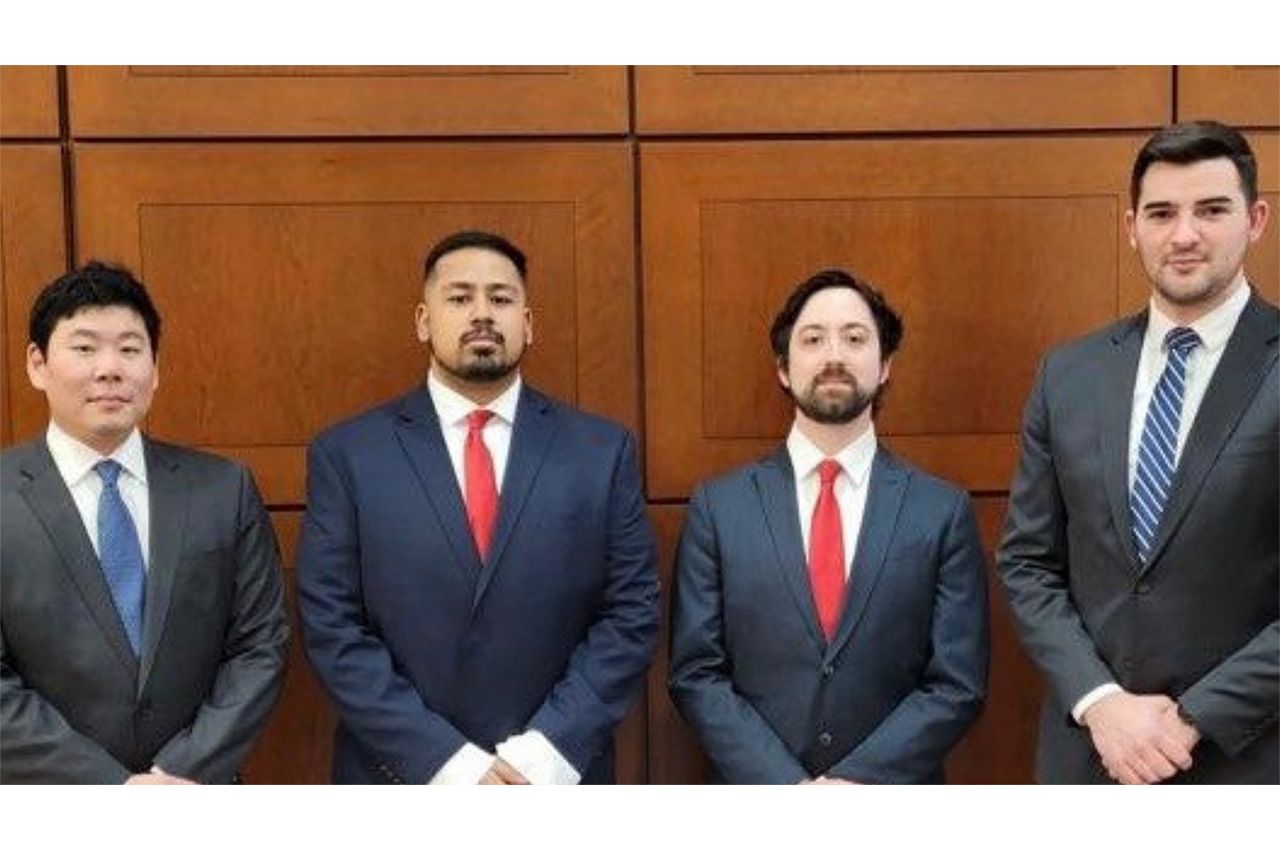 Thriving in a rare format that forced them to prepare for previously unspecified witnesses within minutes, a Chicago-Kent College of Law trial advocacy team advanced to the quarterfinal round in the national South Texas Mock Trial Challenge this year.
The team—including third-year law students Eddie Hettel and Matt Lee, joined by second-year student Alex Bennett and first-year student Razaul Haque—advanced among the final seven of 34 teams that competed in the March 25–29 competition.
During its four preliminary rounds, the team faced off against American University Washington College of Law, Quinnipiac University School of Law, Thomas Jefferson School of Law, and Campbell University Law School.
After an undisclosed tally of wins and ballots from those four matches, the team scored well enough to advance to the quarterfinal round, where it lost against Howard University School of Law.
Still, judges complimented the team for its strategic ability to select and direct witnesses—which was crucial to its advancement.
The competition centered on a fictional federal district court case in which a couple sued the owner of a day care for allegedly allowing their children to become infected with measles.
The couple's daughter was infected at the day care; she then brought the virus home, infecting her immunocompromised sister as well.
Both the plaintiff and defense teams had a plethora of witnesses from which to choose—six, in fact, for each side. There were the parents, the day care provider, state and county health officials, another pair of parents who didn't believe in vaccinations, a local doctor, and an uncle who may have been the source of the outbreak.
And they could only choose two of them.
The twist of the competition was that the opposing team did not know which two witnesses would be brought against it until about 10 minutes before each bout began. So the team had to prepare for all of them.
"It made it pretty unique," says Hettel, who was on the defense team along with fellow third-year student Lee. "We picked the uncle, because our theory was the uncle brought measles into the day care. He'd traveled to a country with an outbreak, but thought he was fully vaccinated. No one had any reason to think he was any threat because he was fully vaccinated."
For a second witness, the defense team picked a county health official who'd consulted with the day care operator every step of the way, and provided guidance when the outbreak happened.
The plaintiff team, which included Bennett and Haque, picked as its first witness one of the parents bringing the suit, followed up by the director of the state health department, who placed blame on the day care for allowing another child to attend who was not vaccinated, going against the day care's policy.
"Our defense against that was, regardless of what you think, these parents had a personal belief exemption granted by state law, and because they did, the operator of the day care had their hands tied," Hettel says. He also brought up privacy laws.
Still, Hettel noted the state law had no penalties or enforcement mechanism, and acknowledged, "It was a hard one to defend against. It was tough, but it was kind of fun in the end to see what creatively you could come up with." 
And in the end, it was good practice.
"You might have to deal with that; you might have bad facts. [The competitions] test that, your ability to put a spin on that in a positive way," Hettel says.
And the judges, when giving feedback, liked the witnesses and the order in which they were called.
Both the defense and plaintiff teams used their first witnesses to set the stage from a sympathetic perspective, and their second to break things down from a technical perspective.
"Strategically, all the judges liked that play," Hettel says.
Hettel earned his bachelor's degree in business administration from the University of Wisconsin-Madison. He has clerked at Tomasik Kotin Kasserman, LLC since 2019, primarily working on personal injury and medical malpractice cases. Upon graduation, he plans to pursue a career in litigation.
After receiving his bachelor's degree in chemical engineering from Auburn University, Bennett worked as an engineer for an automotive lubricant manufacturer in the Detroit area. He hopes to work in intellectual property litigation, utilizing his industry experience and hard-science background.
Haque earned his bachelor's degree in political science from the University of Illinois at Chicago. He worked at Acuna Law Offices, which focuses on startup law, real estate, and tenants' rights. After graduating from law school, he plans to work as a transactional attorney in corporate finance or mergers and acquisitions. 
Lee earned his bachelor's degree in psychology from Marquette University. He currently clerks for the Law Offices of Kevin E. O'Reilly, a Chicago plaintiff's firm. After graduation, he plans on working in civil litigation.