Chicago-Kent Team Reaches Semifinal Round at the 2020 National Pretrial Competition
Chicago-Kent Team Reaches Semifinal Round at the 2020 National Pretrial Competition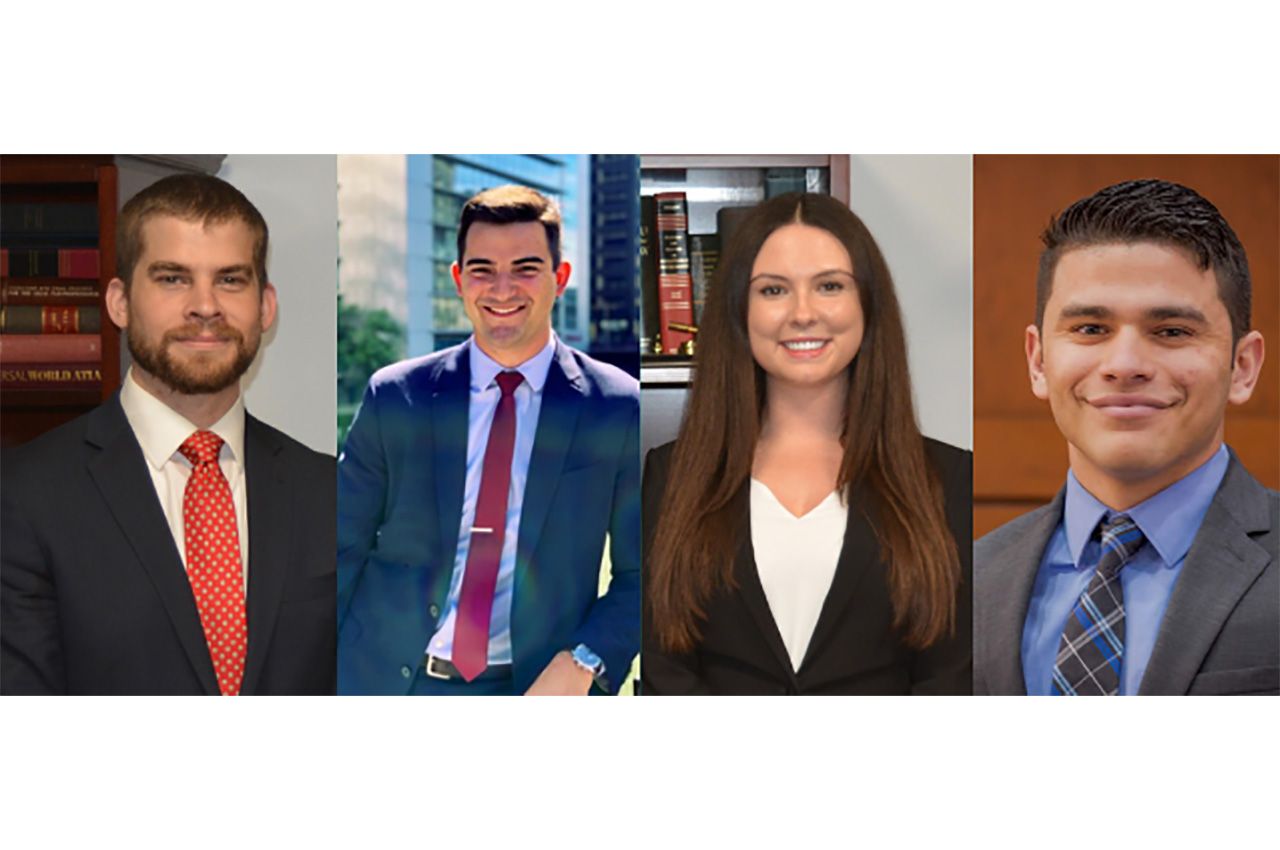 The Chicago-Kent College of Law trial advocacy team of Claire Axelrood '21, Adrian Delgado '20, Andrew Hale '20, and Eddie Hettel '21 reached the semifinal round of the 2020 National Pretrial Competition held by Stetson University College of Law. This year's competition was held over Zoom from October 8–11, 2020.
Axelrood, Delgado, Hale, and Hettel defeated teams from the University of Texas School of Law, Stetson University, and Florida State University College of Law. The Chicago-Kent team lost to Nova Southeastern University College of Law in a preliminary round and fell to them in the semifinal round, with Nova Southeastern capturing the top prize.
The team argued a case involving an alleged racially motivated police shooting of an armed individual in his own home. The plaintiff was the mother of the decedent and brought claims against the defendants, the sheriff's department, and the individual police officer, alleging wrongful death by use of excessive force under section 1983 and negligence. The defendants asserted an affirmative defense of qualified immunity.
Beginning in late August the Chicago-Kent team practiced together in a virtual environment. Axelrood, the team captain, says that courtroom dynamics were completely upended so their coaches helped ensure that "the energy that we would typically use to fill an entire courtroom was represented via a video call."
"This competition was the most unique challenge we have faced during our collective law school careers," Axelrood says. "While the world continues to adjust to the new normal created by the COVID-19 pandemic, Chicago-Kent's trial advocacy team continues to adapt and succeed thanks to the coaches to who volunteer their time and the students who put in the work."
The team's coaches included alumni Fariz Burhanuddin '14, Ashur Youash '19, Derek Bolka '20, Saman Haque '20, and Natalie Wilkins '19. The guest judges included Jack Bentley '12, Jake Berger '14, Marcell Taylor '12, Warren Fasone '18, Michael Schostok '19, Alex Passo '14, Patrick Ferrell '13, Nicholas Economakos '12, and Ana Montelongo '16. Special thanks also goes to alumni Nicholas Caputo '01 and Ljubica Popovic '98, and students Mauricio Guevara and Megan Escobosa.
"It is always a privilege to coach a Chicago-Kent trial advocacy team," Burhanuddin says on behalf of the coaches. "They faced each challenge thrown at them with humility, determination, and charisma. Although the semifinal finish was short of our goal, we could not be more proud of our students. They have bright futures ahead of them."
Axelrood earned a bachelor's degree in communications from DePaul University; Delgado graduated from the University of Illinois at Chicago with a bachelor's degree in philosophy; Hale graduated from American Military University with a bachelor's degree in intelligence studies; and Hettel earned a bachelor's degree in business administration from the University of Wisconsin-Madison.
Chicago-Kent's trial advocacy teams have won numerous individual student honors and regional and national competitions. In the most recent U.S. News & World Report graduate school rankings, Chicago-Kent's Trial Advocacy Program is ranked fifth in the country.