Chicago-Kent Trial Advocacy Team Reaches Finals in Major National Competition
Chicago-Kent Trial Advocacy Team Reaches Finals in Major National Competition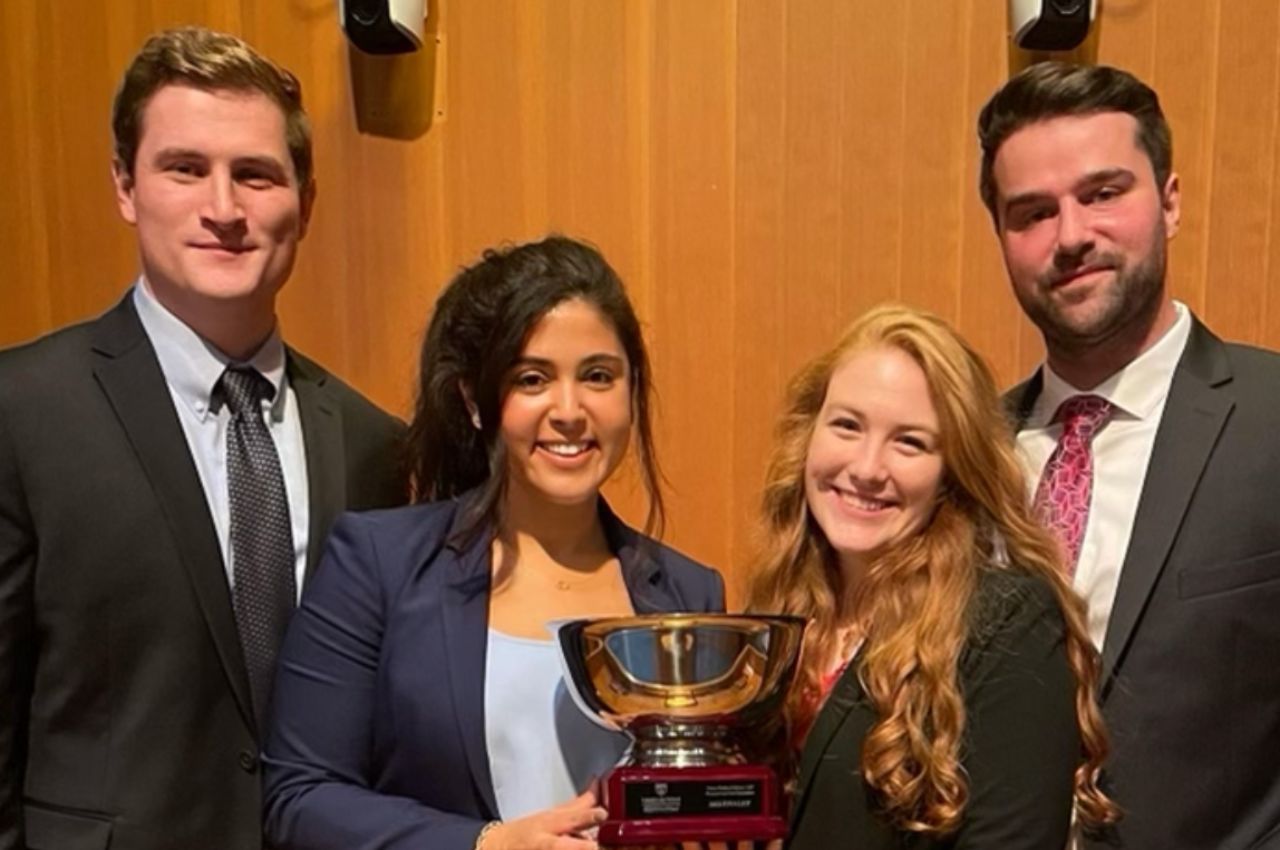 A powerhouse team of four Chicago-Kent College of Law trial advocacy students advanced through numerous rounds of the 2022 National Civil Trial Competition to finish in the November finals with an award for best closing argument.
Alexis Endres '24, Nic Zito '23, Rana Salem '23, and Jack Debacker '24 appeared in-person in Santa Monica, California, for the November 3–7 competition, which was hosted by Loyola Marymount University Law School.
Judge David Erickson, the director of Chicago-Kent's trial advocacy program, called the students "amazingly talented," and went on to praise them individually.
"Rana controlled the courtroom with grace and had an opening statement which had every person rooting for the big corporation to lose….This was Jack's very first trial competition and no one could have guessed that…..Evaluators stated that [Endres's] objections were impeccable and that her mastery of the facts was something to strive for," Erickson said in a widely disseminated email.
He added that Zito, who won the best closing argument award, "made jurors have to cover their faces while they giggled along with his witty close….He was the calming force that kept us grounded the whole way through."
As is typical for the competition, teams were required to argue both sides of a fictional civil court case in the state of "Pacifica." It was loosely based on a real-life case, Goff v. Charter Spectrum.
The plaintiff in the case was the family and estate of a man who had been robbed and murdered by a telecommunications employee who entered his home. The employee was criminally convicted and was serving a life sentence.
The defendant was the murderer's employer, a private company named Skynet Communications.
As is also typical in the competition, there were plenty of caveats. The murderer didn't enter the home on a work call, but rather returned there after such a call in his work uniform. And then there was the matter of his background.
The suit was based on a claim of negligent hiring and supervision, and centered on the fact that Skynet had only done a five-year background check. If they had done a 10-year check, they would have found felonies for fraud, identity theft, and domestic violence.
The plaintiffs also argued that the company had failed to notice the murderer's "red flag" behaviors: that he paced, was restless, was going through a divorce, and was often crying. He was having financial struggles, and asked a supervisor for a loan.
Zito and Endres, who always argued for the defense, pointed out that a five-year criminal background check was the FBI standard. And even if they had done a 10-year check, it wasn't reasonably foreseeable that those prior convictions would have led to a murder.
As for the "red flags," the team argued that these were standard human behaviors that many people had, and could hardly be seen as causation.
If anything, the defense team said, the supervisor was simply being sympathetic; they often checked in on the employee and made him aware of financial and therapeutic resources through the company's human resources department. They testified that they never observed anything that would suggest violence.
The team argued their way through four preliminary rounds against Stetson University College of Law, Temple University Beasley School of Law, UCLA School of Law, and University of Akron School of Law.
During the semifinal, the team had to argue for the defense against Campbell University Norman Adrian Wiggins School of Law. After besting Campbell, the team went up against UCLA in the final. Though they had beaten the California school in the preliminary rounds while arguing for the plaintiff, this time they were required to take the opposite side, for the defense.
Despite an award for best closing argument, the team lost their second match against UCLA. In the real-life case of Goff v. Charter Spectrum, the defense lost as well and was hit with a $7.3 billion verdict from the jury (though the judge in the case reduced the penalty to $1.14 billion).
Still, the competition's judges complimented the Chicago-Kent team as consummate professionals, noting they walked into the mock courtroom as if they were in a real trial, and maintained their demeanor throughout.
Endres stressed that the team got a lot of help from its coaches, Kristen Farr Capizzi '18, Lilly Mashayek '20 and Alex Rafajko '20.
"We couldn't have gotten as far as we did without their constant direction, support, and the time they put into making us the best we could be," Endres said.
Endres was born and raised in Lombard, Illinois, and received twin bachelor's degrees in sociology and psychology from North Central College in Naperville, Illinois. She wants to practice criminal law when she graduates, and has clerked for the Cook County State's Attorney's Office in its felony trial division.
Zito grew up in Wayne, Illinois, and received his bachelor's degree in agricultural and consumer economics from University of Illinois Urbana-Champaign. He has completed externships for the U.S. Attorney's Office in Chicago and the Illinois Attorney General's Office, and was a summer associate in Goldman Sachs' wealth management division.
Salem grew up in the Chicago exurb of Lake Zurich, Illinois, and received her bachelor's degree in economics from the University of Illinois Chicago. She was a summer associate at Faegre Drinker in 2022, and will be joining the firm as an associate after graduation.
Debacker grew up in Ypsilanti, Michigan, and received his bachelor's degree in philosophy and political science from Loyola University Chicago. He currently clerks for The Law Office of William Wolf, LLC, a Chicago-based private criminal defense firm. He intends on practicing criminal defense law when he graduates.