Fledgling Chicago-Kent Team Reaches Finals in National Trial League Competition
Fledgling Chicago-Kent Team Reaches Finals in National Trial League Competition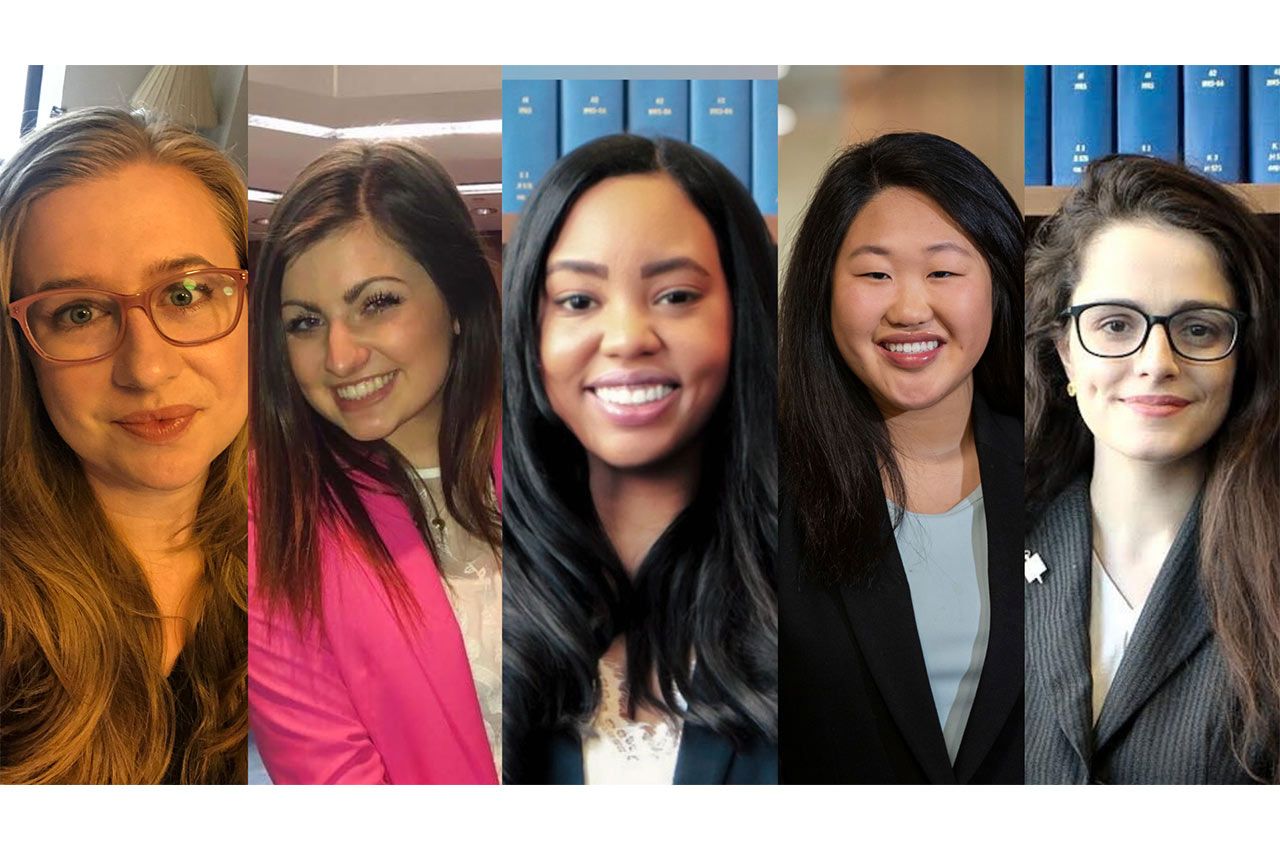 In a grueling "trial by fire" that involved first and second-year law students researching and arguing eight separate court cases over several months, Chicago-Kent College of Law reached the finals in the first-ever National Trial League trial advocacy competition.
"The National Trial Competition was truly a unique and challenging experience for all the teams, but especially for ours. While others sent experienced 2L and 3L advocates to compete, we made the decision to give untested 1Ls and 2Ls the chance to gain experience," says Judge David Erickson, director of Chicago-Kent's trial advocacy program. "Our students excelled at the challenge. They are a credit to the school, the program, and most of all, to themselves."
"It was definitely a trial by fire," says Kimberly Napoleon '21, who along with Danielle Austriaco '21 coached a team of three first-year and two second-year students. "It was a little crazy, because no 1L ever does extracurricular [events]; you just don't have time for it. Some of them didn't even have trial advocacy experience. For some of them, we were teaching them what a trial looks like."
The first-ever National Trial Competition, put on by Syracuse University College of Law, started in late August 2021. Through November teams from 12 schools competed in seven preliminary rounds, each time debating a new fictional court case, all of them requiring weeks of preparation.
"Technically they were supposed to be mini-trials, but there were an abundance of them," Napoleon notes. Sometimes the cases were criminal, sometimes civil, and sometimes they would include preparing for multiple witnesses.
Each time, the five members of Chicago-Kent's team—including second-year students Catherine Arnpriester and Sandra Khouri and first-year students Claire Bullington, Jennifer Dickey, and Jenny Jung—would strategically arrange themselves based on who could give the strongest arguments. Two would be picked for each round.
Their team ranked as the top seed after those initial seven rounds, allowing them to reach the semifinal "playoffs" in January and debate yet another new case against teams from St. Mary's University School of Law, Georgia State College of Law, and University of South Carolina School of Law.
They beat all three teams to reach the finals, where they were offered a unique reprieve: They'd be able to argue the same case they presented in the semi-finals. They again faced off against St. Mary's.
The fictional federal district court case involved a first-degree murder charge against the father of a woman who allegedly had been abused by her boyfriend. The father was accused of going to the apartment the younger couple had shared and shooting the boyfriend in the back of the head.
The evidence was all circumstantial. Nobody saw the shooting take place.
But the prosecution presented 2 a.m. text messages between the father and daughter, who had returned to her father's house after the alleged abuse. She mentioned she'd "heard the [front] door slam," to which he replied that he was just going to her old apartment to get her furniture.
The father had a gun that matched the type used in the shooting, but he told investigators it had been stolen the day before the shooting, though he hadn't reported it. A gun was found next to the boyfriend's body, but there was no ballistic evidence to tie it to the father.
The defense noted that the lead police investigator in the case was a friend of the victim, who was also a police officer. They also pointed to an ex-boyfriend of the daughter who texted a friend that he would kill the boyfriend for what he'd allegedly done.
During the semi-finals, Khouri and Dickey argued successfully for the defense.
"We argued he didn't do it— he wasn't there. A lot of it was 'he said, she said,' proving and disproving a circumstantial case," Austriaco says.
During the finals, Arnpriester and Bullington squared off as the prosecution. They were given two additional witnesses to prepare for at the last minute: a woman who said she saw the father outside his own house at the time of the shooting, and a then-inebriated eyewitness who said he saw the father standing over the victim with a gun in his hand.
In the end, the team was bested in the finals by St. Mary's, though they completed the tournament with the best win/loss record. Still, judges complemented Bullington's ability to adapt to opposing counsel's arguments, think quickly on her feet, and shift arguments during trial. They also noted Arnpriester's detailed knowledge and skillful use of evidence.
"We have all grown substantially as advocates, and it's thanks to Kim and Danielle that we are where we are today," Khouri says.
"I am so grateful to have the opportunity to be taught, challenged, and encouraged to pursue this new passion and career path at Chicago-Kent and the amazing trial advocacy program," adds Jung.
Arnpriester received her bachelor's degree in political science from Arizona State University. She is currently on the Dean's List and is externing with Cook County Circuit Court Judge Michael Otto. Before attending law school, she was an independent film actress and has also written, produced, and directed. She now performs sketch comedy and stand-up at Second City.
Bullington received her bachelor's degree in psychology from Wheaton College, where she was a part of the mock trial team. She hopes to litigate after graduating law school.
Dickey graduated with a bachelor's degree in political science from Saint Xavier University and worked in the sports/entertainment industry before returning to school. She now externs for U.S. District Court Judge John Tunheim.
Jung received her bachelor's degree in business administration from Ohio State University, and interned at Manley Deas and Kochalski LLC in Columbus, Ohio, and clerked at Flickinger Legal Group, also in Columbus.
Khouri studied economics and philosophy at Lake Forest College. She's an honor scholar at Chicago-Kent, a representative for the Student Bar Association, a teaching assistant for civil procedure, and a certified mediator with the Center for Conflict Resolution in Chicago.