Making Their (Trade)Mark: Chicago-Kent Team Advances to Nationals of Competition
Making Their (Trade)Mark: Chicago-Kent Team Advances to Nationals of Competition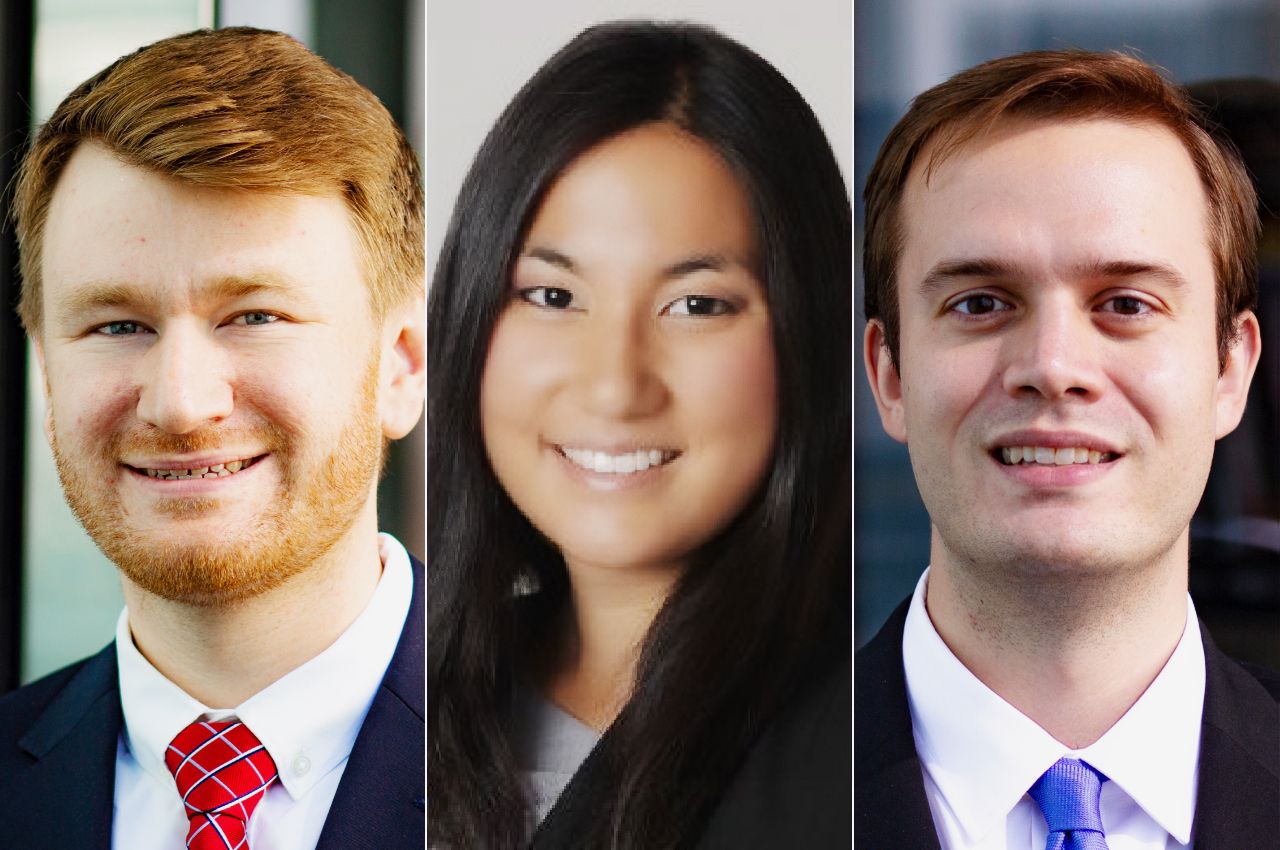 Chicago-Kent College of Law students Alyssa Yoshino '23, Connor Larson '23, and Keaton Smith '23 finished in first place in the Chicago regional of the Saul Lefkowitz Moot Court Competition—the only competition in the country that focuses on important issues arising in United States trademark and unfair competition law—on February 4, 2023. The team also took home the coveted best brief prize, and will now head to the national competition in Washington, D.C., in mid-March.
Ashly Boesche '05, partner at Pattishall, McAuliffe, Newbury, Hilliard & Geraldson LLP, coached the team. She's been coaching the trademark moot court team at Chicago-Kent for almost a decade. She says that she knew this team had potential right away.
"One thing I noticed right out the gate was their initiative," she says. "When you come across a group of students that are dedicated and taking initiative, it inspires me and makes my job as a coach so much easier."
A Chicago-Kent team last won the regional competition in 2018—and that team went on to win nationals, as well. Before the COVID-19 pandemic, Chicago-Kent saw great success in Lefkowitz competition, including many trips to nationals. While the pandemic brought new challenges and with students facing additional pressures, Boesche says the current team is in a great place as it returns to nationals.
"There has to be team chemistry. That's something I can't force on them. We either have it or we don't. We have it this year, and sometimes that makes all the difference," she says.
"We got really lucky. We've got a great team," Larson adds. "Everyone worked well together and we've been having fun doing it, so it's a good team."
Adds Smith, "We're all doing our best and recognize that in each other, so there's a lot of respect among us."
The team's practices are always full of laughter and the trio say that the regional competition was fun, despite the pressure.
Through this competition, Yoshino says she has honed her advocacy skills.
"I like arguing trademark matters," she says. "Some of the things that I argue are new. There isn't much case law out there, and I like that."
This year, the case revolves around a fictional small town record store that claims a fictitious boy band, "BTX," is infringing on its trademarked catchphrase by using similar wording on their tour costumes.
The boy band countersued the record store for false endorsement, pointing to a social media post in which the store used BTX dolls to promote itself.
In the district court, BTX won. The moot court competition picks up at the appeal.
Teams had to submit their briefs in early January. The brief makes up half of a team's final score. The Chicago-Kent team was assigned to argue on behalf of BTX  in its brief, which the team members dedicated their entire winter break to writing. The sacrifice paid off, as the group won the best brief prize, and those points will carry into the finals.
"It's up to them at nationals. And they have a really good shot," Boesche says. "It's really going to depend on how those arguments go. But the good news is that we're in it."
The team will face off against 11 other teams from around the country at nationals on March 14.
In 2018 Boesche says she knew that the Chicago-Kent team was going to win. She could feel it.
"This is the first year that I'm starting to have those feelings again. I'm super excited," Boesche says. "I won't be disappointed in them. They've already won in my book."
Photo: [from left] Connor Larson, Alyssa Yoshino, and Keaton Smith (provided)