Moot Court Teams Win Big as Competition Season Kicks Off
Moot Court Teams Win Big as Competition Season Kicks Off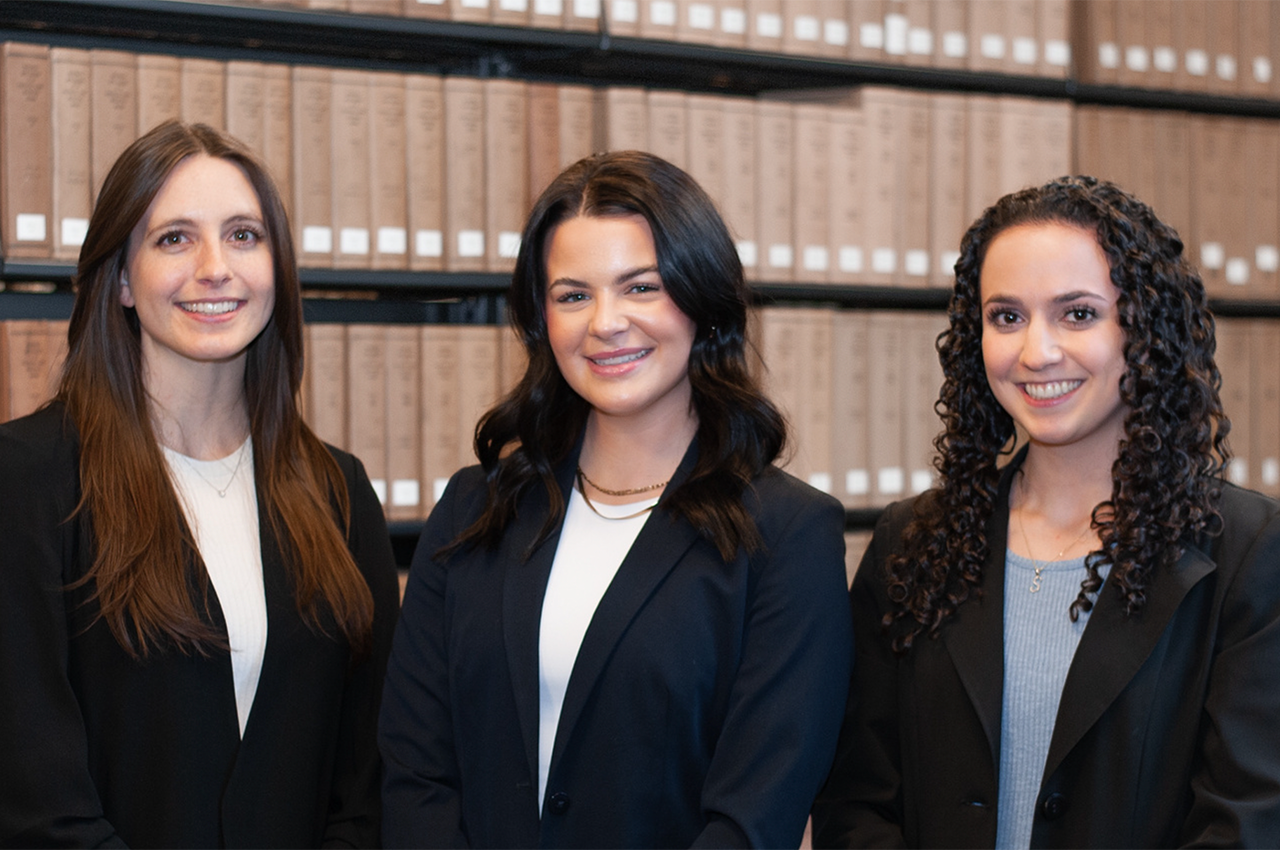 Chicago-Kent College of Law students Brittany Dushman '24, Ben Sheinbein '24, and Aaron Thompson '24 finished as the champions of the 2023 virtual McGee Civil Rights Moot Court Competition, held on March 4. This year's fictional case involved a Department of Human Services official performing a welfare check on a child. The parent wanted to livestream the visit and said an order barring her from doing so was a violation of her First Amendment rights. Sheinbein took home the best oralist prize in preliminary round two. Dushman earned the best oralist prize for the overall competition.
This is just one of the competitions that Chicago-Kent's Moot Court Honor Society (MCHS) has dominated this season. Fifteen other students are also celebrating recent successes.
Clarice Fisher '24 and Evelyn Tarnovsky '24 clinched first place in the virtual UCLA School of Law Cybersecurity Moot Court Competition on March 4. The competition's case looked at phone location data in relation to a crime. It asked if using a thumbprint to unlock a phone qualifies as testimonial, and whether the means by which people unlock their phone should matter in relation to the Fifth Amendment. The duo also won for second-best brief and best overall oral arguments.
In Las Vegas, MCHS team members Marisa Gelabert '24, Helen Gustafson '24, and Nell Riordan '24 scored second place in the Frank A. Schreck Gaming Law Moot Court Competition hosted by UNLV's William S. Boyd School of Law on March 4. Their case's question delved into whether the tribal government in the fictional state of Boyd is allowed to offer virtual bingo on its reservation land or if it needs to receive state permission. The team also won second-best brief.
A second Chicago-Kent team was also victorious in Las Vegas. Jay Castillo '24 and Charlie Johnson '24 made it to the quarterfinals in the Schreck competition. Johnson was awarded best oralist overall.
In February Chicago-Kent students traveled to Milwaukee for the University of Wisconsin Law School's Evan A. Evans Constitutional Law Moot Court Competition. Erin Gallagher '24 and Kaitlyn Watkins '24 finished as semifinalists after arguing a fictional case surrounding a university's admission policy. It questioned if an affirmative action policy violates the 14th Amendment, and if a vaccine policy with no religious exemptions violates the First Amendment.
In Boston, two Chicago-Kent teams finished as regional semifinalists in the American Bar Association Law Student Division National Appellate Advocacy Competition. Paul Ansani '24 and Manuela Burek '24 comprised one team, while Elizabeth Weber '24 and Hannah Wiese '24 made up the other. The case revolved around whether a university was allowed to fire a professor based on comments he made, or if limiting his speech to provided materials amounted to compelled speech and if it was a violation of his First Amendment rights.
Lastly, Elizabeth "Lizzie" Horwitz '23 and Kaitlyn Kloss '23 started the season strong at the Hunton Andrews Kurth Moot Court National Championship at the University of Houston Law Center in January. The Kurth championship is invitational, with only the top 16 teams from the prior year allowed to compete. The case looked at how much leeway a student had under the 14th Amendment and Title IX to cross-examine their accuser and to require the accuser to appear unmasked. Kloss earned second-best oralist in the competition.
MCHS is looking forward to two more competitions this season: one in admiralty law and another on religion and the law.
Photo: [from left] Helen Gustafson, Nell Riordan, and Marisa Gelabert (provided)