Rare Pair of Chicago-Kent Teams Advance in Prestigious National Trial Competition
Rare Pair of Chicago-Kent Teams Advance in Prestigious National Trial Competition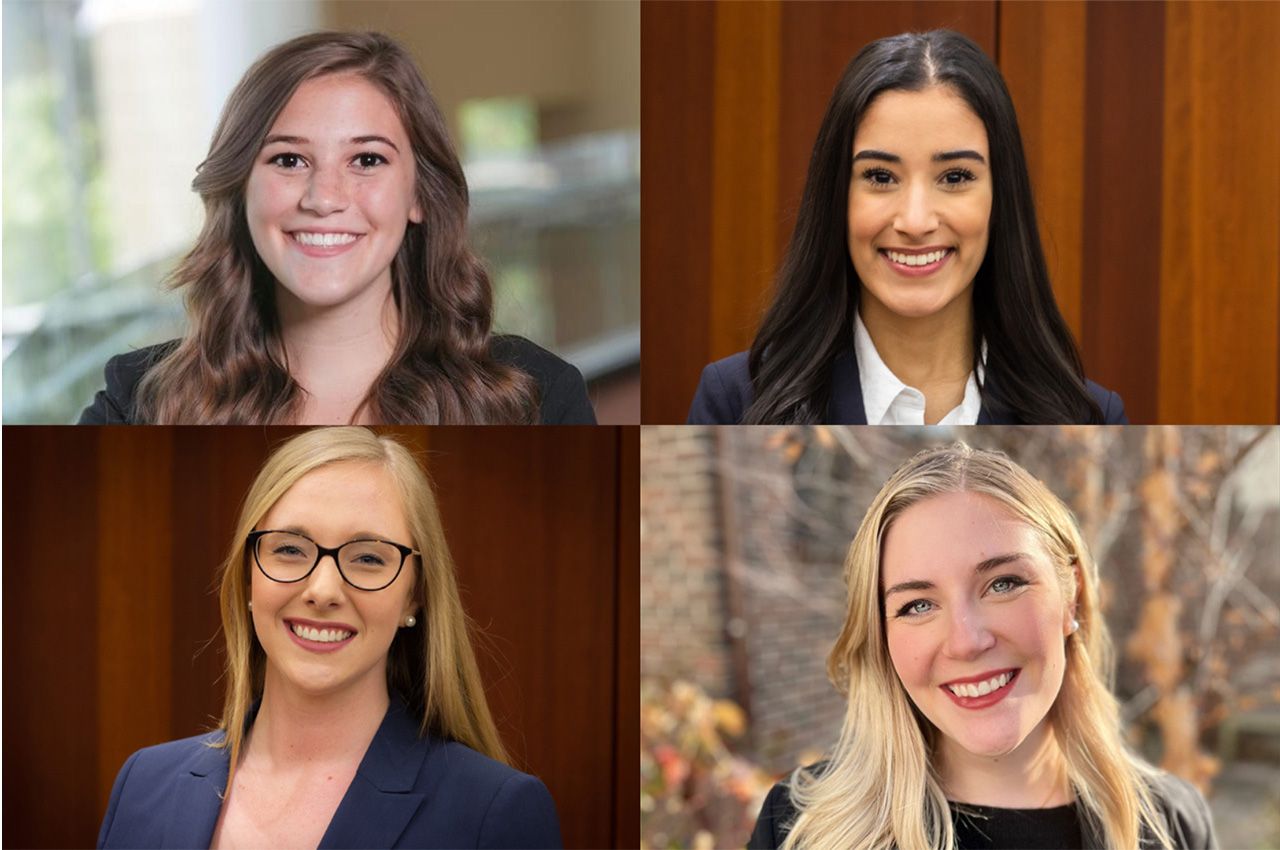 In the decades-old history of the National Trial Competition—the most prestigious trial advocacy contest of the year—only three times have a pair of teams advanced from a single school in Chicago's region to earn their place in nationals.
That third time happened this weekend, when a pair of two-person Chicago-Kent College of Law teams blitzed through regionals with eight wins and two losses.
Historically, it was the second time that Chicago-Kent managed such a feat. Its region includes 14 law schools located in Illinois, Indiana, and Missouri, and is particularly competitive because it has compiled more national titles than any other.
"We give our kids a pat on the back and one hour credit. Our kids do it because of dedication, hard work, and great adjuncts," says Judge David Erickson, who oversees the Chicago-Kent trial advocacy program.
Of this weekend's remarkable string of wins, which occurred entirely over Zoom for the first time, he adds, "In these strange times, the skill, intellect, and sheer force of will shown by these four women has kept Chicago-Kent in the forefront of the teaching of trial advocacy. Their performance was truly extraordinary."
Zoe Appler, Valerie Letko, Kimberly Napoleon, and Emily Salomone, all Chicago-Kent Juris Doctorate candidates, will now go on to compete in nationals, slated to take place in early April. While the final rounds of the 45-year-old competition had been scheduled to take place in Texas this year, they will take place virtually due to the COVID-19 pandemic.
Napoleon and Letko are third-year law students, while Appler and Salomone are second-year law students.
"I don't think any of us imagined we'd be sitting here right now," says Letko. "There were a lot of tears and a lot of struggle to get here. We're so thankful we had [coaches] instructing us; it's been a long road."
The NTC case involved an imaginary tragedy in which a ranch hand drove through the thick smoke of a grassfire to reach his pregnant wife, and died in the conflagration. The wife in turn sued Big City Electric, alleging sparks from one of the local electric company's transformer poles started the fire.
"A white cross now sits on the side of the road in Lone Star because of a company's carelessness," the teammates repeatedly alleged.
It was an effective opening, complimented by multiple judges.
When arguing the other side, the team alleged the ranch hand ignored obvious, reasonable warnings about getting through the fire, even from his wife. And the fire, they claimed, started elsewhere.
The teams had to press technical experts hired by both sides, a sympathetic wife, and the general manager of the company, keeping measure of both their aggression and discretion.
Letko notes how her teammate, Appler, grew more and more adept at cross-examining the widow.
"She was our closer and the anchor of every round…It's really tough to cross a grieving window—I would say the biggest challenge. We don't come across as the most sympathetic. But she did it gracefully and respectfully," Letko says.
When asked about Letko, Appler says the aspiring prosecutor was especially good at laying argumentative traps for opposing experts and witnesses.
"Our presiding judge said it was one of the best crosses he had ever seen," Appler notes of Letko's cross-examination of a "fire expert" who didn't abide by her own guidelines. Letko got the expert to admit those guidelines were "the Bible," then pressed her on why she didn't seem to respect them.
"She fell into every trap," Appler says.
Things seemed to be going fine—until the teams were thrown a curveball on the final day. Instead of fellow law students posing as witnesses, they had to work with and prepare professional actors, some with little ostensible knowledge of how courtrooms work.
One of the witnesses even "went rogue," doing everything the team advised him not to—including arguing with the judge.
"We literally sit them down [before the trial] and tell them, 'Do not fight!'" Napoleon says, laughing.
Ultimately, the curveball earned Salomone a home run.
"She got a lot of commentary [from judges] that she was so graceful [with the witnesses], even when they were doing things we specifically told them not to do," Napoleon says.
That grace under fire helped earn the team a 2–1 win.
Of Napoleon, Salomone says the judges complimented her ability to handle evidence—and weave it into closing arguments with formidable precision.
"You have to trust the process and trust the work you put in. In the final round you're going against really good schools. That confidence in your own work and your own style will carry you very far," Napoleon says.
Adds Appler, "We have the policy that we like to stick to our material. Even if we see something we like from another team, we very much stick to the policy that our material is the best material."
With 18 hours a week dedicated to practice, on top of jobs and their regular course load, the team says learning that material was arduous but worth it.
On the first day of the February 19–21 regional competition, Appler and Letko took a 3–0 balloted win against Washington University in St. Louis, followed by a 2–1 win against Loyola University Chicago and a 2–1 loss against Northwestern University the following day. On the final day they earned another 3–0 win against Loyola during the semifinals, then took the final in a rematch against Northwestern with a 2–1 win.
Napoleon and Salomone started off with a disheartening 0–3 loss against DePaul University. But they bounced back the next day with a 3–0 win against UIC John Marshall Law School, coupled with a 3–0 win against Loyola. They won a semifinal against Washington University, and were pitted against John Marshall in a rematch in the final, beating them 2–1.
Letko, who aspires to begin her legal career as a prosecutor, came to Chicago-Kent after earning her political science degree from the University of South Carolina in 2016. She has held internships with both the Cook County and DuPage County state attorney's offices, where she watched court proceedings on a daily basis.
"Those internships were incredibly valuable, but nothing better prepared me for this competition than the trial advocacy courses I've taken at Chicago-Kent," Letko says.
Appler received her political science degree from American University in Washington, D.C., where she was a member of the mock trial team for three years. She now works as a law clerk for a plaintiff's employment litigation firm, Stephan Zouras, where she assists in class action lawsuits.
Napoleon, who aspires to be a litigator, received her legal studies degree from the University of West Florida in 2018. She has been a student clinician in Chicago-Kent's Criminal Defense Clinic, clerked with Bedi & Singer, and currently clerks at Levin & Perconti, both Chicago firms.
Salomone received her degree in entrepreneurship and small business management from North Central College in Naperville, Illinois, where she was on the trial team for four years. She recently completed an externship with Chicago-based Lopp Mathias Law.