Rewarding Service: Chicago-Kent Hosts 2023 Public Interest Awards
Rewarding Service: Chicago-Kent Hosts 2023 Public Interest Awards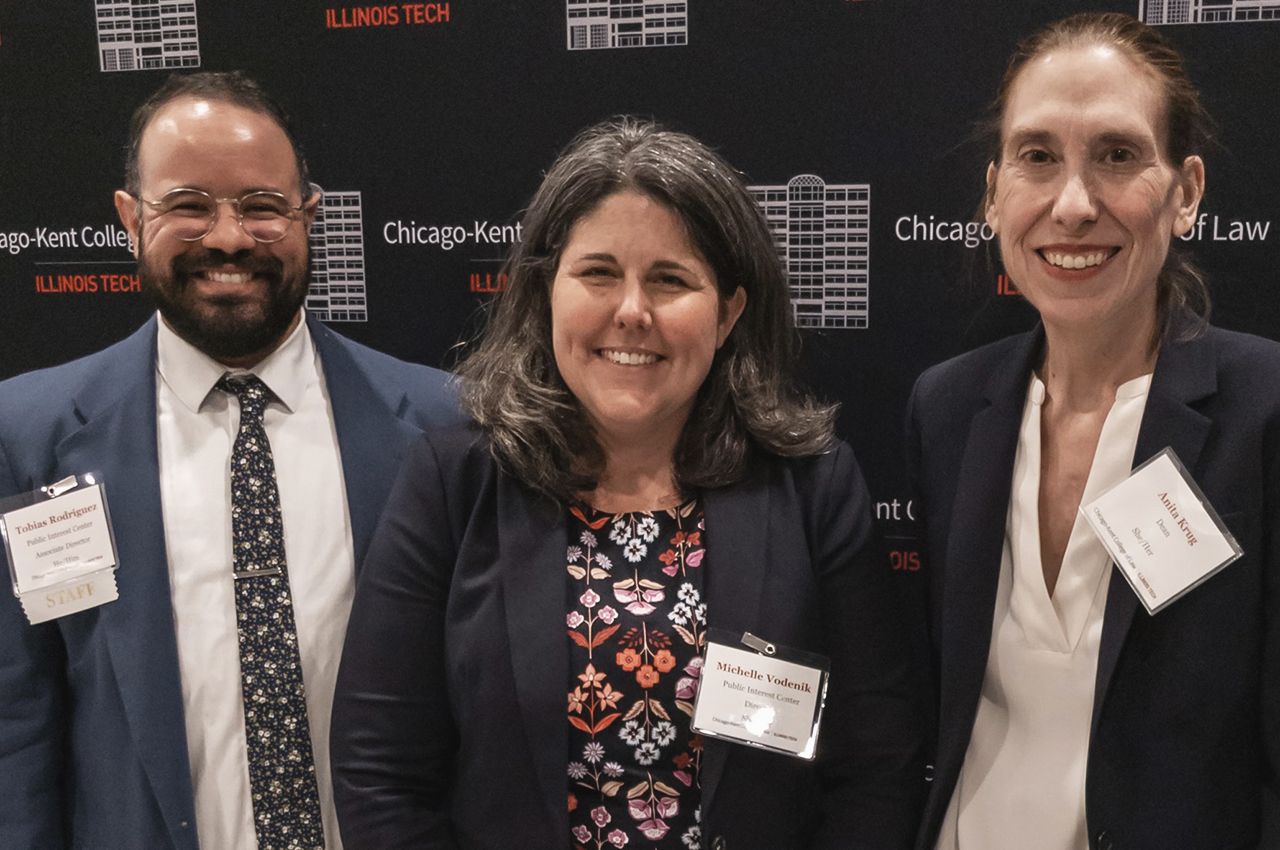 "Chicago-Kent College of Law students and alumni have long been on the forefront of protecting the rights of those marginalized by society. It was that history that brought me to Chicago-Kent in the first place," says Militza Pagán '17.
Pagán was the alumni guest speaker during the college's 2023 Public Interest Awards, which were held on April 19.
Pagán was recently honored at the Annual Alumni Awards with the 2023 Honorable Abraham Lincoln Marovitz Public Interest Award, which is given to an alum who has made an outstanding contribution to the practice of law or judiciary, public service or government, business or commerce, or the media. Pagán joined the Shriver Center on Poverty Law as a Skadden Fellow in 2017, where she has continued as a staff attorney after her fellowship. She fights for the rights of immigrant and low-wage workers, particularly domestic workers.
The awards were held in the wake of the death of Clinical Professor Vivien Gross, who built the foundation of what is now the Public Interest Center during her 45-year career at Chicago-Kent. The Outstanding Pro Bono/Community Service Leadership award, which recognizes a graduating law student who has made outstanding contributions to public interest law through their pro bono contributions as well as leadership, has been renamed in honor for Gross.
The 2023 Vivien C. Gross Pro Bono and Public Interest Leadership Award was given to Nicole Jansma '23. Jansma, in addition to other accomplishments, served as the president of the Kent Justice Foundation during the 2022–23 academic year.
"Last summer I was working with a lot of interns from around the country, and a lot of them talked about how they didn't feel valued or appreciated as public interest students at their schools," Jansma shared in her acceptance speech. "They felt pressured to switch into corporate law. That wasn't something I could identify with because this school has been very supportive from day one."
The 2023 Ronald W. Staudt Public Interest Partner Award, which recognizes organizations that make outstanding contributions to public interest law while providing opportunities for Chicago-Kent students to gain meaningful experience in public interest practice, was awarded to the Children's Legal Center. The center provides free immigration legal services to children and families with children.
The group hosted two asylum clinics at Chicago-Kent during the 2022–23 academic year where dozens of students helped countless immigrants file asylum paperwork.
Executive Director Laura Hoover accepted the award. She said that she built the Children's Legal Center with help from two Chicago-Kent students, and since then, the school's student volunteers have continued to be an integral part of the organization on every level.
"We believe that all the strongest human beings among us are those that are experiencing the darkest evil that the world has, and have instead decided to run to the light, choosing love and kindness, staying gentle and good," she says.
Adjunct Professor Alexander Rabanal, associate director for the Law Lab, paid tribute to the Chicago-Kent students who volunteered at the newly re-opened Self Help Resource Center at the Richard J. Daley Center in Chicago. The self-help desk is run by student volunteers who help pro se litigants navigate the court process. Nat Lewis '25, Annie Poggioli '25, Riley Mullen '25, and Dulcie Xue '25  manage the team, while an additional 31 students have dedicated their time to the cause. The law firm Chapman and Cutler LLP donated the computers and technology necessary to reopen the center after a three-year COVID-19-related closure.
"Talk to anyone at the courthouse, they'll tell you how much they missed our students. I think that's a testament to the great work they've done," says Rabanal.
Chicago-Kent's newly opened Public Interest Center awarded a Certificate of Service to students who complete at least 50 hours of community service during their time at Chicago-Kent. This year, 21 students earned the honor.
An additional four students earned the prestigious Dean Distinguished Public Service Award for completing 250 or more hours, including Ashley Rice '23, Isabelle Abbott '23, Margaret Miles '24, and Jansma.
"Law school is extremely demanding, very challenging," says Public Interest Center Director Michelle Vodenik. "There are plenty of students who will say they don't have the time to commit to pro bono or community service, but these students have all committed."
Other recognized students included Chicago-Kent Student Humanitarian Network Vice President Noah Ramirez '24; Nicholas Brighty '25, who accepted an award on behalf of the Student Bar Association Philanthropy Committee for its Service Week Initiative; and Aleathea Williams '23 and Jansma, who received the 3L Non-Profit Board Leadership Award.
The Public Interest Awards are held every year to recognize students, alumni, and community organizations who have shown a true commitment to volunteer service. Typically held at the Conviser Law Center in spring, the PIA honors students who have dedicated hundreds of hours of their time; features alumni speakers who are leaders in their fields; and recognizes outside organizations that have worked closely with Chicago-Kent.
Photo: Tobias Rodriguez '19, assistant director, Public Interest Center; Michelle Vodenik, director, Public Interest Center, Anita Krug, dean, Chicago-Kent College of Law [provided]