Statement on Antiracism By the Faculty of Chicago-Kent College of Law, Illinois Institute of Technology
Statement on Antiracism By the Faculty of Chicago-Kent College of Law, Illinois Institute of Technology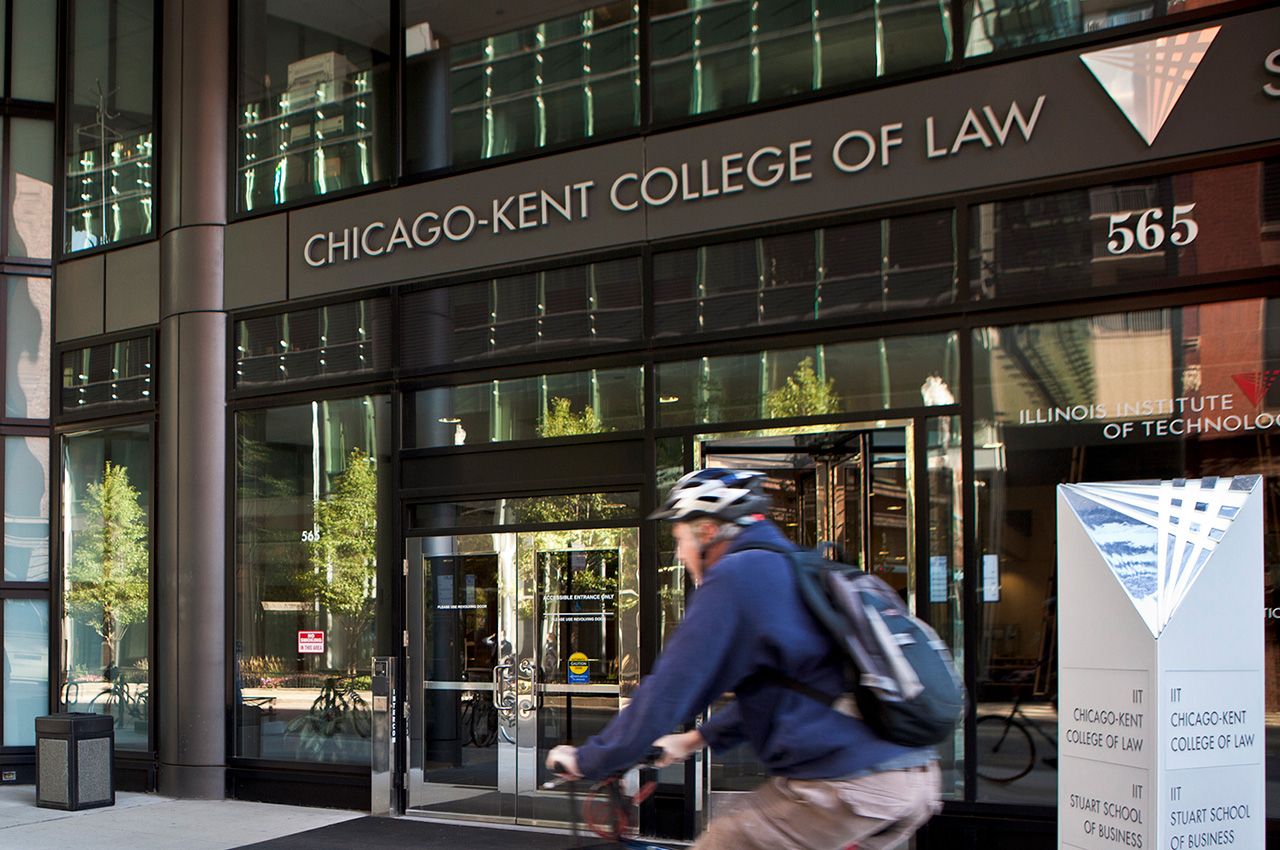 As human beings, we are appalled and horrified by the murder of George Floyd at the hands of the police, and by the centuries-old, yet ongoing, official and semi-official violence visited on people of color, especially African-Americans. We affirm that Black lives matter.
As lawyers, we are well-aware of the role that law has played and continues to play in the creation and perpetuation of this violence. Since before the United States came into existence, the law of slavery denied the humanity of enslaved African-Americans and left them unprotected from both official and private violence. Although the Declaration of Independence proclaimed that all people were created equal, the Framers betrayed that principle when the Constitution recognized and upheld slavery.
The Civil War and the Reconstruction Amendments eliminated slavery as a formal matter, pledged equal protection of the law, and prohibited race-based exclusion from the franchise. But those promises proved hollow in light of massive White resistance in the South and, in the North, ongoing anti-Black racism at worst, and White indifference at best. State-sponsored or state-sanctioned terrorism rendered the right to vote meaningless for most African-Americans, and an extensive "convict-leasing" system, along with vaguely worded criminal laws enforced by overtly racist officials, robbed thousands of African-Americans of their freedom, their labor, and their lives.
Legal segregation and overt racial discrimination in employment, public accommodations, education, and housing, as well as law enforcement's often officially sanctioned intimidation and terrorizing of African-Americans continued well into the twentieth century and throughout the entire country. The mid-twentieth-century civil rights movement, which is in living memory for many of us, changed the law in many respects, but we still live today with the legacy of the past. Our criminal justice system disproportionately imprisons African-Americans and other people of color. Police violence continues to be disproportionately visited on African-Americans, including many who are unarmed. These and other forms of structural racism persist. The murder of George Floyd, and the deaths of so many others—Tamir Rice, Sandra Bland, Ahmaud Arbery, Philando Castile, Breonna Taylor, Elijah McClain, Tony McDade, Trayvon Martin, and Rayshard Brooks, to name only a small number—can only be understood in that context.
As teachers, we believe that it is our obligation to ensure that our students and the broader public fully understand this history and its consequences today. We believe that we have an obligation to hold and lead, within our law school and our communities, honest and difficult conversations about today's racial inequities. We believe we have an obligation to encourage our students to use their legal training creatively and productively to address those inequities.
As members of the Chicago-Kent community, we know that racial inequities are not abstractions. Our community is diverse and vibrant, and many of our community members live with the fear of racial violence and the reality of racism in their daily lives. As a first step in our community response after George Floyd's murder, Chicago-Kent held a community dialogue on Zoom attended by more than 120 students, faculty, and staff members. At that event, many of our community members shared their own experiences.
One of our African-American professors, for example, described the murder of a fifteen-year-old African-American boy by a Ku Klux Klan member in her hometown, and the dawning realization that there were people who wanted to harm her due to the color of her skin. And she described the pain of telling her 8-year-old son about that reality as well—pain echoed by others in our community who are also parents of Black children.
Some of our students described their daily fear for their own safety and that of their loved ones. Some Latinx and Asian-American community members described the pain of witnessing tensions between their own communities and the African-American community. Intentional dialogue about issues of race and what it means to stand against racism must continue. The gains in understanding, empathy, and connection among us that hard, honest conversations bring are a critical step toward becoming a more inclusive and equitable community.
As legal educators, we understand that we have an obligation to work daily to redress racism in our institution, in the law, and in the legal profession.
We are proud that Chicago-Kent has a record of initiatives to advance diversity, equity and inclusion in the legal profession, at Chicago-Kent, and in the world at large. Our programs include pipeline initiatives targeting high school and college students from communities underrepresented in the legal profession and support for such students who attend Chicago-Kent; an Office of Diversity, Equity and Inclusion that works with diverse student affinity groups and other law school departments to create equity and inclusion strategies, as well as to organize community-wide programs like our annual Dr. Martin Luther King, Jr. Forum; and a Director of Public Interest & Diversity in our career services office who organizes and promotes diversity job fairs, scholarship opportunities, and other diversity career-focused programs and who works with students seeking pro bono and public interest positions that serve communities of color.
Chicago-Kent faculty have produced scholarship focused on the disproportionate and negative effects of predictive policing technologies and state privacy invasions on poor communities of color, on the study of civil rights and voting rights, and on the injuries caused by racist hate speech, often highlighting areas of law in need of change. Our clinical program has a longstanding commitment to criminal defense work and criminal justice. Faculty pro bono projects include legal representation related to the criminal justice system, such as, for example, representing a group of Illinois prison inmates at particular risk from COVID-19.
These efforts are important but incomplete. The work of antiracism is ongoing and urgent in the present moment. Our immediate response includes these events and commitments:
The Office of Diversity, Equity and Inclusion, in partnership with Chicago-Kent's CLE office, is planning and hosting Equity Talks. These events will be a series of discussions about the various ways that systemic racism is embedded in the law. The goal of these events will be to increase awareness and understanding among the diverse members of our community and to inspire ideas for change. The first event in this series, held on June 30th, was A City Divided: Race, Fear and the Law. This discussion was a continuation of a discussion about race, police confrontations, and reform that initially began during our inaugural 2016 MLK Forum, which was held in response to the murder of Laquan McDonald by a Chicago police officer. 
In an attempt to increase the historically low number of race discrimination cases filed in the United States District Court for the Northern District, Chicago-Kent's legal clinic, C-K Law Group, will be launching a project that will raise money to defray litigation costs for race discrimination victims.
The Dean's office is working to fund and implement a summer stipend program for students to pursue summer public interest work on issues of racial justice.
The faculty is initiating the Ida Platt Award for a third or fourth-year student who has written the best paper on a topic relating to racial justice.
The Chicago-Kent Diversity Committee has committed to implementing a formal process for lodging race-based complaints or concerns by students, staff, and faculty by September 2020.
We will prioritize resources to our Office of Diversity, Equity and Inclusion in order to expand the reach of our pipeline programs, in particular our PLUS program that will celebrate its 20th anniversary in 2021.
The faculty is making a group donation to Black Lives Matter.
In addition, we commit to performing, in the 2020-21 academic year, a racial equity audit of the law school's programs, systems, and policies to uncover and address sources of systemic racism embedded within them. This audit will be conducted by all the relevant committees within the law school. Each committee will create a racial equity report analyzing the programs, policies, and services they oversee, proposing changes to promote racial equity. The faculty as a whole will review and, as appropriate, vote on the proposals. The Chicago-Kent staff is at work on its own antiracism statement and commitment to participate in the racial equity audit alongside faculty in an institution-wide effort.
Our hope is that through this audit, we will find new and powerful ways to ensure that our curriculum adequately addresses the history and ongoing existence of systemic racism, will deepen our commitment to antiracism in our public interest work and community leadership, and will find even more creative and innovative ways to support and disseminate antiracist efforts in our scholarship and intellectual leadership. We pledge to galvanize our institution's strengths in technology, clinical work, and legal scholarship to address the systemic racism embedded in our legal system. We commit to making space for the hard conversations needed for us to continue to do the work of rooting out structural racism, and to listening to the concerns and stories of our students, faculty, and staff of color, especially African-Americans, as we strive to continually create a community ever more diverse, inclusive, and equitable.
We know that this work is far from over. But instead of feeling tired and defeated by recent events, we feel more passionate than ever about fulfilling our civic duties as a law school. In this important historic moment, we have not lost hope because, in the end, we know that we are on the right side of history.
Statement Release Date: July 1, 2020 by unanimous vote