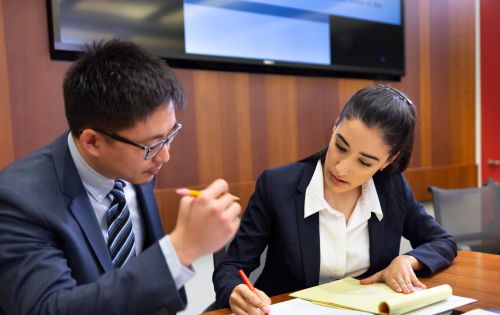 J.D. Certificate in Praxis
Praxis. noun. 1.Practice, as distinguished from theory. (The Oxford Dictionary)
J.D. Certificate in Praxis
Overview
How can a student learn to practice law without ever practicing? 
The Praxis Program is designed for students who are interested in fully embracing a practice- or experience-based course of study. Chicago-Kent has always prided itself on providing a wide variety of hands-on learning options. The Praxis Program capitalizes on these robust skills offerings to guide participants through an individualized course of study designed to provide exposure to the core competencies required of successful lawyers.
With this program the law school responds to calls from the legal community for new graduates who are thoroughly trained in both the skills and the art of legal practice. Participants will learn to think and talk about their education in new ways, explore issues of law practice management, and learn how to build and market their own portfolios.
Praxis students take broad advantage of Chicago-Kent's numerous hands-on learning opportunities, from clinics to externships to simulation courses. Students also receive individualized mentorship and guidance, helping them to discover which areas of law are the best match for their talents, preferences, and competencies.
Students who complete all the program requirements (see link below) will earn the Praxis certificate upon graduation. Students enrolled in the Praxis Program may concurrently enroll in an additional, subject-matter certificate program offered by Chicago-Kent.
The Praxis Program was the first recipient of the Illinois State Bar Association's Excellence in Legal Education Award to honor a law school program that emphasizes "real-world skills" for its students.
Contact Information:
Jenifer Robbins, Director of Experiential Learning
Phone: 312.906.5045
Email: jrobbin1@kentlaw.iit.edu