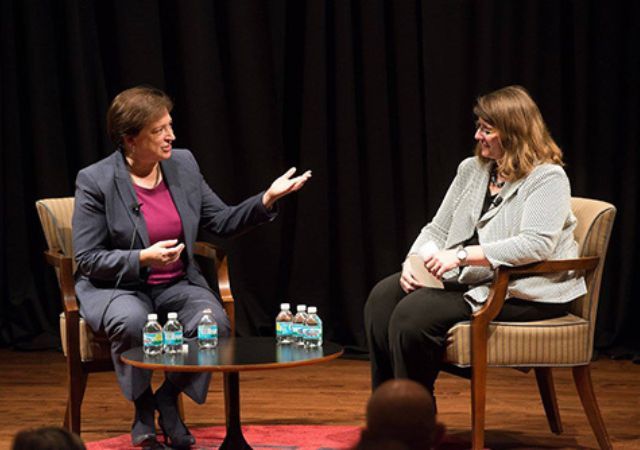 ISCOTUS Events
Pictured are visits by U.S. Supreme Court Justices Breyer, Kagan, Scalia, and Stevens. Details on the events, and archived video when applicable, are below.
Justice Elena Kagan
On October 16, 2017, the Chicago-Kent community was honored to welcome to the law school Associate Justice Elena Kagan. During her visit, Justice Kagan was interviewed about her time on the Court by Professor and ISCOTUS Director Carolyn Shapiro before an audience of Chicago-Kent students, faculty, alumni and friends. 
The event was covered by the Associated Press, the Chicago Tribune, the Washington Examiner, the SCOTUS blog, the Chicago Daily Law Bulletin, WBEZ Chicago, and multiple smaller outlets and publications.
Justice John Paul Stevens
On October 3, 2012, Justice John Paul Stevens presented a lecture on "The Ninth Vote in the Stop the Beach Case," at Chicago-Kent College of Law. The event was co-sponsored with the Jack Miller Center. Following the lecture, Justice Stevens answered questions from the audience during a session moderated by Professor Nancy Marder, one of his former law clerks and director of the law school's Jury Center.
Justice Antonin G. Scalia
On October 18, 2011, Justice Antonin G. Scalia delivered the keynote address at a Chicago-Kent conference addressing "Judicial Takings: Property Rights and the Rule of Law," co-sponsored by Chicago-Kent and the Jack Miller Center. During his visit, Justice Scalia met with Chicago-Kent students and presided with Illinois Supreme Court Justice Anne M. Burke (LAW '83) at a student moot court focused on the judicial takings issue.
Justice Stephen G. Breyer
On September 12, 2011, Justice Stephen G. Breyer came to Chicago-Kent to speak at the inaugural program of the Institute on the Supreme Court of the United States. In his thought-provoking, 90-minute presentation to students, faculty, alumni, and friends, Breyer addressed the themes set forth in his book Making Our Democracy Work—A Judge's View. 
The event was covered in a three-part series (Part 1, Part 2, Part 3) by WTTW's Chicago Tonight, and WBEZ. Additionally, the Chicago-Kent Alumni Association posted a slideshow and gallery of the event.