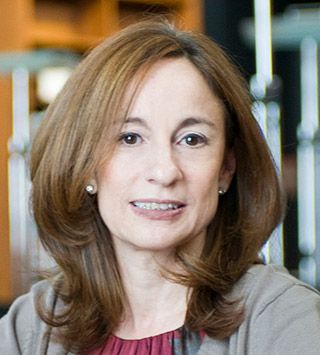 In the field of women's legal history, Felice Batlan is both subject and scholar. Her nine years of practical legal experience supplement her rigorous academic career, in which she has published and presented extensively on the topics of legal history, women in the legal profession, and feminist legal theory.  She has also provided expert commentary on numerous radio and television programs. Her book, Women and Justice for the Poor: A History of Legal Aid, 1863–1945 (Cambridge University Press, 2015), which won the prestigious 2016 Hurst Award for the best book in socio-legal history, explores the history of the development of legal aid in the United States and the significant and unknown role that women played as both providers and clients of legal aid. Her most recent edited book, Histories of Legal Aid: A Transnational and Comparative Perspective (Palgrave Macmillan, 2021) explores the history of the development of access to justice in nine different countries.
After graduating summa cum laude in history from Smith College, Professor Batlan received her J.D. magna cum laude from Harvard Law School, where she served as executive editor for the Harvard Women's Law Journal. She clerked for the Honorable Constance Baker Motley of the U.S. District Court for the Southern District of New York and then worked as a law firm associate specializing in securities law and financial markets.  She then joined Greenwich NatWest as associate general counsel and head of global compliance. Eventually she returned to the academic world, completing a Ph.D. in U.S. history from New York University.
Since coming to Chicago-Kent from Tulane Law School in 2006, Professor Batlan has immersed herself in a wide variety of subjects spanning law, history, financial regulation, and the humanities, serving as both director of the Institute for Compliance and co-director of the Institute for Law and the Humanities. Her teaching areas include U.S. legal history, gender and the law, feminist jurisprudence, corporations, business organizations, securities regulation, and contracts. She has taught courses internationally in Sienna, Paris, Guangzhou, Shanghai, Beijing, and Bangkok. She received Chicago-Kent's Excellence in Teaching Award and IIT's Julia Beveridge Award for service to women students. Professor Batlan also served as the Associate Den for Faculty and the Associate Dean for Inter-disciplinary Initiatives.
Professor Batlan was an associate editor and book review editor for the prestigious Law and History Review and served as co-executive editor for the American Journal of Legal History.  She remains on the Board of Directors for both publications. Previously she has performed editorial duties for Continuity and Change,  and for the Macmillan-Gale Encyclopedia of the Supreme Court of the United States, with responsibility for sections on women, gender and sexuality, and corporations. As a historian, she has served as both a consultant and a member of the Accession Committee for the U.S. Securities and Exchange Commission Historical Society.
As the first director of the Chicago-Kent Institute for Compliance, Professor Batlan has established a series of courses on compliance and financial markets, externships for students, and a lecture series open to the wider Chicago community of lawyers and compliance professionals.
Education
Ph.D., New York University
J.D., Harvard Law School
B.A., Smith College
Publications
Journal Articles and Book Chapters
"Juvenile Courts and the Pandemic: A View from Inside Out," St. Thomas Law Journal (Spring 2022).
"Archival Confrontations and Rewriting the History of Legal Aid in the U.S.," in Histories of Legal Aid: A Transnational and Comparative Perspective, ed. Felice Batlan and Marianne Vasara-Aaltonen (Palgrave-Macmillan 2021). 
"She Was Surprised and Furious:" Expatriation, Suffrage, Immigration, and the Fragility of Women's Citizenship, 1907-1940," Stanford Journal of Civil Liberties and Civil Rights 15 (2020), 315-349.
Felice Batlan and Joshua Bass, "Beyond Greed is Good: Popular Culture in the Business Law Classroom," Journal of Legal Education 68 (2019), 23–29.
"Deja Vu and the Gendered History of the Practice of Immigration Law," Law and History Review 36 (2018), 713-769.
"'The 'Rabbi's Daughter' and the 'Jewish Jane Addams': Jewish Women, Legal Aid, and the Fluidity of Identity, 1890-1930," Indiana Journal of Law and Social Equality 4 (2016), 135–168.
"Women's Legal History," in A Companion to American Legal History, ed. Sally E. Hadden and Alfred L. Brophy (Wiley-Blackwell, 2013), 190–208.
"Legal Aid, Women Lay Lawyers, and the Re-writing of History, 1863-1930," in Feminist Legal History, ed. Tracy Thomas and Tracey Jean Boisseau (NYU Press, 2011), 173–188.
 "The Birth of Legal Aid: Gender Ideologies, Women, and the Bar in New York City, 1863–1910," Law and History Review 28 (2010), 931-971.
"'If You Become His Second Wife You Are a Fool:' Shifting Paradigms of the Roles, Perceptions, and Working Conditions of Legal Secretaries in Large Law Firms," Studies in Law, Politics, and Society 52 (2010), 169–210.
"Gender and the Rise of the Welfare State in Fin-de-Siècle New York City: The Case of Tenement Regulation," in The Legal Tender of Gender: Welfare in Comparative Perspective, ed. Mimi Abramovitz and Shelley Gavigan (Hart Publishing, 2010), 75-102.
"Notes from the Margins: Florence Kelley and the Making of Sociological Jurisprudence," in Transformations in American Legal History, II: Law, Ideology, and Methods, ed.  Daniel Hamilton and Alfred Brophy (Harvard University Press, 2010), 239-253.
Felice Batlan, Kelly Hradsky, Kristen Jeschke, LaVonne Meyer, and Jill Roberts) "Not My Mother's Law School? A Third-Wave Feminist Analysis of Women's Experiences in Law School," University of Baltimore Law Forum 39 (2008–2009), 124–152.
"Weathering the Storm Together (Torn Apart by Race, Gender, and Class)," National Women's Studies Association Journal 20 (2008), 163–184.
"The Ladies' Health Protective Association: Lay Lawyers and Urban Cause Lawyering in Fin-de-Siècle New York," Akron Law Review 41 (2008), 701-732.
"Law in the Time of Cholera: State Power and Quarantines Past and Future," Temple Law Review 80 (2007), 53–122. 
"Law and the Fabric of the Everyday: Settlement Houses, Sociological Jurisprudence, and the Gendering of Urban Legal Culture," Southern California Interdisciplinary Law Journal 15 (2005–2006), 235–-284. 
Books
Books
Women and Justice for the Poor: A History of Legal Aid, 1863–1945 (Cambridge University Press 2015).
Winner of the James Willard Hurst Jr. Award for the best book in socio-legal history.
Edited Book
Histories of Legal Aid: A Transnational and Comparative Perspective (with Marianne Vasara-Aaltonen) (Palgrave Macmillan, Jan. 2021). 
Affiliations
J.D. Certificate Program in Financial Markets Compliance
Expertise
Compliance; Gender and Sexuality and the Law; Legal Education; Legal History