American Constitution Society Recognizes Chicago-Kent Student as "Next Generation Leader"
American Constitution Society Recognizes Chicago-Kent Student as "Next Generation Leader"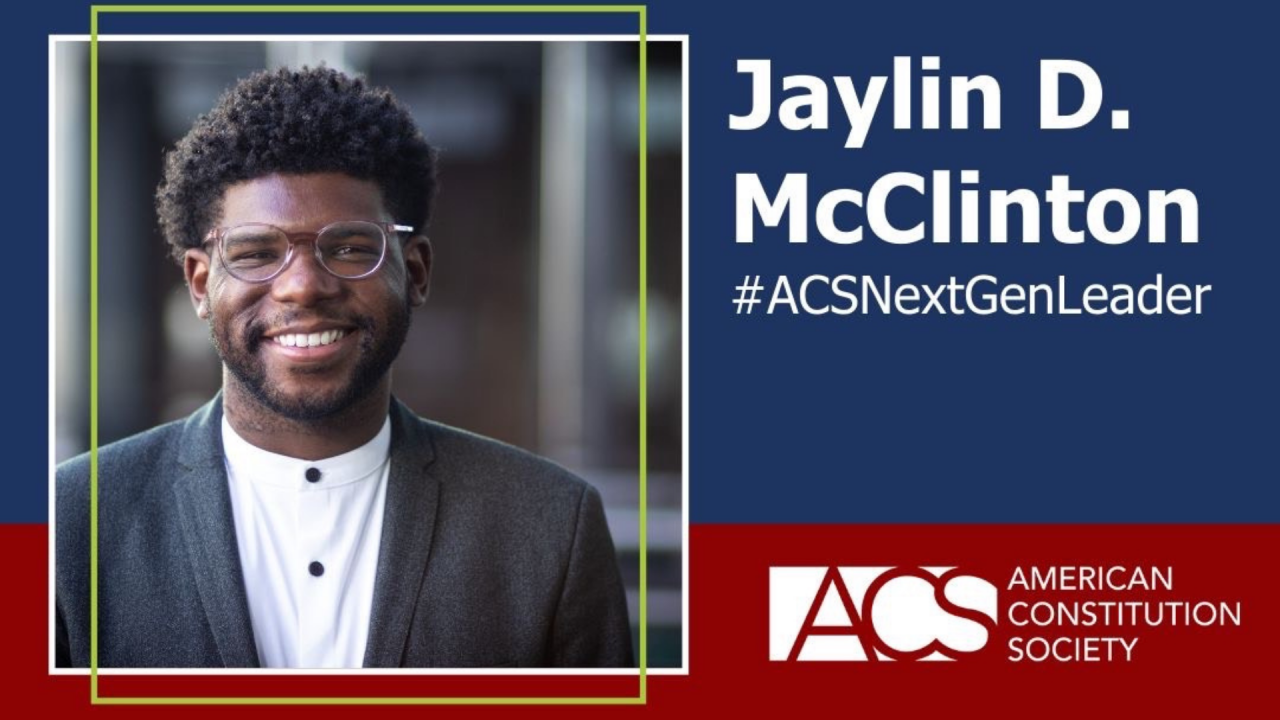 A progressive nonprofit dedicated to building a diverse legal community in defense of democracy and the United States Constitution has identified a Chicago-Kent College of Law student as one of a limited number of up-and-coming scholars this year.
Jaylin D. McClinton '22, was chosen by the American Constitution Society as one of 28 Next Generation Leaders for 2021.
The leadership program singles out law school students who "have the requisite skills, knowledge, and talent to act now during this critical moment in our country," ACS president and former U.S. Senator Russ Feingold said in a written statement accompanying the announcement.
The organization's mission, according to its website, is to create a legal network "to uphold the Constitution in the 21st Century by ensuring that law is a force for protecting our democracy and the public interest and for improving people's lives."
"As an attorney, I will challenge and fight policies which have prevented generations of oppressed people from getting a fair shot and work tirelessly to put law and justice on the side of everyone that deserves it," McClinton says.
He notes that the ACS network has been active in attempting to counter the influence of conservative organizations, such as the Federalist Society, upon the federal judiciary and lawmaking in recent years.
"We are at a turning point in this country," Feingold added in his written statement.
"I am very honored…[that the ACS] will open up a network that will assist as I navigate the legal field and start my career," McClinton says.
Every year since 2007 the ACS has selected 20–30 students for the leadership program; there are now more than 400 in the network.
Chicago-Kent Associate Dean Carolyn Shapiro, who also is the faculty adviser for the school's ACS chapter, says of McClinton, "Jaylin is a remarkable leader and organizer. He never stops building connections and advancing the causes he cares about. I am thrilled that [the] ACS is recognizing his talents and commitment."
In addition to his work with the ACS, McClinton has been active in numerous Chicago-Kent organizations and events, including the school's Constitutional Democracy Project, which conducts educational outreach to high schools across the country. Earlier this year he was named the Mary C. Russo Memorial Intern at the American Civil Liberties Union of Illinois, and he will soon be a Justice Summer Associate at Loevy & Loevy, a Chicago-based civil rights firm.
McClinton is a lifelong Chicagoan, having grown up in the far South Side's Roseland neighborhood, where he still resides.
His work history stretches from Illinois to Washington, D.C., where he worked as a White House intern in the Obama administration. He also worked as a community organizer for the Obama Foundation, where he was responsible for helping to bring the Barack Obama Presidential Center to Chicago's Jackson Park neighborhood. 
Before that he was a district manager for then-Illinois State Representative Juliana Stratton, now lieutenant governor of Illinois.
After graduating from Marie Sklodowska Curie Metropolitan High School in Chicago, McClinton received his bachelor's degree in African American studies and political science from the University of Illinois at Urbana-Champaign in 2016.