Chicago-Kent Moot Court Team are Co-Champions of Prestigious Regional Bout
Chicago-Kent Moot Court Team are Co-Champions of Prestigious Regional Bout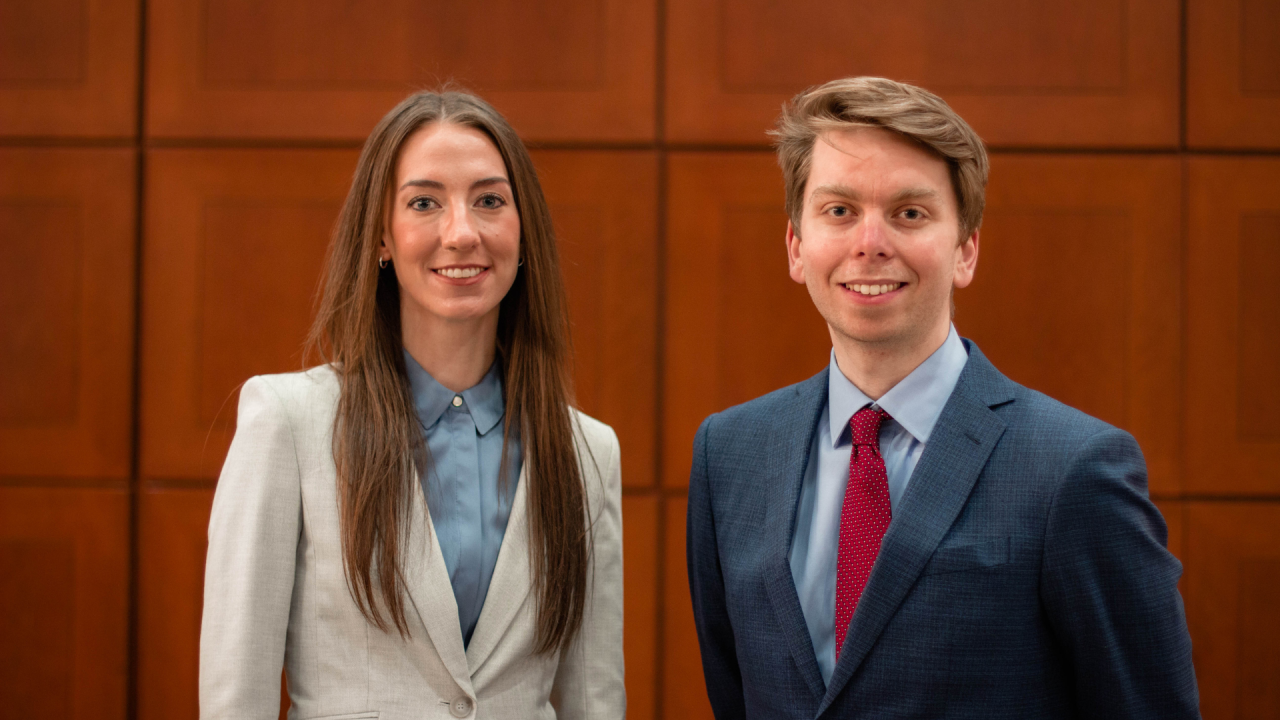 A Chicago-Kent College of Law team fought to become a regional co-champion of one of the largest moot court competitions of 2022, the American Bar Association's National Appellate Advocacy Competition.
Hayley Loufek '23 and Ryan Martin '23 battled through five rounds to become one of four co-champion teams, all of which will advance to the competition's national rounds in April. In total, 24 teams competed in the early March regional bout.
"Hayley and Ryan are both such skilled and dedicated advocates," says Cherish Keller, director of Chicago-Kent's Ilana Diamond Rovner Program in Appellate Advocacy. "I'm proud of how all their hard work—weeks of grappling with the nuances of the issues in this case—paid off, and I'm looking forward to seeing them argue again in the national rounds."
"Once we found out we won, I felt really proud of our team. We had really great coaches and professors who invested a lot of time in us," Loufek says.
"We're very thrilled and honored to receive this recognition. It has required a lot of time on top of being full-time students," adds Martin.
The competition centered on a fictional U.S. Supreme Court case in which a visually impaired plaintiff—a tester for the Americans with Disabilities Act—sued a candy company for having an inaccessible website; one incompatible with the tester's screen reader.
Title III of the ADA prohibits businesses from discriminating against people with disabilities "in the provision of goods and services, for places of public accommodation." Thus, among other things, the teams debated whether the website was a place of public accommodation.
In their brief, Loufek and Martin represented the candy company, arguing that because the company had a public store and the plaintiff could purchase candy by going there, not having access to the website did not create an "intangible barrier" against commerce with the company.
They also argued that the website was a service of the company's brand, but not its store, because orders were fulfilled by a separate storehouse and not the store itself.
"There's nothing a person could do at the store that required them to interact with the website, or anything about the website that would inhibit their ability to access the store," Loufek says.
Martin also argued that the ADA was broad but not unlimited, and was never meant to cover all types of business transactions. He notes that mail catalogs and telephone-oriented businesses were not mentioned in the ADA, and that the examples of covered businesses all listed physical places open to the public.
When arguing for the plaintiff, the team noted that "common usage" of the word place does not necessarily refer solely to physical locations. And wasn't a website just a digital store?
Loufek argued that the website had what was legally known as a "nexus of connection" to the store, in that it was service of the store, and should thus be subject to Title III of the ADA.
Loufek and Martin argued with distinctively divergent styles. Judges told Martin he was passionate and "illustrative" when he spoke, with one telling him, "you must be an artist because you're painting pictures in my mind." Loufek, on the other hand, was seen as methodical and unflappable.
"Which she is. It's impossible to throw Hayley off," Martin says.
The duo faced off against The University of Memphis Cecil C. Humphreys School of Law, The University of Houston Law Center, and Belmont University College of Law in the competition's preliminary rounds. The team beat Ohio State University's Moritz College of Law in the semifinal and the Indiana University Maurer School of Law in the final round.
The pair were coached by Shaunagh McGoldrick '22 and Scott LaMunyon '22, who competed in the NAAC competition in 2021. The national competition will take place April 7–9 over Zoom.
Martin grew up in Tacoma, Washington and received his bachelor's degree in theater from Northwestern University. Before enrolling at Chicago-Kent, he worked as a legal assistant for the Evanston-based Law Offices of Barry A. Schultz, P.C., now called Marvin and Associates. He has externed for Cook County Judge Allen P. Walker.
Loufek grew up in Aurora, Illinois and received her bachelor's degree in English from the University of Kansas. She is currently clerking for Ottosen Dinolfo Hasenbalg & Castaldo, Ltd. in Naperville.