Chicago-Kent Team Wins Best Brief in Religious Freedom Moot Court Competition
Chicago-Kent Team Wins Best Brief in Religious Freedom Moot Court Competition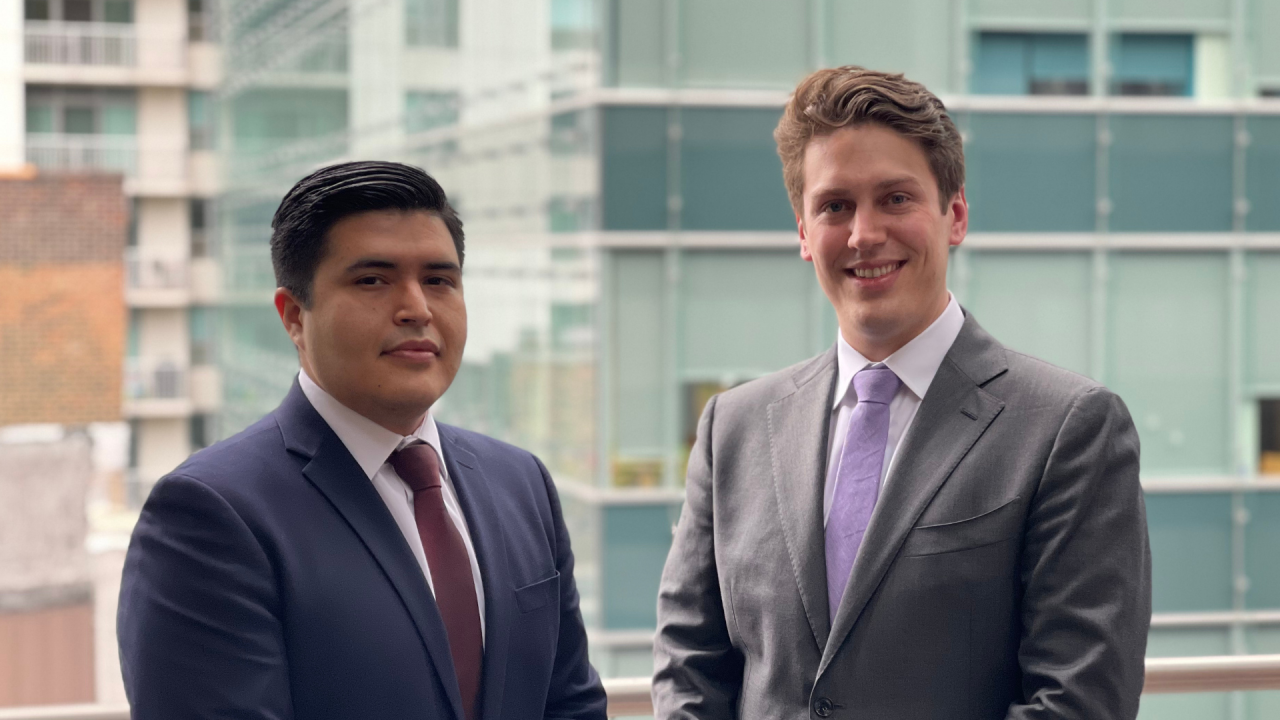 Though it was their first competition and only the second appellate brief they had ever written, a pair of Chicago-Kent College of Law students secured the best brief award at a national moot court competition this month.
Teammates Esteban Valtierra '23 and Ben Levine '23 advanced to the semifinals and won best brief in the University of Notre Dame Law School's Religious Freedom Moot Court Competition over the weekend of October 10, 2021.
"It feels great to get recognition for my first moot court competition, and especially good to get it for writing," Levine says. "I really love the legal writing program at Chicago-Kent; the award really speaks to how we have a top-notch program. We literally had two and a half weeks to [research and write the brief]; I just relied on what my instructors taught me, and it worked out well."
Adds Valtierra, "I think our writing styles harmonized with each other. I tried my best to mimic Ben's tone, and he did the final touches. We felt very confident about our structure. We laid out all our points, extracted the rules within each case of our points, and applied the rules to the facts. I think it flowed well."
Valtierra specifically credited his first legal writing instructor and the team's faculty coach, Visiting Assistant Professor Mary Nagel, for "instilling these fundamentals. I really think [the award] is a testament not only to Chicago-Kent's writing program in general, but the guidance from our professors."
The competition involved a fictional United States Supreme Court case in which a private university that received some state funding decided it wanted to achieve a 95 percent COVID-19 vaccination rate among its students. It also decided not to allow exemptions for religious and conscientious reasons.
State legislators, on the other hand, had passed a law stating that any private university receiving state funding was required to allow such exemptions. The university, as plaintiff in the case, sued the state on the grounds that its law violated the establishment clause, the clause in the First Amendment of the Constitution prohibiting the establishment of religion.
Levine and Valtierra had to argue both sides, but wrote their brief on behalf of the university.
There are several different tests of establishment clause violations, Levine noted, "and we argued all of them."
Still, they spent the largest portion of their brief arguing that the state law violated the "lemon test," referring to a precedent set in a 1971 U.S. Supreme Court case, Lemon v. Kurtzman.
To pass the lemon test, a statute needs to have a secular purpose, and its primary purpose can't advance or inhibit religion. The team argued the state law failed on both of these counts.
The students also argued that the law coerced the school into accepting religious beliefs, and that historically there was a much stronger legal basis for vaccine requirements than for religious exemptions. Both assertions, if proven, would constitute additional violations of the establishment clause.
The competition's judges "said we had a really nice grasp of the case law, that we had a good conversation with them. We controlled the argument," Vatierra says.
During the preliminary round, the team advanced against opponents from Regent University School of Law and South Texas College of Law. In the semifinal, they faced the University of Oklahoma College of Law and were eliminated.
Born and raised in Chicago, Valtierra lived in several Southwest Side neighborhoods throughout his childhood and teen years. He attended three different high schools before graduating from Jane Addams High School in the Pilsen neighborhood.
To save money, he attended Chicago's citywide community college network, the City Colleges of Chicago, while also working full-time in the restaurant industry, doing everything from bussing tables to barbacking.
After receiving an associate arts degree from Harold Washington College, Valtierra transferred to the University of Illinois Chicago, where he received his bachelor's degree in political science. He took another year off to work in the restaurant industry and save money before enrolling at Chicago-Kent in 2020.
Over the summer in 2021, Valtierra completed an externship for LaShonda A. Hunt, a bankruptcy judge in the Northern District of Illinois.
Levine was born and raised in Rockford, Illinois, where he graduated high school; he went on to receive a double major in Russian and religious studies from Lawrence University in Appleton, Wisconsin.
He has externed with the Cook County Circuit Court's probate division, and will work as a summer associate at Katten Muchin Roseman LLP in 2022.