Diversity by the Numbers
Michael Wilder '06 made a living helping companies navigate affirmative action audits. Now the organization that he created provides peer support for Black male attorneys worldwide.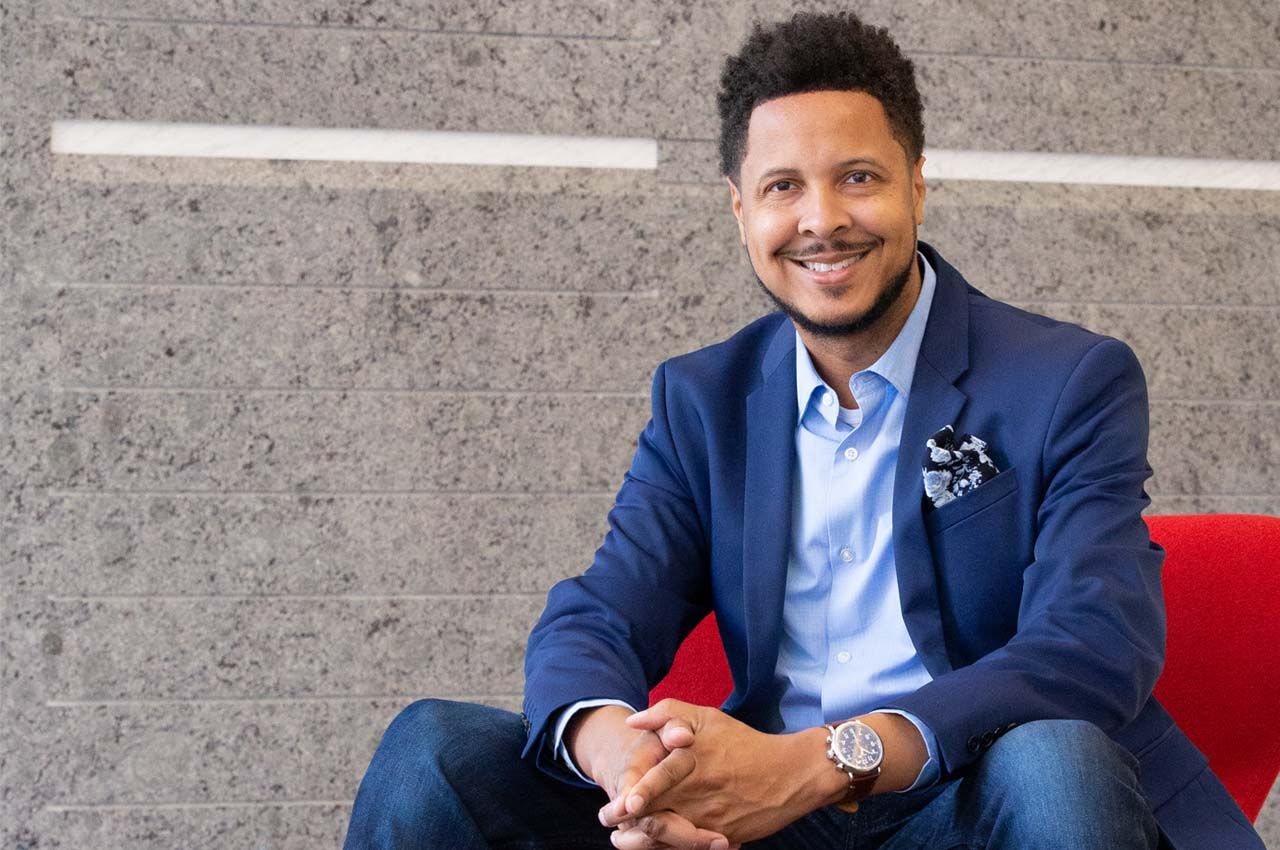 ---
Editor's note: this is a story from the Fall 2022 Chicago-Kent Magazine. To read the magazine in full, follow this link.
---
Michael Wilder '06 wasn't much of a numbers man in high school. He wanted to be an artist; then—after a few years in the working world—a lawyer. Neither profession requires one to be a whiz at math.
But Wilder branched into diversity, equity, and inclusion law—working for over a decade assisting companies with affirmative action audits—by embracing the numbers: searching for standard deviations from the mean, red flags in hiring and firing, and talking to people about how to address them.
And recently, he forged a number he's proud of: membership in an organization he founded, which has skyrocketed from two to over 650 members globally in just two years. It's the kind of growth that has deviated far above what once seemed plausible.
"We marvel at Michael's boundless energy. I told him, 'There's 24 hours in a day for everybody, including you,'" says Paul Bateman, chief inclusion, equity, and diversity officer at Littler Mendelson's Chicago office, where Wilder now works. "You ask, 'What comes off the plate in order to make everything happen?' And from what I could tell, nothing."
***
Born and raised in Detroit, Wilder's first passion was art. After high school he considered working for Disney for a time, but when he noticed the company was leaning toward computer-generated art, he decided to go to college.
He grew up watching courtroom dramas on TV—the glory of getting a jury verdict—and remembers telling his parents he either wanted to be a lawyer or an artist.
"I don't know many starving lawyers, but I know quite a few starving artists," his mother told him.
Wilder received a bachelor's degree from Michigan State University in social relations, a degree that emphasizes writing skills. While there, he also clerked at a small labor law firm in East Lansing, Michigan.
As he was studying for the LSAT and looking at colleges, Wilder's father approached him and told him he was worried about losing his job. Lots of pink slips were being handed out at his father's insurance sales firm. Wilder did some research, and offered some advice; in the end, his father kept his job.
That experience led him to seek out good labor and employment law programs—and Chicago-Kent College of Law stood out. Wilder received his certificate in labor and employment law from the law school in 2006.
After graduation, he took a job at Littler Mendelson, P.C., where he had worked as a summer associate during law school. After a few weeks, one of the partners reached out and asked him if he was any good at math.
"I love math," Wilder replied.
He soon sated his thirst for numbers, after being introduced to the extensive auditing processes used by the United States Department of Labor's Office of Federal Contract Compliance Programs.
That's also how Wilder branched into the diversity, equity, and inclusion realm, reviewing the affirmative action plans of federal contractors.  For the next 10 years, Wilder flew around the country, casting a critical eye on the hiring, firing, and compensation practices of companies, to see if there were any red flags, mathematically speaking.
"I looked for a standard deviation of more than two in a racial, gender, or age category. Then you have to dig deeper to see what's going on, if it was something that could be corrected," Wilder says. "There were companies that had heard of me, that came to me proactively."
Out of the hundreds of audits he reviewed, Wilder says he actually only saw one where a violation was blatantly intentional. A male manager had only been hiring women in a retail manufacturing job. Wilder contacted him and interviewed him in person.
"You literally rejected all the men," Wilder told him.
"I like working with the ladies," the man replied.
In other audits, Wilder says, "honestly, people weren't thinking. If you're hiring in rural America, you have to be proactive about hiring diverse people. I had one audit where the applicant pool had zero minorities. They weren't actively recruiting from a nearby college. I told them, 'You need to go to their job fairs.' And they did. And their applicant pool became much more diverse.
"They were used to doing things a certain way, and they had a blind spot."
Sometimes those blind spots were inside the house. Wilder notes that while OFCCP auditing work is a great opportunity, "when I was doing it, I was the only African-American male that I was aware of doing it. I went to conferences, and I was pretty much it. So, it's an area that could certainly use more diversity."
***
After years of audits, Wilder—now a senior shareholder at Littler Mendelson, P.C. and core member of the firm's complex trial and litigation practice group —has also joined Littler's diversity and inclusion services practice group, advising clients on how to create more diverse applicant pools.
To avoid getting sued under Title VII of the Civil Rights Act of 1964—which prohibits employment discrimination based on race, color, religion, sex, and national origin—Wilder advises clients that such programs can't exclude non-minorities, though they can still be marketed toward diverse candidates. Wilder also sat on the firm's diversity and inclusion council for more than five years.
"Michael makes every committee and team he is a part of better. His optimism and can-do attitude elevates everyone else who is involved," says Erin Webber, president and managing director of Littler Mendelson, P.C.
In 2017 Wilder was named one of the Most Influential Minority Lawyers in Chicago by Crain's Chicago Business.
But more importantly, that same year Wilder co-founded his organization, one that has grown significantly in the last two years to over 650 members globally. He started the Black Men Lawyers' Association to provide resources and peer support to Black male lawyers, judges, law professors, law students, paralegals, and law clerks.
"I realized there were no other such associations in the country, and there are already Black women law associations," Wilder says. "After getting into law school, I just didn't see many Black men [students]."
"We need to talk about breaking into corporate spaces and law firm spaces that don't look like us. And once you are in there, being successful and not feeling isolated," Wilder adds. "There are mental health issues, and we're not talking about it. A lot of us don't come from money. Once we do get money, now we're supporting families, extended families. How do I manage money when I don't come from money?"
The offer of peer support was taken up, in big numbers. With the backing of major firms like Baker McKenzie, Kirkland & Ellis, Littler Mendelson, P.C., and Quarels & Brady, BMLA now holds an annual conference whose recent summit had a 125 attendee cap. It hosted 150.
"For these kinds of nascent organizations, often they last one or two years, because they don't have individuals who are committed to getting them past the sophomore year," says Bateman. "He's been able to help keep it going, increase what the organization does, put on events that are easy for our law firm to get behind."
"I call him Batman," says the organization's co-founder, Sunga Mkwezalamba, who is a corporate counsel at Amazon. "He sends out emails late at night, at 2 a.m., and he'd respond within 10 minutes. He's extremely responsible. I just don't think he sleeps."