Jack Daniels, Dog Toys, and Dinwoodie: Chicago-Kent Professor Cited in SCOTUS Decision
Jack Daniels, Dog Toys, and Dinwoodie: Chicago-Kent Professor Cited in SCOTUS Decision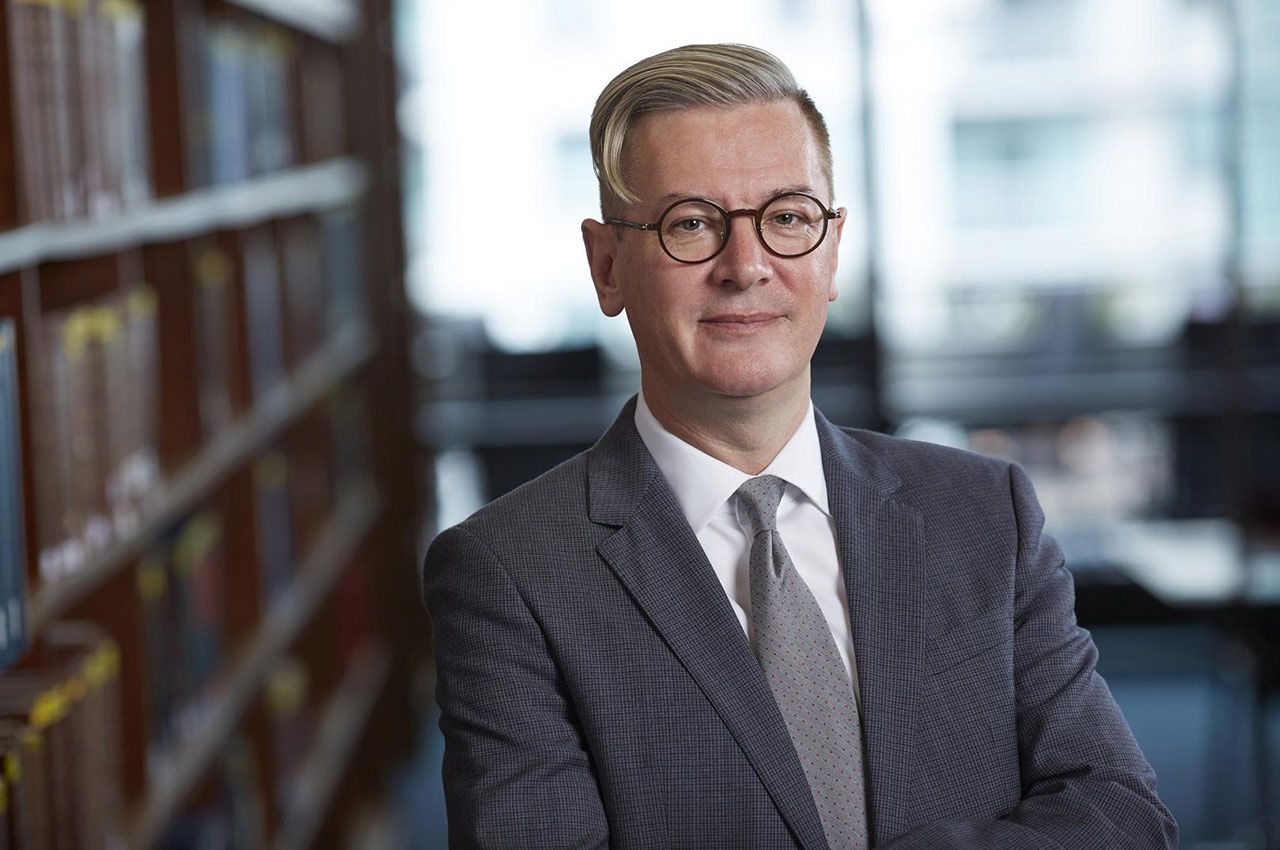 In a case involving the Jack Daniel's whiskey company and an adult-themed dog toy, United States Supreme Court Justice Elena Kagan quoted an article written by Chicago-Kent College of Law Distinguished Professor of Law Graeme B. Dinwoodie.
"The particular article was written 15 years ago now," Dinwoodie says. "You sometimes think that no one reads your law review articles except maybe your family.  So it is nice when you have a sense that the courts—the clerks, at least, and maybe the justices—have read your work as well. It's affirming."
The case saw Jack Daniel's sue VIP Products over a dog toy that the company manufactures that Jack Daniel's says violates its trademark. The plush toy resembles a bottle of Jack Daniel's whiskey and says, "Bad Spaniels" on it, along with a few fecal puns instead of the text normally featured on a Jack Daniel's bottle: "Old No. 7 Tennessee Sour Mash Whiskey."
"Jack Daniel's didn't see it as humorous," says Dinwoodie. "They sued for trademark infringement on the theory that people might think that they were connected to this excrement-related product, or secondly that people would think less of Jack Daniel's because when you're drinking a nice bourbon, you don't necessarily want to think about dog poo, right?"
VIP Products claimed that the toy was an artistic work, and therefore protected under principles of free speech. The company claimed that their toy was covered under the "Rogers rule," which treats the use of a mark in the title of an artistic work as protected free speech when it has artistic relevance to the underlying work, and the title is not explicitly misleading as to the origin of the work.
The Ninth Circuit agreed that the toy was permissible under the Rogers rule, but Jack Daniel's appealed. The company argued that "Bad Spaniels" was trademark use, and therefore the Rogers test didn't apply.
"One problem that VIP had is they had tried to trademark the term 'Bad Spaniels,' which means they had considered what they were making to be a trademark use," says Dinwoodie.
This is where Dinwoodie's article, "Confusion Over Use: Contextualism in Trademark Law" (published in 2007), came into play. Dinwoodie, who also acts as co-director of Chicago-Kent's program in intellectual property law and is global professor of intellectual property law, wrote in the piece that courts should determine infringement based on whether the product would create confusion about who is responsible for or connected with its creation. This was the case, he argued along with his co-author Mark Janis, regardless of whether the defendant's use was a trademark use, but that trademark use was more likely to infringe.
Kagan relied on that argument in her decision to send the case back to the lower courts.
"The greater likelihood of confusion inheres in the latter use, because it is the one conveying information (or misinformation) about who is responsible for a product. That kind of use implicate(s) the core concerns of trademark law" and creates "the paradigmatic infringement case," Dinwoodie wrote in the passage that Kagan cited.
Now, the lower courts will have to decide whether or not the dog toy creates confusion for the consumer.
"It's very possible that the lower courts will simply say that, although Rogers doesn't apply, we don't think it's confusing. And nor do we think it is diluting, and therefore the defendant still wins," Dinwoodie says. "It may not change the outcomes in every case, but what it will do is change the basis for the outcomes."
With this shift in the interpretation of the Rogers test, Dinwoodie says this could effect a dramatic change in how intellectual property cases are litigated.
"Lower courts are now going to have to start working through confusion questions in cases involving artistic works," he says. "I suspect that'll have years of case law before we have a real sense as to the effect of that."
"Rogers allowed the defenders to get a quick win without a lot of money spent on legal fees," Dinwoodie continues. "What's going to happen now is they're going to have to litigate the question of confusion. The worry is that that's going to cause a lot of defendants basically to say, 'All right, I can't afford this.' And just to pull their products from the shelves."
The paper won the 2008 Ladas Memorial Award, but this is the first time Dinwoodie has seen his work cited by the nation's highest court.
"Scholarship as not something where you get automatic immediate affirmation of what you're doing matters in some way," he says. "A nice surprise, but I don't take it as a sign that it's time to retire."