Moot Court Teams Continue Impressive Spring 2021 Streak
Moot Court Teams Continue Impressive Spring 2021 Streak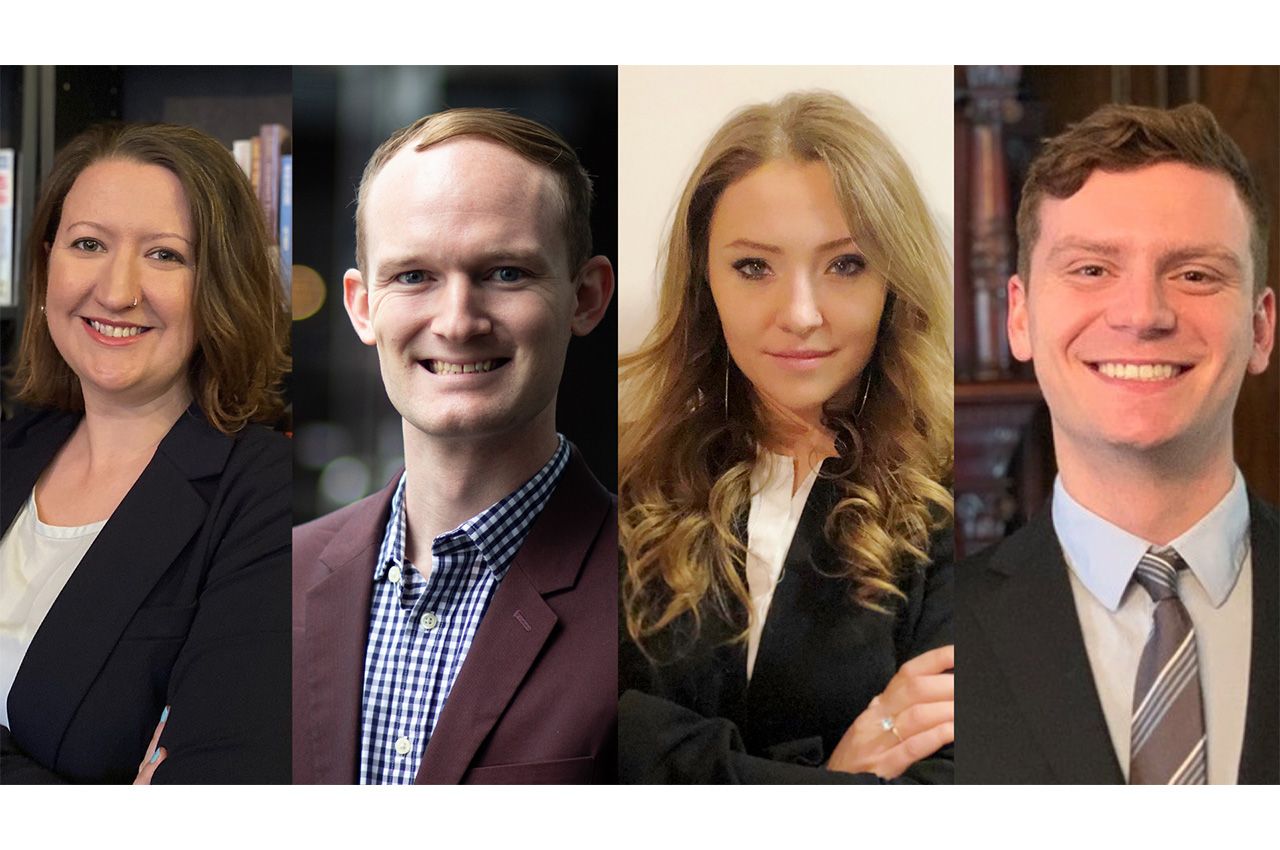 Chicago-Kent College of Law's Moot Court Honor Society teams continued their impressive 2021 run this week, placing high in a pair of national competitions and earning a best oralist award.
Starting on February 25, second-year law students Shaunagh McGoldrick and Scott LaMunyon began blitzing through the American Bar Association's National Appellate Advocacy Moot Court Competition, beating two teams from Drake University Law School. They followed up with a win against Washington University School of Law and another against Marquette University Law School.
Their perfect streak ended in the regional final with a loss against William & Mary Law School.
The team debated an imaginary Supreme Court case about whether, under the auspices of qualified immunity, an employer could fire an employee for something the employee's spouse posted on social media. The students also explored whether the court should recalibrate or eliminate qualified immunity entirely.
"The facts were so in favor of the plaintiff [the person who was fired]," notes LaMunyon. "Using the facts well enough, it was a powerful tool for arguing for a policy change that would benefit everyone."
Judges praised the pair for wielding those facts to the best of their potential.
"Shaunagh and I were a great pair because we're similar in our style, being very reasonable even when pressed very hard or a judge is getting frustrated. We were able to stay level-headed and find our way back into the argument," LaMunyon adds.
LaMunyon, who came to Chicago-Kent from Kansas State University with a bachelor's degree in psychology, and McGoldrick, who earned a master's degree in social work from the University of Montana, are both expected to graduate in 2022.
In a second competition—the Domenick L. Gabrielli National Family Law Moot Court Competition, starting February 26—a Chicago-Kent team finished in second place, with one member winning best oralist.
Jenn Peters and Andrew White, both second-year students, argued about whether a state slayer statute should prevent a woman suffering from battered women syndrome from being entitled to her deceased husband's estate after she killed him, and whether that killing had bearing on her custody of her children.
The team's winning streak included initial successes against the University of Dayton School of Law, Pennsylvania State University, Touro Law Center, UIC John Marshall Law School, and Texas A&M University School of Law, with their only loss in the finals against New York University School of Law.
"A large part of the problem was based on the show Big Little Lies, the character Meryl Streep [the husband's mother] played," White says, laughing, about arguing as the petitioner in the case. "It's a lot more interesting than bankruptcy, that's for sure."
But arguing as the respondent—the accused wife—tended to be a bit easier, he notes.
No matter the avenue of attack, "There was only one piece of evidence concretely on the record relating to abuse. Our argument was there was no pattern," White adds.
Peters notes that the pair argued the wife wasn't in her right mind, and pointed out she had been acquitted in her criminal trial.
And when it came to rhetorical style, Peters—who won the best oralist award—took a risk.
"But I think it worked," she says. "When we were arguing for [the wife], we said she wasn't a cold-blooded killer. And she felt that he had it coming after years of abuse. I felt that struck a chord with some of the older judges.
"I usually get quite a few comments because I tend to be a little more casual and conversational, so that can sometimes be polarizing, but in this competition they seemed to like it."
Both students are expected to graduate in 2022; White came to Chicago-Kent after receiving a master's degree in law from Northwestern University. Peters received her master's in criminology and sociolegal studies from the University of Toronto.
When asked if he had anything to add, White says, "I think a lot of the teams' success right now is attributable to Professor [Cherish] Keller. It's stunning to see what she's done with COVID and propelling us into placing in all these competitions nationally. She turned it into gold."