A New Path: Chicago-Kent Student Gets Full-Ride Scholarship After Successfully Appealing Life Sentence
A New Path: Chicago-Kent Student Gets Full-Ride Scholarship After Successfully Appealing Life Sentence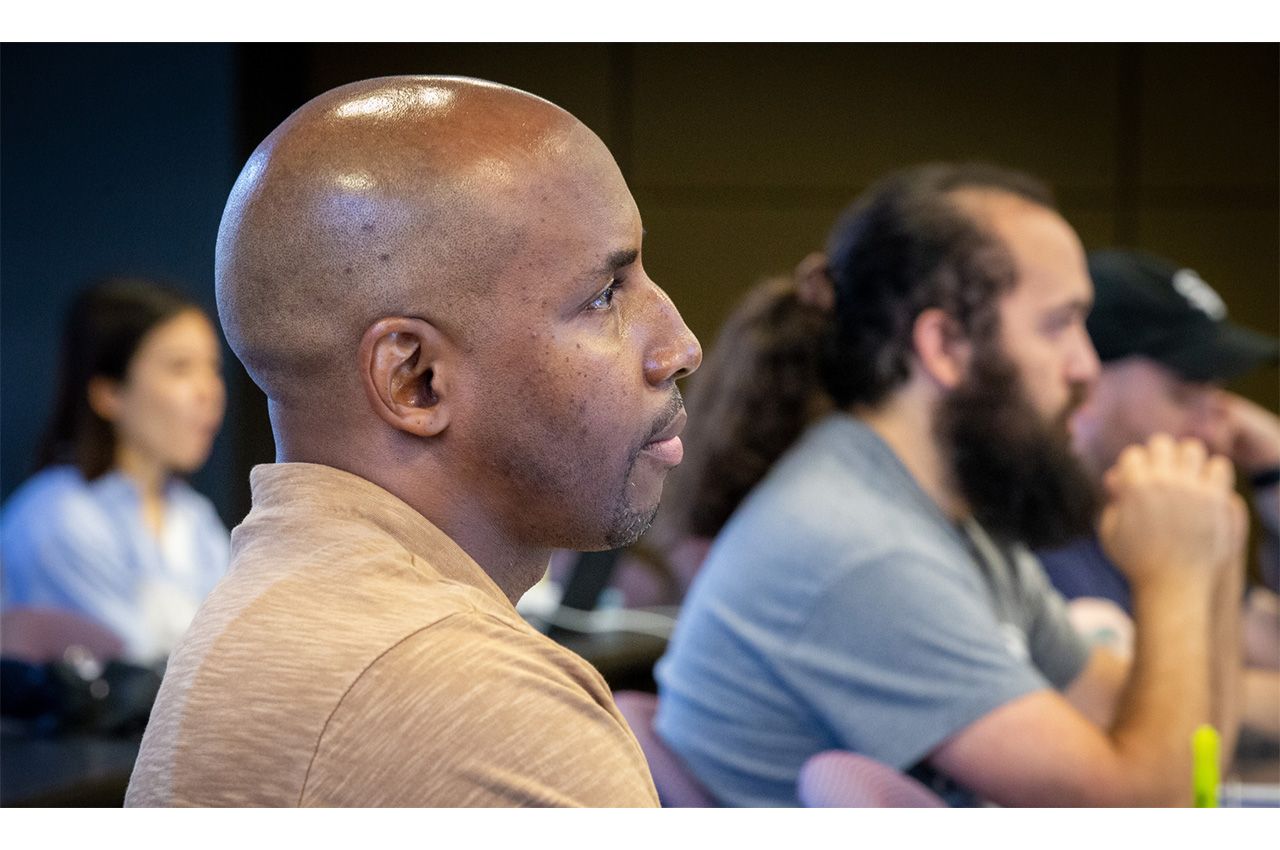 The second time his attorney missed filing for his appeal, Marshan Allen asked his family for one thing.
"Just get me a typewriter," Allen said.
He was sent to prison on a mandatory life sentence at the age of 15 for his role in a double murder, and like most lifers, Allen had acquired an interest in the law. He took a paralegal correspondence course, passed with flying colors, and started working in the prison library. And managing his own appeals.
Which he eventually won. After Illinois changed its laws to get rid of mandatory life sentences for juveniles who never killed anyone–Allen never held a weapon, and ran when a shotgun blast dramatically altered his life, three decades ago–Allen successfully argued himself out of prison.
After 24 years, 8 months, and 2 days of incarceration, and six years on the outside, Allen's legal journey continues this year, as he attends Chicago-Kent College of Law on a full-ride scholarship. The Honorable Abraham Lincoln Marovitz Scholarship is awarded to a single student every three years; this year, it's Allen.
"Every time I'm around Marshan I feel like a mom. He has taken this horrible thing and really parlayed it into a force of good," says Illinois Appellate Court Justice Eileen O'Neill Burke, a 1990 Chicago-Kent grad who is current president of the Illinois Judges Association.
Burke recruited Allen to travel to Chicago-area high schools, much like those in the South Side neighborhood he grew up in. There he stood, soft-spoken and measured, before hundreds of teenagers, refusing to spit out "stay straight, kids" platitudes.
"Every single time he started speaking, you could hear a pin drop. For high school students, that's not a small accomplishment," Burke says. Burke watched one kid approach Allen after his speech, and told Allen he'd made the kid think.
"He's maybe the most thoughtful incoming first-year law student I've ever met," says Andrew Marovitz, who sat on the Marovitz selection committee and whose uncle, Judge Abraham Lincoln Marovitz '25, founded the namesake scholarship. "It's easy to be successful and good to others when life's fortunes go your way. He's such an optimistic person, having been forged in such a challenging situation."
"We asked, 'Why do you want to do this?'" Burke says of the work that began with Allen's high school speeches. "He said, 'If I can help one person avoid what I did, it'll make up for the two people that died.'"
A Fateful Night
Back in the early 1990s Allen lived with his grandmother and older brother in a packed house in Chicago's East Chatham neighborhood. His grandmother passed away one Christmas morning, and the brothers moved out. An uncle, also staying with the grandmother, had pulled them into the drug trade, and Allen—looking up to his oldest and closest sibling—became an occasional runner.
One night in 1992 the brothers were robbed at gunpoint by some rival dealers. Allen's brother said it couldn't stand, and asked Allen to steal a van. He did. When Allen delivered it, two of his brother's friends were armed and ready to go.
"C'mon," they said.
Of course he did. Of course. "Of course it turned into something else," Allen says. "At the time, I thought they were just going to get the drugs and money back. I didn't think I would accompany them, but…that was the first time I'd been in a situation like that, ever."
The three drove to an apartment building a couple of miles away. Got out, walked up a flight of stairs…and one of the men put a shotgun blast through an apartment door.
"It happened really fast, "Allen says. "When he fired the first shot, I started backing up, and by the second shot I was running down the stairs back to the car. Waiting. I heard a lot of shots, wondering 'What do I do? What do I do?'" Then his brother's friends came back, and jumped in the van.
Allen returned to his brother, who had been listening to a police scanner. Two dead.
That night, he slept on the floor of his brother's apartment, trying not to let the others hear him cry.
Two and a half weeks later, Allen was arrested. That was the last time he would see the world outside of prison for a quarter of a century. He didn't have an attorney, but asked to see his mother. His mother was prevented from seeing him. He says police threatened to beat him if he didn't sign a statement; told him he would go home if he confessed; that he hadn't done anything wrong. Told him a lawyer wouldn't help him.
He was sentenced to mandatory life without parole in 1994. Twice, attorneys his mother hired missed crucial filing deadlines, and Allen took over his own post-conviction defense. His petitions were rejected 13 times.
Still, "I really understood it, and got pretty good at it. I started reading other legal publications, started helping other prisoners. That's where my desire to become a lawyer came from," Allen says.
While in prison, Allen assisted the Illinois State Bar Association with the 2006 revision of its publication, Post-Trial Remedies: A Handbook for Illinois Prisoners. He later became the first person sentenced to life without parole to ever attain a teacher's assistant position at the Western Illinois Correctional Center.
Then, in 2012, the United States Supreme Court ruled in Miller vs. Alabama that it was unconstitutional for juveniles to be sentenced to mandatory life without parole. Allen filed again, and after 13 rejected petitions he won the next three. His sentence was reduced to 49 years, cut in half for his good behavior.
He was released on December 6, 2016, not a moment too soon.
"I was really getting to the end of my ropes," Allen says. "I had taken every educational opportunity I could [in prison]. There was nothing left for me to do."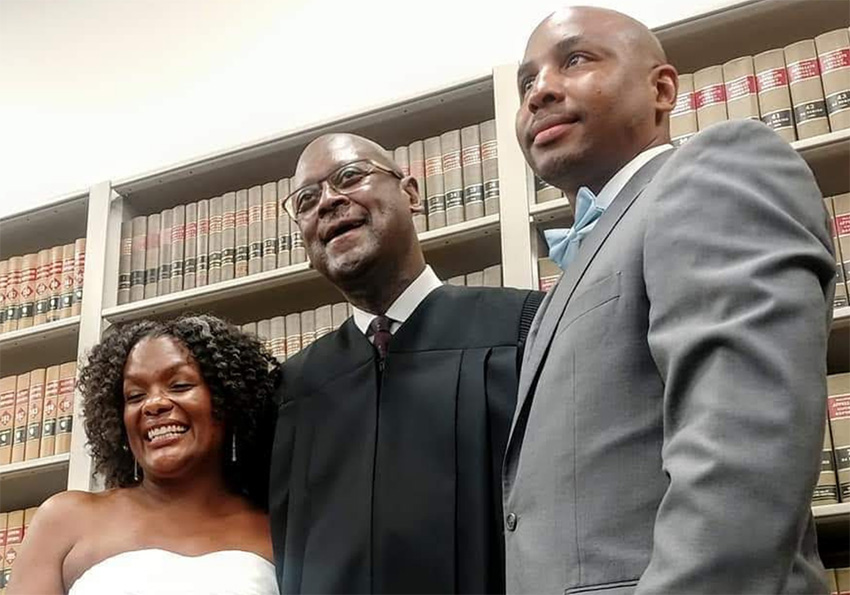 A New Life
On the outside, there was plenty to do, starting with the basics. Allen got a job at Starbucks, and started dating. He'd made a commitment to be honest and open about his background with everyone; an oath of integrity he'd made on the inside.
But the casual mention over coffee that he'd been in jail for 25 years for a double murder didn't get him many second dates. Until Tamala.
"I was so impressed by his honesty and his desire to tell me that in the door. I appreciated his honesty, I appreciated him sharing his past with me, and I appreciated him sharing his future," says his wife, Tamala Allen. "What filled my heart up was, he did not know I was a mother to a son who was actually incarcerated. I knew that even though my son had made some mistakes, that wasn't all he was. Or all he would be.
"Marshan hadn't been ruined. He wasn't ruined."
The two were married by Illinois Supreme Court Justice P. Scott Neville Jr., who in 2013 granted Allen's appeal for a resentencing hearing, which allowed Allen to eventually come home.
While getting his bachelor's degree in justice policy and advocacy from Northeastern Illinois University, Allen went from being a supervisor at Starbucks to a notable advocate of criminal justice reform, first for the Restore Justice Foundation in Chicago; then for Fair and Just Prosecution, in Los Angeles. There, he would meet with state and county prosecutors about sentence reform.
In the meantime, he connected with Burke. The judge, as part of the Mary Mikva Challenge Grant Foundation, was looking for someone to speak at area high schools about restorative justice. Someone at the foundation had heard about Allen's case.
"We wanted somebody who was convicted under the theory of 'accountability,' not the actual shooter," Burke says. "Somebody who exemplified the rehabilitation aspect, who didn't want to tear down the criminal justice system, somebody who wanted to improve it."
When Allen began speaking at high schools, talking about his mistakes and urging students to avoid repeating them, Burke saw that "these kids are riveted when he's talking. He was perfect."
Burke nominated Allen for a Chicago Bar Association Liberty Bell Award, which he won in 2019. He began participating in panel discussions at restorative justice events and symposiums.
Now, as vice president of advocacy and partnerships for Represent Justice, Allen works with both prosecutors and legislators on justice reform.
And as a first-year law student who started courses last month, Allen says he hopes to practice civil rights law upon graduation, like his hero, Bryan Stevenson, who won the Miller vs. Alabama case that set the precedent for Allen's freedom.
"The stars aligned for me with Chicago-Kent. And there's nothing now to stop me from going forward," Allen says. "I just started going."
The Honorable Abraham Lincoln Marovitz Scholarship is a full-tuition law scholarship awarded every three years to one incoming student exhibiting financial need and a strong dedication to public service. It is named after Abraham Lincoln Marovitz, a 1925 graduate of Chicago-Kent, who had a long and distinguished career of public service including time spent as a government prosecutor, state senator, and state and federal judge.