An Agent of Change
Jessica Muench '04 says it was tough having national pundits critique the flagship program of the diversity, equity, and inclusion strategy she helped build at United Airlines. For her, that meant the change was real.
An Agent of Change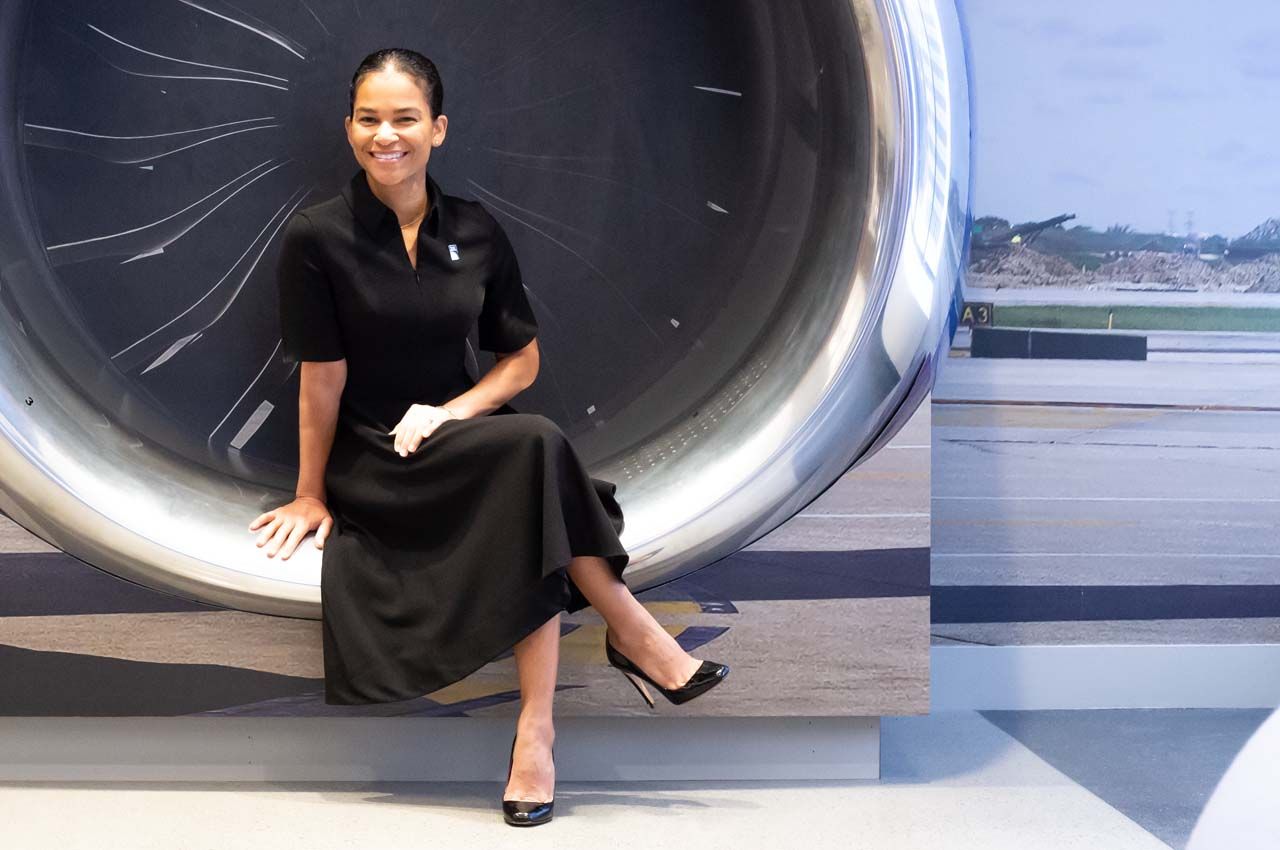 ---
Editor's note: this is a story from the the Fall 2022 Chicago-Kent Magazine. To read the magazine in full, follow this link.
---
Jessica Muench '04 notes that it was tough having the flagship program of the diversity, equity, and inclusion (DEI) strategy she built at United Airlines be criticized by both Tucker Carlson and Trevor Noah. Depending on the pundit, the program was either too risky or too performative. But she knew they wouldn't be talking about it if the change weren't real.
It was the first time a major airline had done something like it: taken material steps to remedy the remarkable demographic homogeneity among United States pilots. Only 6 percent of U.S. pilots are women, and only 7 percent are people of color.
In the wake of the murder of George Floyd that catalyzed protests across the country and conversations about equity and opportunity for Black Americans, United launched its United Aviate Academy. The only flight school operated by a major U.S. airline, its goal was to address the lack of awareness and access to the profession by attracting more diversity into the pipeline, thus addressing the pilot shortage.
Muench, the company's chief diversity, equity, and inclusion officer, notes that the academy was launched with the goal of having at least 50 percent of the program's enrollees be women or people of color. The first class exceeded that, reaching 80 percent.
During a broadcast, Carlson characterized the program's diversity goal as dangerous and life-threatening. Noah called it a "perfectly sensible step," but criticized United for "wanting to get a pat on the back, for [expletive] they should have been doing all along."
Of the national pundit dialog, Muench says, "I was upset initially, but it actually helped by raising awareness and attracting more applicants." She also countered that Carlson ignored the program's high admittance and training standards.
Awareness within the company itself started, as it often does, with internal discussions.
***
Just months before Floyd's murder in May 2020, Muench had another tough job. She was working as managing director in United's human resources department at the height of the COVID-19 pandemic, when demand for air travel had dropped to zero. She helped the company negotiate with labor unions and employees to find the best way to reduce labor costs through as many voluntary leaves and separations as possible, and to minimize the involuntary separations that were inevitable.
While in the thick of that difficult decision-making, she also volunteered her time to lead United's business resource group for women, advocating for gender equity issues within the company.
After Floyd's murder, United's executive leadership selected her to lead the company's reimagined diversity, equity, and inclusion strategy. And that, she says, is when her most meaningful work started.
     
She also asked questions.
"In some organizations, especially in the past, DEI leaders have been figureheads and not empowered to make real change," Muench says. "I didn't want to take it on unless I had the ability to make change where we can see measurable progress and hold people accountable for their behaviors and performance."
The answers she received, she says, let her know "the appetite for change was there." In transforming the company's DEI approach, Muench says she and other leaders grappled with finding the right mix of dialogue and taking action quickly.
"Both are important," Muench notes. "It's important to clearly articulate our vision for how we want to shape the future, to put action plans in place to get there, and to hold ourselves accountable as we progress along the path toward that vision."
As one example, part of United's vision, Muench says, is to have, at every level of the organization, a workforce that "better reflects the diversity of the communities it serves." To understand its "baseline," United began regularly reporting its demographic representation data, including gender, race, and ethnicity. The company set goals, starting with the inclusion of underrepresented groups on interview slates and increased accountability by tying outcomes to executive compensation.
Now, two years in, the strategy that Muench built has impacted not only hiring and promoting talent from underrepresented backgrounds, but also in prioritizing contracting with businesses owned by underrepresented groups. She's worked to ensure "inclusive customer experiences," such as meals culturally relevant to global destinations, and has implemented a cultural awareness training for crews that resulted in greater customer and employee satisfaction. She's also influenced investment in new community partnerships, including a strategic approach to relationships with Historically Black Colleges and Universities (HBCUs).
"We have a very powerful role to play in creating economic opportunity as a major employer and a huge purchaser of goods and services, and we can lead the way for others as we shape the future," Muench says.
Increasing enrollment of women and people of color in the flight school was one way of using that power, and Muench is now focused on doing the same thing for aviation maintenance technician careers with United's recently launched technician apprenticeship program. The need to diversify that area of the workforce is apparent particularly for women, Muench notes, as technicians are currently 97 percent men.
Muench thinks back to her time growing up in Gary, Indiana, when it wasn't clear what career paths were viable and most likely to lead to more opportunity. Now she wants to pay it forward.
"I never thought about working for an airline. In my community the most readily available paths were jobs at the steel mill or casino or as a teacher. Now, I'm in a position where I am able to open doors to spaces where people who look like me have been intentionally or unintentionally excluded," she says.
***
As the daughter of steel workers, Muench grew up accompanying her parents to labor protests, picket lines, and long nights at union meetings. Her mother, intent on parents like herself being active in her union, introduced on-site child care at their union hall. Since childhood her father, who represented his coworkers as union griever, encouraged her to be a civil rights attorney.
Watching them advocate for themselves and their coworkers in the workplace is what inspired Muench to pursue her law degree with a labor and employment certification from Chicago-Kent College of Law. When she decided to take her first job representing management, her parents had questions.
"It doesn't matter what side you're on, you can do justice and find a balance of power and interests between union, employer, and employee," she told her parents. They came around.
Muench has taken a unique path from law school to corporate leadership. She started her career representing the City of Chicago. During law school, she earned her 711 license and built her courtroom experience arguing administrative hearings. After graduation, she moved to the law department's labor division, representing city departments, like police, fire, and water, in labor arbitrations to resolve discipline, discharge, and contractual disputes. She also defended the city against harassment and discrimination claims. She later was promoted to deputy general counsel in the city's procurement department, resolving contractual disputes and debarring vendors who falsely claimed minority-owned status.
Muench was then recruited to work for former Illinois Governor Pat Quinn as his associate general counsel, and was subsequently appointed to the Illinois Labor Relations Board in 2010.
At that time, one of her Chicago-Kent professors, Marty Malin, offered Muench a tip: United was looking for a labor and employment attorney. Muench was intrigued by the opportunity to lead in a corporate setting. In the midst of the merger of United and Continental Airlines, she was hired on as counsel for labor and employment.
Her success there led to a promotion to lead a team of arbitration lawyers as a managing director in human resources and labor relations. She says these experiences made her the perfect fit to lead in her current role as head of DEI.
She's now had some time to reflect on that role, what it's meant to both her and the company. Recently, as she got ready to report to the company's Board of Directors for the fourth time, Muench kept coming back to how the values of corporations are now highly scrutinized by investors, customers, and employees. She's confident, she says, that she's "helped United live more fully into its purpose and values."
"DEI will be how we will appeal to future talent and customers, and meet many of our businesses' goals including hiring 50,000 people over five years," Muench says.
"Leading with our purpose and values is good for the business, and it's what's right."