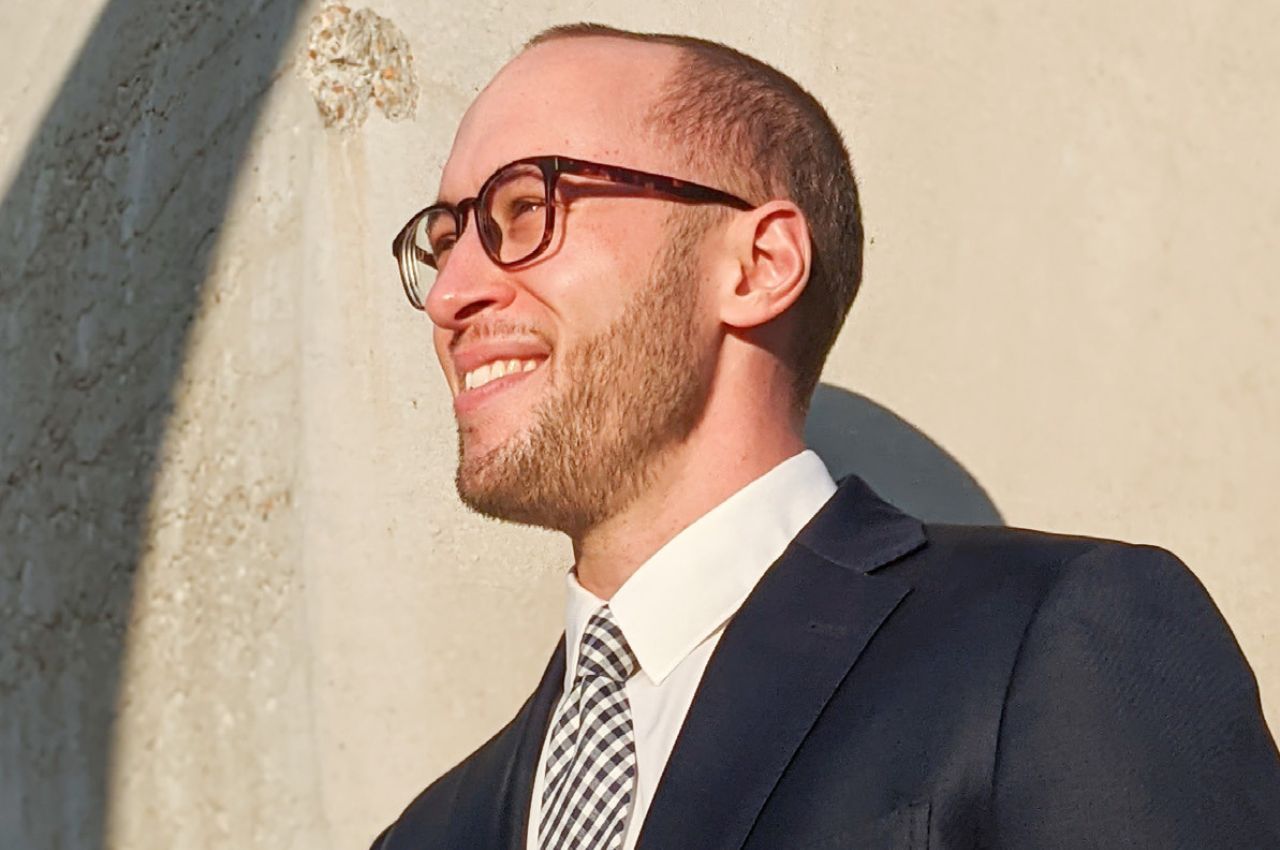 Ben Jackson went to law school to reduce the need for lawyers.
"The law really belongs to ordinary people. A lot of times by having lawyers in the process, we make it far less accessible than it could be," Jackson '21 says.
That's the ideology for Jackson's project, Immigrationhelp.org, an online app that helps immigrants fill out complex immigration paperwork for free. So far, in the beta stage the company's clients have successfully filled out 250 applications; the site now commands 160,000 unique site visitors per month, and numbers have been growing an average of 43 percent a month for the past 12 months.
The massive immigration market in the United States is hardly a secret. But what's less widely known is the fact that 63 percent of the 8 to 14 million immigration applications filed every year are unrepresented, according to the American Immigration Council.
"He has a real passion for it," says Fernando Urbina, the company's director of outreach. "I know he has had a number of friends who had to go through this difficult process and had to pay very high fees."
Jackson first attended Chicago-Kent College of Law in 2017, after losing his startup company to a competitor during a drawn-out legal battle.
"That kind of ignited a passion in me for figuring out the law for ordinary people, because it hadn't worked for me," Jackson says. "I decided to go to law school to figure out ways for people like me to protect themselves."
While attending the FinTech summit in his first semester, he met entrepreneur Jonathan Petts. The two talked about Petts's project, Upsolve, an online application that allows people to file Chapter 7 bankruptcy petitions on their own, for free.
"In certain practice areas, the reason you're in it is you don't have money. And yet you need money for an attorney," Jackson says.
Jackson came on board as an intern and taught himself some tech skills. He learned process automation: taking all the manual work and automating it with things like text templates, anything that would reduce the workflow.
The gig lasted through 2018, and Jackson continued on at Chicago-Kent.
But then Petts returned with another idea: something exciting enough to Jackson to get him to drop out of Chicago-Kent for a year and move to Boston, where the team was located.
It was a rough idea in the immigration space: something like Upsolve, but for immigration documents such as green card and citizenship applications.
Like bankruptcy applications, immigration work was seen as far too expensive; any rate was high when you had a client base with very little money.
They first imagined the app as a paid service: an in-house, mid-market law firm with a stable of about 100 attorneys that would do a lot less work, for a lot less money. The consumers, using the app, would do about 80 percent of the work.
But they increasingly saw that model as flawed.
"The process of managing an outsourced law firm was too onerous," Jackson says. "We also realized the need in this space, who would benefit, was so much higher than we thought. And the ability to pay was so much lower than we expected. The margins weren't there."
So they ditched the firm idea and instead made the app entirely free.
In November 2019 they switched over to nonprofit. And Jackson realized that, in order to increase the trust of potential donors, he—as the company's chief technology officer and co-founder—should probably get a J.D.
"I eventually realized that the thing that makes or breaks effective service delivery was trust," Jackson says.
So he returned to Chicago-Kent and earned a legal innovation and technology certificate from the school's Law Lab; he was also awarded an Access to Justice Tech Fellowship and an Equal Justice Foundation Fellowship. He jokingly credits COVID-19 for making it possible: he attended remotely while still working full-time in Boston.
The company has since gained many individual donors, along with bigger ones such as Harvard University; Google.org; and Fast Forward, a nonprofit tech accelerator.
They've achieved high growth for months, and their online Trustpilot reviews are overwhelmingly complimentary. Due to demand, they've switched primarily to DACA (Deferred Action for Childhood Arrivals) applications, and users have found them through Google search.
"One of the things we learned at Upsolve is that nonprofits have an unfair advantage in winning the search," Jackson says. "You can get links from organizations that legally can't or won't link to for-profit organizations."
"We do believe there is a role lawyers play. End-to-end and last-mile supportive handholding, and consumers want that," Jackson says of their referral service. "The attorneys like it: they're being hired for something immigrants have asked for, rather than having to figure out what they [clients] want."
But he's certain, when it comes to immigration, they want something affordable, which may not always include attorneys.
"I didn't want to be the filter anymore; I wanted to be the conduit."