A Lasting Legacy
Militza Pagán '17 took on the Trump administration to protect the rights of immigrants. Locally, she's helping to enact rules that protect domestic and other low-wage workers.
A Lasting Legacy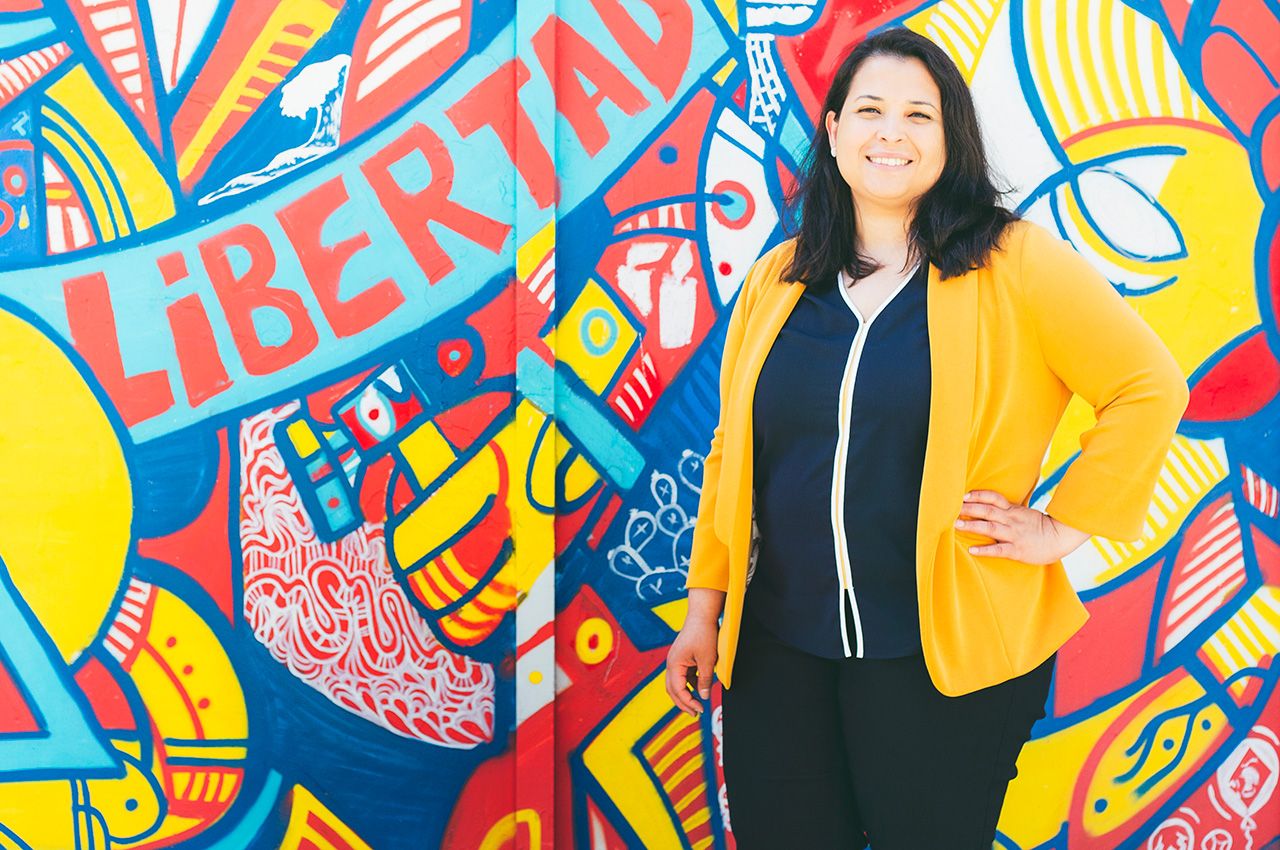 ---
Editor's note: this is a story from the the Spring 2023 Chicago-Kent Magazine. To read the magazine in full, follow this link.
---
"I want immigrants and low-wage workers to be seen as people," says Militza Pagán '17. "From what I've seen, when immigrants or workers are exploited, it's because others don't see them as human beings."
Pagán works as a staff attorney at the Shriver Center on Poverty Law. She fights to create lasting legal and legislative change for immigrants and low-wage workers, particularly domestic workers.
Before Pagán came onboard in 2016, the Shriver Center successfully advocated for the passage of the Illinois Domestic Workers Bill of Rights. It established basic worker rights, such as minimum wage and overtime protections and protections against discrimination and sexual harassment, for domestic workers across Illinois.
"Before the Illinois Domestic Workers Bill of Rights, domestic workers were not protected under the Illinois Human Rights Act, so a domestic worker could be sexually harassed and there was really no legal remedy for them," says Pagán.
In 2017, Pagán joined the Shriver Center as a Skadden Fellow. 
She then began the difficult work of overseeing the implementation and expansion of those newly established rights for domestic workers.
"Much of my work has been the implementation of that law and the education of domestic workers," Pagán explains. "That meant also getting the Illinois Department of Labor, who is in charge of enforcing the protections, to issue regulations to explain how the law applies, especially to live-in domestic workers who are often in the most vulnerable situations and taken advantage of." 
She also worked to further expand protections for domestic workers in Chicago.
She helped shepherd many domestic worker protections through the Chicago City Council, including minimum wage and overtime protections, as well as the right to a written contract.
"Due to their informal job arrangements, domestic workers are often exploited, not paid what they were promised or often required to do work that was not in the original terms of the employment," says Pagán. "Now employers are required to provide domestic workers with a written contract to formalize the employment arrangement, making it more difficult to exploit domestic workers." 
Pagán doesn't only work with domestic workers. 
She also advocates for protecting immigrants' access to public benefits. That work led her to a case against the Trump administration's public charge rule that ended up at the United States Supreme Court.
The Trump administration's regulation made it difficult for low-income immigrants to become lawful permanent residents by penalizing them for accessing life-saving government services, such as food assistance and medical care, even if they were legally entitled to those services.
"The purpose of the regulation was to intentionally discriminate against low-income immigrants of color and to create fear," says Pagán. "It created a chilling effect to make sure immigrants feel afraid of accessing government services or interacting with the government and penalize individuals just for being poor."
The legal battle was long and arduous, but ultimately successful. In March 2021 the regulation was invalidated nationwide. Unfortunately, the regulation was in effect for much of the COVID-19 pandemic and had a devastating effect on immigrant families.
"Many people lost their jobs in the pandemic," says Pagán. "But many immigrants and their families did not access government assistance—such as food assistance and medical care—and  did not get vaccinated because they were concerned that it might affect their ability to stay in this country with their families."
As with her work with domestic workers, Pagán wasn't content to sit in her office writing motions. When she was fighting the regulation, she also spent time in the communities, working to educate immigrants about their rights. 
The best part of Pagán's work, she says, is working with members of the community.
"People with her expertise and position, advocates that do very high-level work, can sometimes develop a distance from the community or the people that the policy is going to impact," says Adam Kader, public policy director at Arise Chicago, who works closely with Pagán. "Militza never allows that to happen. She never forgets others' humanity in the process, and I think that's apparent in the way she works. She's inclusive and careful to make sure people are heard."
Pagán subscribes to the idea of community lawyering.
"The idea is that people directly impacted by laws and policies should determine and lead the change they want to see in their communities," she says. "The role of the lawyer is to help community members achieve the change they want to see through policy and legal strategies."  
Public interest has always been Pagán's focus. Even before she knew she wanted to go to law school, she was working with nonprofits. 
While working toward her undergraduate degree at Yale University, she worked at Junta for Progressive Action—a nonprofit providing social services for the Latine community in New Haven, Connecticut. 
"That was when I realized I could build a career helping people," she says. "My experience at Junta completely changed my professional trajectory." 
Her journey to help others brought her back to Chicago, where she grew up and worked as an AmeriCorps Fellow at the Illinois Coalition for Immigrant and Refugee Rights before taking a position as deputy director of the Puerto Rican Cultural Center. 
That was when she decided she wanted to go to law school.
"I found again and again that it was helpful to understand the law and understand how policies get passed," she says. "Law school taught me to advocate for individuals in difficult positions."
She continued her work in the public interest sector during her time at Chicago-Kent with multiple internships, including as a Public Interest Law Initiative intern at Business and Professional People for the Public Interest (now Impact for Equity). She was also a Peggy Browning Fund Fellow at Raise the Floor Alliance and externed for Chief Judge Rubén Castillo in the United States District Court for the Northern District of Illinois. 
Now she's been at the Shriver Center for more than five years—and she's living her dream.
"I want to eventually look back at my career and see that I used my law degree to create a long-term impact that improved people's lives," she says. "That I fought to ensure the law works to the benefit of marginalized communities." 
This year the Public Interest Center honored Pagán with the Honorable Abraham Lincoln Marovitz Public Interest Law Award, a prestigious award bestowed on an alumni who has demonstrated outstanding public interest leadership, reflecting "the character, life, and work of Judge Marovitz '25."
She encourages all attorneys to think about the impact that they could make with their knowledge and power.
"The legal system is intentionally complicated, convoluted, and difficult to access," she says. "Lawyers are the small group of people who can fully access that legal system. Because of that, lawyers have an important and unique responsibility to ensure that the law gives everyone the opportunity to thrive."
"What is the legacy that you want to leave behind when you leave your legal career?" she asks. "Is it one that will outlast you? And is it one that ultimately changes people's lives for the better?"