Meet Micah McClendon-Smith, Class of 2021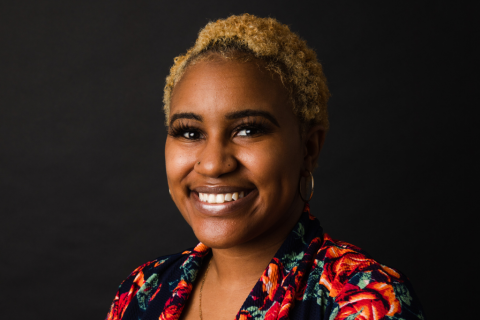 Go to work for the state's attorney's office, or the public defender?
On one hand, it was a simple choice of internships—a short-term stint. On the other, Micah McClendon saw the decision as something far less fleeting.
"The unfortunate thing about the law, you worry about getting pigeonholed," she says of her dilemma in 2019, during her initial year at law school.
And while she cared deeply about such issues as police misconduct, she knew that work experiences had a tendency to surprise her.
"Experience always pushes me in different directions," Micah says with a laugh.
From debating classmates in middle school and crafting poetry with her twin sister, to organizing cultural and advocacy events as the current president of Chicago-Kent College of Law's Black Law Students Association, Micah seems to be going for as wide a range of experiences as she can.
Going back to 2019, a split second of empathy from a former state's attorney helped her make the choice regarding her first legal internship.
"It wasn't anything he said, but on this particular day it was slushy, dirty snow, and I had on light-colored pants. And he didn't hold it (the dirty pants) against me. At the very least, I thought this person was very human," she says.
She chose to intern for the Cook County State's Attorney's Office and never regretted it.
Working in the office's domestic violence and sexual assault division "showed me the good work that prosecutors are doing. Convicting domestic violence perpetrators, trying to get those people off the street," she says.
But then as a second-year law student, she opted for what some might consider the opposite experience: interning with a solo practitioner who worked police misconduct cases, mostly against the Chicago Police Department.
"It was just as rewarding. I was able to see the other side of a very important coin," she says. "Working and seeing these cases that don't make it to the national headlines, seeing how the system works against people, I was able to see how pervasive it all is."
**
Born and raised on Detroit's west side, Micah watched her hometown's rebirth over the past decade with mixed emotions.
"On one hand I love the revitalization; on the other hand I know it's meant for Detroit's newcomers and not its natives," Micah says.
Micah started getting interested in the law in middle school, taking part in Michigan Youth in Government debates. A competition attendee told her, "You're good at arguing," which she took as a compliment.
Then in high school, she engaged in mock trials.
"I realized I enjoyed it. It was fun beyond that moment. It wasn't just a hobby," Micah says.
But after graduating from Consortium College (now Voyageur) Preparatory High School, she didn't pick your typical pre-law degree. Instead, she studied sociology at the University of Michigan in Ann Arbor.
"I wanted to be able to learn about how people or groups work together—or perhaps don't work together. And I thought that would be applicable [to law school]," she says.
After starting at Chicago-Kent in 2018, McClendon was elected BLSA president in May 2020 using the slogan, "Progression, precision, presence."
"I wanted to increase our presence on campus, not only at school but also in the greater legal community," she says.
Over the past month, Micah helped work on the "My Black is Beautiful" art exhibition, an annual event that displays the work of spoken-word and visual artists. While holding the event in the law school's auditorium wasn't an option during the pandemic, it has now been recreated as an Instagram series.
And she'll contribute.
"I try to say the things that other people are afraid to say, the things that are taboo.…My sister and I have written a piece about body image," she says. "People don't want to talk about that in a candid way, but every time we perform that piece (during poetry events), we always get people telling us that they can relate."
When asked who's helped her along the way, she mentions her family: her parents, three sisters, and niece. She also credits her sisters of Sigma Gamma Rho Sorority Inc.—one of nine historically Black sororities and fraternities—with getting her to Chicago-Kent. Giving her money to apply, putting her up when she arrived, and covering her application fee for the Bar Exam.
After working for a year at the Cook County State's Attorney's Office after graduation, McClendon is now a Law and Legal Theory Educator at Chicago's Legal Prep Charter Academy.