Seeing Both Sides of Immigration Law
Seeing Both Sides of Immigration Law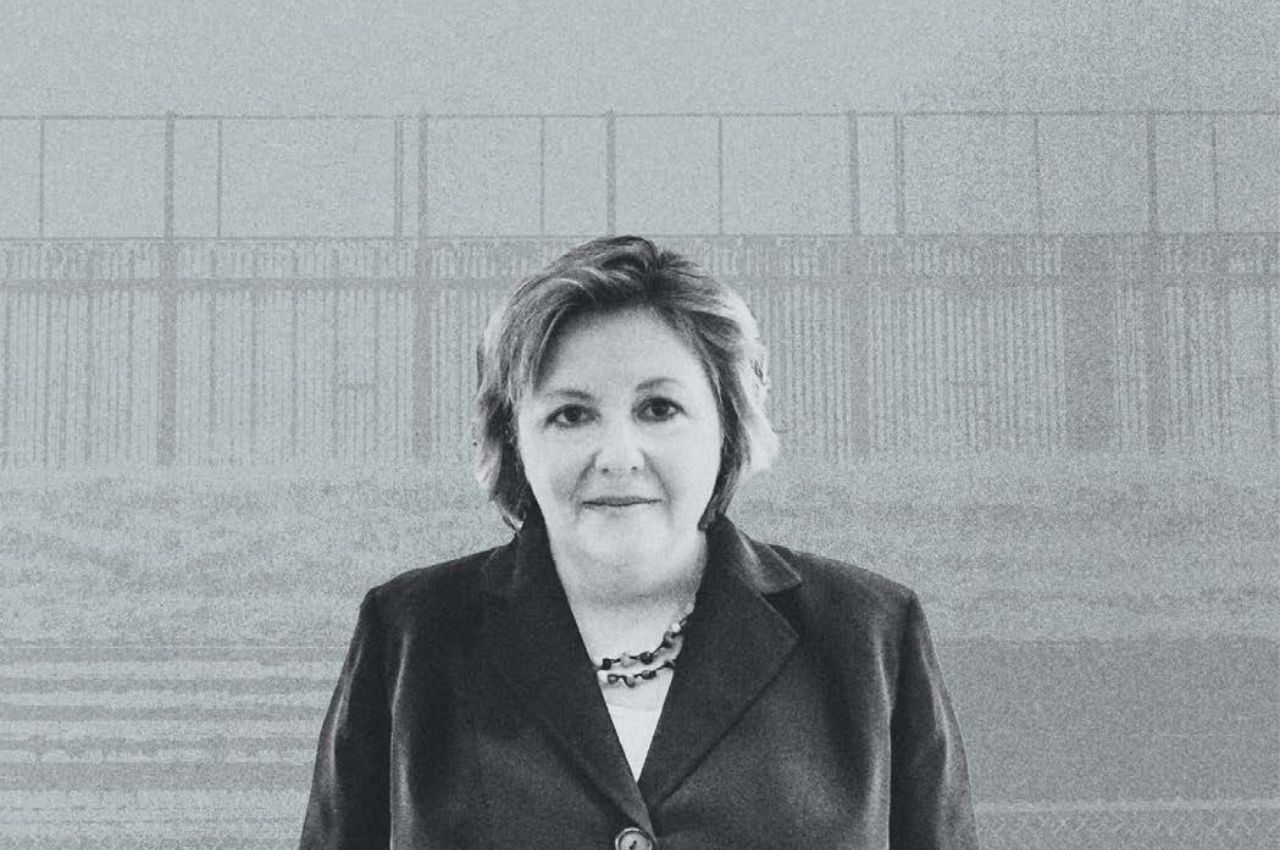 When Catherine Paler-Amaya '03 refers to herself as "a government person," she's speaking from experience. A lot more experience than most.
Throughout her career she has worked for three federal organizations tied to immigration: the former United States Immigration and Naturalization Service (INS), U.S. Immigration and Customs Enforcement, and U.S. Customs and Border Protection (CBP). That's not even counting her brief internship with the U.S. Department of Justice's Executive Office for Immigration Review.
As a result, she jokes that even her family doesn't really know what she does, or what agency she works for—even though she's done it for over two decades and is married to an immigrant.
"My career is unique even for a government person…I've been through the immigration process personally with my husband, I have worked in the private sector in the employment immigration area, and I have worked on the adjudications and enforcement side with the government. I know and understand the challenges from all angles," she says.
"We all come to this job for different reasons, but the immigration aspect is something that is personal. My father was an immigrant, and for Catherine it's personal too, because she went through the process with her husband," says Jennifer Veloz, a senior attorney with CBP who has known Paler-Amaya for 15 years.
"She brings a uniquely personal and human experience. This isn't stamping widgets; each case is a person, each case is a family, and you want to do the right thing," Veloz adds. "Catherine is just so ethical, and her heart's in the right place. It's so obvious in the way she comports herself. She's measured, she's patient, and she cares."
But like many careers, Paler-Amaya's current path wasn't the one she originally envisioned.
After earning her master's degree in Latin American Studies from George Washington University's Elliott School of International Affairs in Washington, D.C., she wanted to enter the U.S. Foreign Service. A federal hiring freeze nixed that idea. Still, she needed to find something related to her education and interests.
So she got a temporary job working for the former INS, reviewing appeals of those who had applied for status through the Special Agricultural Worker program.
"I came in idealistic, but it was a sobering experience. In the appellate unit, we saw quite a bit of fraud," Paler-Amaya says.
Workers wanting residency had to show they'd been employed with farmers for a certain number of days. But sometimes those farmers weren't really farmers, and some had been paid to provide false work documentation for applicants, Paler-Amaya says.
Wanting a permanent position, Paler-Amaya applied for an immigration fines officer position, and she got it. It was an adjudications position; officers in the field recommended fines against airline carriers who had allowed foreign nationals on their flights without proper travel documentation. She made sure the fines were appropriate.
But the job required some interesting training.
"I remember thinking, 'I can't believe I'm doing this. Immigration inspectors have to learn to drive like this?'" Paler-Amaya says. "We had to drive 60 miles per hour, and then the instructor would activate a remote control that would lock the brakes to put the car into a spin. I have vivid memories of getting out of those spins."
She's referring to the driving course she had to take during her three months at the Federal Law Enforcement Training Center in Georgia in order to qualify for her position. Sure, she took weeks of Immigration Law courses, but when you tacked on the firearms training and self-defense courses, it all made Paler-Amaya wonder how dangerous her fines officer job would actually be.
In the end, she never had to pull herself out of a high-speed spin outside of training. But the experience proved valuable.
After being promoted and working for several years at INS's Washington, D.C., headquarters as an assistant chief inspector, she yearned to return home to the Midwest, where she grew up. Though she was born and raised in a Detroit suburb, she needed a big city. And she wanted to go to law school.
"I felt that I wanted to make a larger impact on my community and expand my abilities and career. I felt that being a lawyer would help me do that," Paler-Amaya says. "I believe it has, especially as I refocused my career in the public sector."
She started Michigan State University College of Law, then transferred to Chicago-Kent. As a 30-something attending school in the evening, she worked by day as a legal assistant in Sidley Austin LLP's immigration department. After she graduated in 2003, the firm hired her on as a staff attorney in the same department where she advocated and did benefits work on behalf of foreign nationals.
But she craved variety. "I started to contemplate where I wanted my career to go. Some work was repetitive and confining to me. In corporate work you get into one area and often stay in that area because you become valuable as a specialist," she says.
So when a job opened up working for CBP—even though it was in Florida—she took it.
She'd wanted variety, and she got it working as a senior attorney for the Office of the Associate Chief Counsel, first in Miami, then Tampa, Florida.
"I had all this lived experience with all these areas of immigration, but the CBP attorney position was intriguing to me because it also dealt with trade issues, seized artifacts, currency seizures, Fourth Amendment issues with officers and agents, and lots of employment issues," she says.
In effect, Paler-Amaya became a jack of all trades. In the same day she could be providing immigration advice about a traveler to CBP officers at Orlando International Airport, discussing trademark violations in a shipment of auto parts at the Jacksonville, Florida, seaport, and be working on discovery in an equal employment opportunity discrimination case.
"The agency doesn't pigeonhole any of us in the field, which is what I really like. Though I like immigration a lot, I also like having a variety of other work, which I think has made me a well-rounded lawyer," she says.
Still, she has become the go-to person in her office for immigration projects, and is particularly good at researching complex federal statutes and case law.
When asked what it is about the work she likes, aside from the variety, she says, "I like being a public servant, and I like the mission of serving my government. I feel that I'm contributing to my country. And I don't have to write down billable hours."
She then talks again of her husband, whom she met through a friend while working for INS in Washington, D.C. He became a U.S. citizen after they moved to Miami.
"Many of us in the immigration-related agencies, including myself, are married to people from other countries. I respect the diversity of our country. And we need to have good people in our government who understand that and who bring their unique experiences and backgrounds to the work," she says.  
"The laws are made by others, and we have to enforce them. We need smart, dedicated and creative lawyers to do this work."