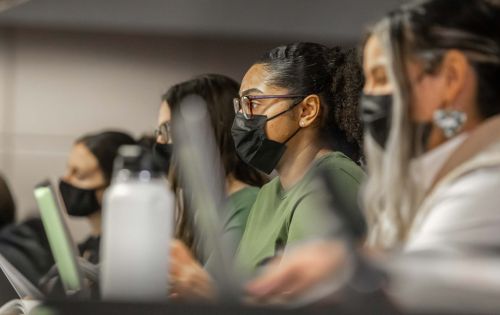 J.D. Certificate in Public Interest Law
J.D. Certificate in Public Interest Law
Overview
Students at Chicago-Kent who seek a career in public interest law—including, but not limited to, protecting human rights and civil rights, promoting social justice, increasing access to justice, and battling discrimination—can begin to carve their professional niche by pursuing a Certificate in Public Interest Law. Students in the certificate program work with the director, professor Carolyn Shapiro, to develop a curriculum plan tailored to their specific interests and career goals.
Students pursuing the Public Interest Certificate also work with the Public Interest Center, a multifaceted institute whose mission is to increase pro bono and community service, support careers in public interest law, and expand access to justice in the community. The center's staff help students explore and connect with the center's pipeline of public interest volunteer and pro bono opportunities, including several excellent in-house opportunities: the Self-Help Resource Center at the Circuit Court of Cook County, the Patent Hub, the Center for Access to Justice & Technology, and the Constitutional Democracy Project. For students pursuing the Public Interest Certificate, the center's staff helps them develop a career plan and identify opportunities to fulfill the certificate's volunteer hours requirement. 
Being in the heart of Chicago offers a big advantage to those who are passionate about public interest law. Chicago-Kent partners with the city's frontline agencies and nonprofits, where students can get valuable experience through internship and fellowship opportunities. These agencies are staffed by dozens of Chicago-Kent alumni, many of whom are willing to mentor and network with students as they explore their academic and career paths.
If you have any interest in a career in public interest law, please reach out to us with questions. The program curriculum and requirements can be found in the links below:
Program Curriculum   Program Requirements
Contact Information:
J.D. Certificate Program in Public Interest
Conviser Law Center
565 West Adams Street, Room 753
Chicago, IL 60661
Carolyn Shapiro, Director and Professor