Chicago-Kent Students Volunteer to Secure Benefits for Those Affected by COVID-19 Crisis
Chicago-Kent Students Volunteer to Secure Benefits for Those Affected by COVID-19 Crisis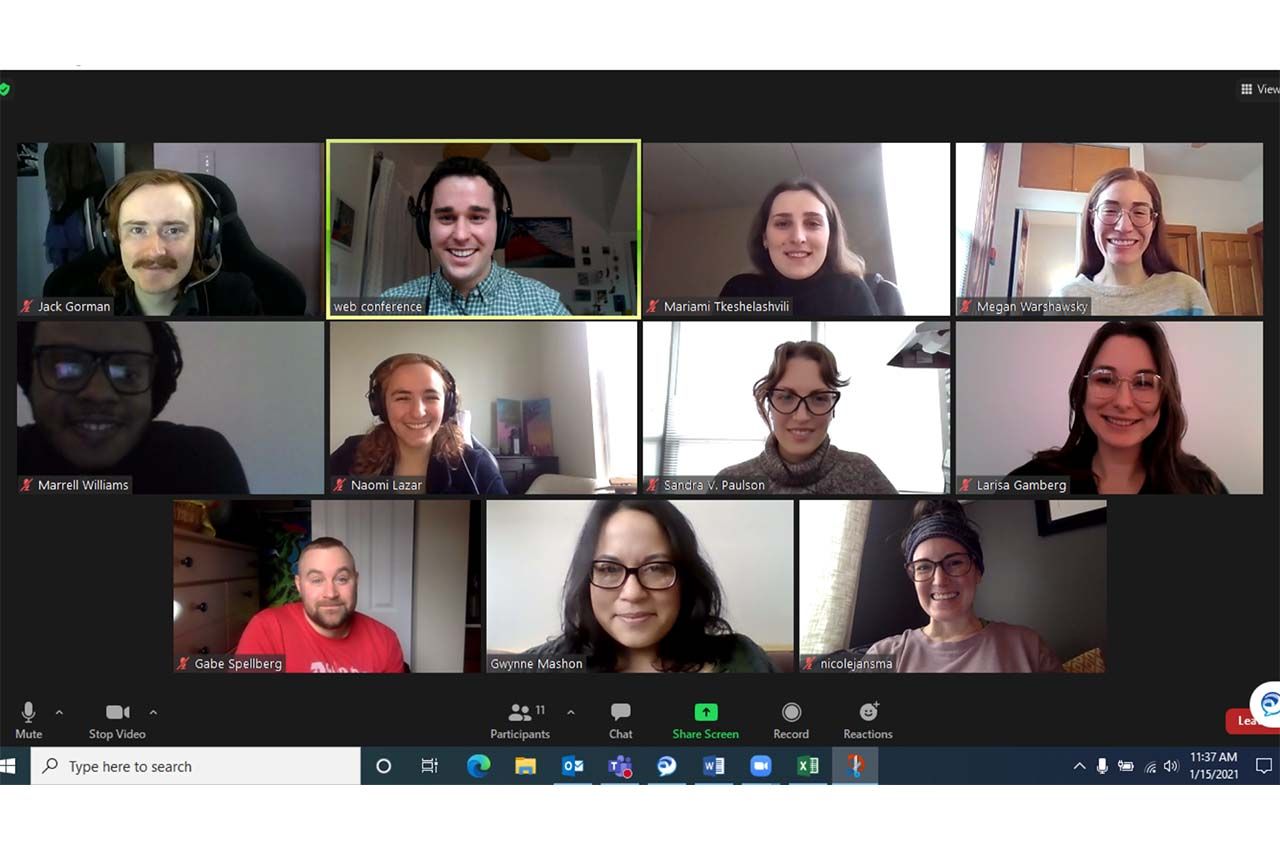 One client, recently let go from a job due to COVID-19, was besieged by hospital bills. His dire medical situation didn't help.
Another lived in a household with no income or savings—and little hope on the horizon due to the pandemic.
But over winter break, a group of Chicago-Kent College of Law students stepped in, volunteering their time and expertise to assist those in need.
"Most clients fell into two buckets: health care and food care," says Megan Warshawsky, a first-year student who answered a pro-bono call to help mitigate the burgeoning caseload that Legal Aid Chicago experienced over the past year. "It was shocking and it was immediate. It felt like the people I talked to felt like they had very few options. And I get it. The benefits program is not intuitive."
The Chicago-Kent connection started back in December, when a law school administrator reached out to an alumna. At first it was a casual conversation between a former student and her old adviser. The two had kept in touch.
"It's my favorite thing when things come full circle. To see students you worked with become legal aid attorneys or give students opportunities to learn from them, it's incredible," says Michelle Vodenik, the law school's director of career services and public interest.
Years ago, Gwynne Kizer Mashon had co-founded Chicago-Kent's legal aid trip to Louisiana with the school's chapter of the Student Hurricane Network (now known as the Student Humanitarian Network) in the wake of Hurricane Katrina. After graduation, she stayed on at Southeast Louisiana Legal Services in New Orleans.
But now Kizer Mashon was back in Chicago, and she had a big need. As the new supervisory attorney of Legal Aid Chicago's public benefits practice group, she'd seen a swelling bottleneck of cases involving clients who were having trouble applying for benefits.
One of the largest social service agencies in the metro area, Legal Aid Chicago knew firsthand how the pandemic had assailed the safety net apparatus in unexpected ways.
"With COVID, most of the [Illinois Department of Human Services] offices were completely closed. Now some are open, but only for emergency services. It's hard for someone to get in to do an application that way," Kizer Mashon says. Toss in spotty internet access and language barriers, and you had a recipe for impending disaster.
That's where the students came in. Vodenik recruited nine of them—seven first-year students, one second-year, and one third-year—and Kizer Mashon tasked them with calling back people screened through her agency's Cook County hotline.
They already had found 200 people looking for help with tasks both simple and complex: from filling out online forms they couldn't access or understand, to navigating state bureaucracies and appeals processes.
"There were lots of first-timers, people that weren't used to applying for things like food stamps," Kizer Mashon says. According to Illinois Department of Human Services data,  971,520 individuals applied for SNAP benefits in Cook County in January 2021, compared to 835,621 in January of last year, a 16-percent increase.
"I know this is going to sound cliché, but just hearing the dire need of these clients, having an actual conversation with them, and hearing how desperate they are, you can't walk away from that feeling the same," says Nicole Jansma, one of the first-year Chicago-Kent students who volunteered.
"You hear a lot about public aid, but until you actually interact with [the clients], you don't actually know what it is," adds Warshawsky.
Marrell Williams, another first-year volunteer, agrees.
"It wasn't what I expected going in. They really talked about personally what they were going through. It was really shocking to hear about it—people unable to access, unable to communicate," he says. "The majority were older citizens…and a lot had really dire emergencies, and I didn't expect that to be the case."
These were people, Williams notes, "just around the corner" from where he grew up in the Chicago suburbs.
Along with Jansma, Warshawsky, and Williams, the first-year Chicago-Kent students who volunteered were Jack Gorman, Naomi Lazar, Larisa Gamberg, and Gabe Spellberg. Second-year student Sandra Paulson and third-year student Mariami Tkeshelashvili also joined the effort.
"They've been fantastic, energetic, and very smart; I was really impressed. Not only did they help enrollment, they helped with legal research for a number of issues," Kizer Mashon says of the students. "To dive into the [federal] COVID relief package, to find out how federal laws would interact with state laws—they were so helpful with that."
Says Warshawsky, "It was a very hands-on process, which was awesome because I feel like a lot of internships don't give you as much leeway. But I feel [Legal Aid] really treated us as equals….How they're given so little yet they can do so much with the little they're given, it's just a great tribute to them."
In all, the students put in 156.5 pro-bono hours. And Kizer Mashon notes that even after the two-week effort ended, four students opted to stay on to see their cases through. Typically, benefit applications like the ones the students oversaw can take one or more months.
"I'm not taking on new clients, but I'm keeping an eye on them," says Jansma, one of the students who stayed on.
"If any of those cases are wrongly denied, we're giving [the students] the opportunity to do the administrative hearings," Kizer Mashon adds. A law license isn't required to represent clients in such hearings.
Still, the students noted that simply completing the complex applications elicited notable relief from their clients. And they're thankful for the experience.
"Chicago-Kent seems like they had a really strong public interest program, so that was one of the primary reasons I was drawn to apply," says Warshawsky. "Everyone was just so open and positive about public interest, encouraging me to pursue it, and that seemed like an energy I wanted to be surrounded with."