Chicago-Kent's 2021 Public Interest Awards Promote "Equal Justice for All"
Chicago-Kent's 2021 Public Interest Awards Promote "Equal Justice for All"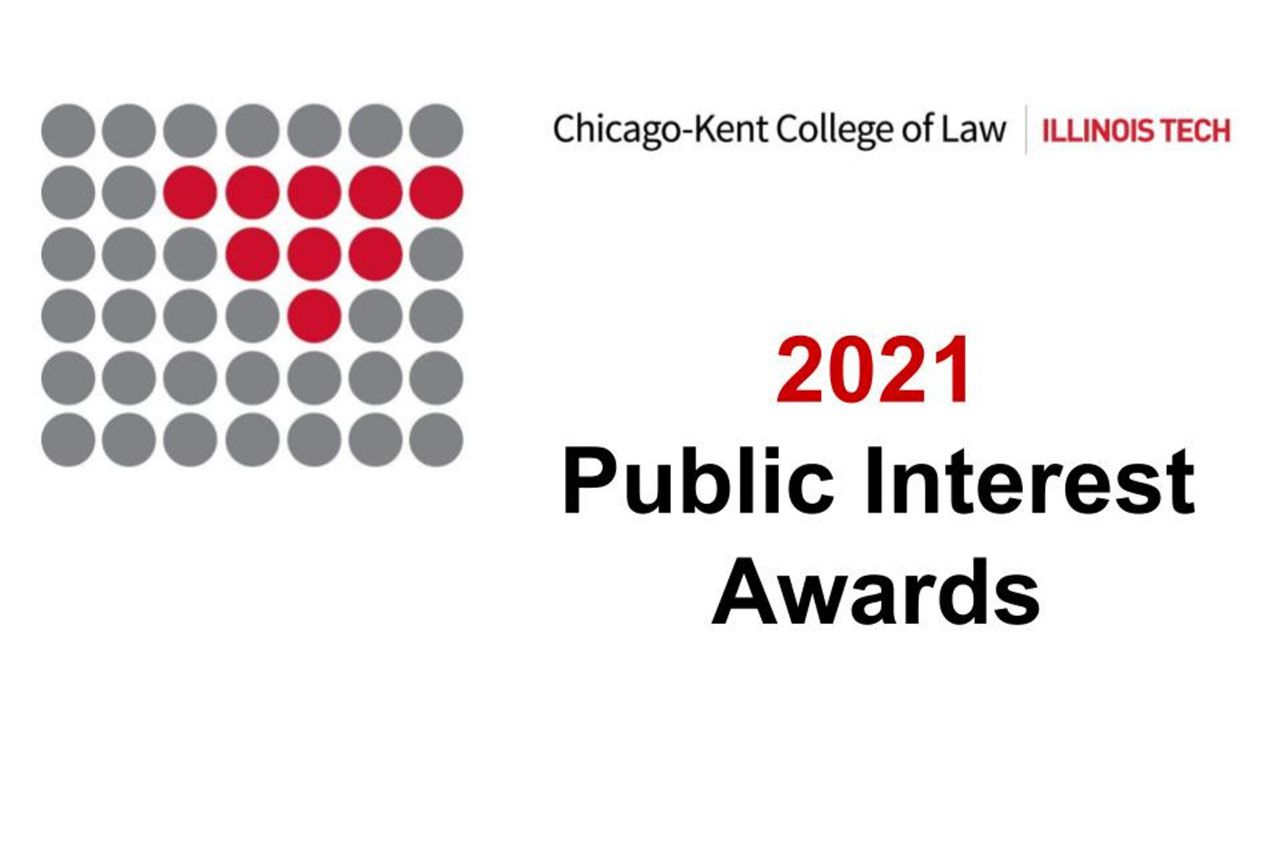 Reinforcing the ideal of "equal justice for all," the Chicago-Kent College of Law's 2021 Public Interest Awards ceremony celebrated the achievements of dozens of Chicago-Kent students, recognized a long-standing relationship with a Chicago nonprofit, and honored two alumni who have dedicated their careers to helping those in need.
The April 26 event's premier honor, the Ronald W. Staudt Public Interest Partner Award, went to Legal Aid Chicago, a nonprofit that provides free representation in civil legal matters for underprivileged or low-income clients in the Chicago area.
In her remarks at the height of the event, which was conducted over Zoom, Chicago-Kent Dean Anita K. Krug recognized Legal Aid Chicago's "outstanding contributions to public interest law" and noted that the organization had provided numerous opportunities for Chicago-Kent students seeking experience in that area.
In accepting the award, Melissa Picciola, Legal Aid Chicago's director of volunteer services, said, "Our partnership with Chicago-Kent is deep and it's varied. Chicago-Kent has been a pipeline for Legal Aid lawyers for years."
After referencing the many Chicago-Kent alumni who work or have worked at Legal Aid Chicago over the years—including 10 currently—Picciola added that "Chicago-Kent students are a favorite source of interns to help us serve more clients throughout the school year and in the summer. Chicago-Kent students and alumni are highly reviewed for their hard skills such as legal writing and research, and their soft skills such as client counseling and empowerment."
"Chicago-Kent cultivates a culture of selflessness, service, and a desire to use a law degree to further the public good," Picciola concluded. "These are all values that we share at Legal Aid Chicago, and we are proud to collaborate with a wonderful institution as we work to bring about equal justice for all."
Two Chicago-Kent alumni also received Honorable Abraham Lincoln Marovitz Public Interest Law Awards, given to those individuals who have demonstrated outstanding public interest commitment and leadership.
Ali Ammoura '12, who has worked as a Cook County assistant public defender since 2013, was honored for his work in criminal justice reform and combating the school-to-prison pipeline, among other achievements.
"It began, really, with the [Chicago-Kent] criminal defense clinic.…I didn't really know [at the time that] I wanted to do criminal law," Ammoura said in his remarks. "Within a month, I knew that this is what I wanted to do with the rest of my career."
Stephanie Ridella Vittands '14, works as the supervising attorney at the Center for Disability and Elder Law, where she started years ago as an AmeriCorps housing coordinator. She was honored for her work defending low-income, disabled, and elderly clients from foreclosures and evictions, among other legal matters.
"Plans change," Ridella Vittands joked, noting she'd originally wanted to practice another type of law before volunteering as a student at a CDEL benefit. "I can really thank Chicago-Kent…for putting me on a path I never expected to go on."
Also honored for their "outstanding pro bono and community service leadership" were Alexandra Rogers '21 and Tyler Sprague '21, co-founders of Chicago-Kent's Racial Equity and Advocacy Alliance.
"With the blatant violence against Black and brown communities, it was of the utmost importance to them to create a community of student leaders who are dedicated to eliminating these injustices," Krug said in her introduction, noting that Rogers and Sprague had organized a voter registration drive, a "know your rights" presentation, a juvenile record expungement program, a writing competition on improving mental health to honor former classmate Nicholas Johnson, and other empowering and educational events.
"We definitely felt that it was critical as future lawyers and legal change makers that we really take actionable steps toward eradicating these injustices, and we were really fortunate to have a lot of passionate student leaders who were willing to fight with us," Sprague said.
The event also recognized students Lorianna Anderson, Katherine Hanson, and Alex White, who received 2021 Justice John Paul Stevens Public Interest Fellowships for their public interest work this upcoming summer; and 2021 graduates Joey Carrillo and Natasha Crespo, who received post-graduation public interest fellowships to work for Legal Aid Chicago and the Indiana Disability Rights, respectively.
Nine students were also recognized for receiving their J.D. Certificate in Public Interest Law, 17 students were recognized for working as managers of the law school's Center for Access to Justice and Technology/Self-Help Web Desk, six students were honored with the Dean's Distinguished Public Service Award, 26 students were honored with the Certificate of Service, and nine students were recognized for receiving 2021 Alvin H. Baum Fellowships for their work in environmental law.